If you are looking to invest in a pasta manufacturing machine, it is important to understand the different components involved. This article will go over the Pasteurization process, Single screw extruder, Multi layer dryer, Noodles making machine, and more.
You can even choose your own machine by considering the different features and benefits offered by each of them.
So, what exactly should you look for in a pasta manufacturing machine? Here are some of the benefits and considerations:
Pasteurization process
A pasta manufacturing machine is a high-quality piece of equipment for preparing a variety of pasta products.
These machines feature an automatic pasta cooker, which removes human factors from the quality control process.
An operator puts the required amount of product into the predetermined water, where the machine cooks it for the predetermined time and cools it down afterward.
The rapid cooling prevents the pasta from overcooking, while intensive mixing ensures that each piece of pasta is uniform both inside and outside.
A pasteurization process is essential to ensuring that noodles are safe to eat. Pasteurisation involves heating the pasta to a high enough temperature for sufficient destruction of bacteria.
Pasteurisation equipment is designed to hold the noodles at a temperature between 75-95 degrees Celsius for wheat-based pastas and 85-100 degrees Celsius for rice-based pastas.
After preparing the pasta, the production staff will record the pasteurisation value and record it as "Stage 1" or "Stage 2" for verification.
Single screw extruder
A single screw extruder is an ideal choice for making pasta and pellets from a wide range of different starches.
The machine has automatic temperature and speed control. Advanced design moulds allow you to create different shapes and sizes, including macarons and long-cutting pasta.
In addition, the extruder's vibration motor helps to cool the products during the transfer process.
As a result, it produces pasta that is of consistent quality and texture.
The screw in a single-screw extruder is a pressure-saving design that allows the plasticized mass to be conveyed through the cylinder in a smooth and gentle manner.
The helical grooves on the inner jacket of the cylinder work in conjunction with the screw to gently mix and extend the mass as it processes it.
Single-screw extruders are especially suitable for continuous industrial production of plasticized food products, such as pasta-filata cheese.
Multiy layer dryer
A multi-layer dryer for pasta manufacture includes a conveyer belt and a delivery table near the idler.
A product-collection tray is also disposed on the delivery table.
In addition, the conveyer belt has reinforcement elements that are preferably S-shaped, and the table extends along an arc, thereby conveying the pasta in pockets.
The depositing table allows the pasta to fall onto it during deflection.
Using high temperatures for the drying process poses numerous risks, including the formation of internal humidity gradients, surface crust, and non-enzymatic browning.
Furthermore, high temperatures can also cause problems such as fractures and non-enzymatic browning.
A multi-layer dryer, on the other hand, can reduce these risks and achieve the best final product.
The drying cycle must be properly programmed to maintain the final moisture level of the pasta.
Ideally, the dry process should alternate between "fast" and "soft" conditions to achieve the perfect final product.
Noodles making machine
When selecting a noodle machine, there are a few factors to consider. What kinds of noodles are you making?
What is your goal? Most people think of pasta and generic noodles when they think of noodle making equipment.
However, this is not always the case. There are different types and sizes for different needs and production volumes.
The following is a guide to noodle making machines. Weigh the pros and cons of each before buying one.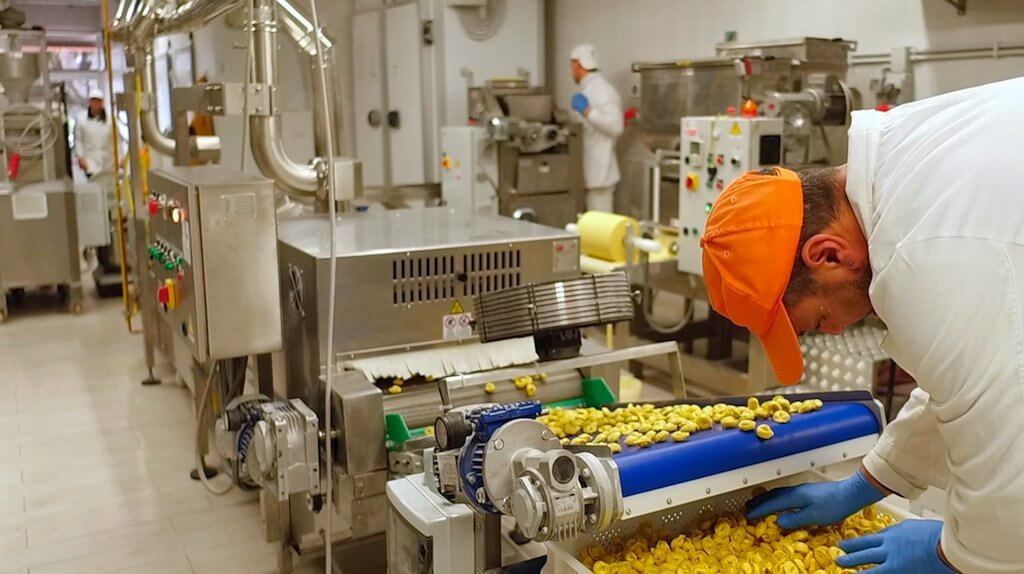 The best noodles making machine should have a high-quality pneumatic cylinder that presses flour in a specific pattern, such as a spiral or a square.
A collecting tray will then be connected to the cylinder. This process is repeated until the desired thickness and shape is achieved.
Unlike a manual machine, a pasta making machine will not burn your hands.
However, it will be easier to clean, and your noodles will be fresher if you use a high-quality, commercial-grade product.
Blog: What to Look For in a Pasta Manufacturing Machine