The industrial ravioli machine can produce various types of mini-sized ravioli, including deep-fried and boiled ones. It integrates wrapper-making, filling, molding, and baking, so it is highly automated.
Its compact structure and lamination principle imitates the manual process of making ravioli, thereby preserving the flour structure.
The thin wrapper improves the taste of ravioli. Its compact design makes it ideal for industrial production.
RS 160 mm double sheet ravioli machine
RS 160 mm double sheet ravioli machines are designed to produce split ravioli in a wide variety of shapes and sizes.
Suitable for both meat and vegetable filling, the double sheet ravioli machines are versatile and can produce different ravioli shapes and sizes.
The machine has three inverters for full control of the production speed. It comes with interchangeable dies and a three-phase power supply.
The RS 160 mm double sheet ravioli machines are equipped with piston pumps and large volume filling canisters to produce ravioli with different shapes and sizes.
Changing the ravioli moulds is simple and quick thanks to the control panel, which also allows working with different sheet thicknesses and shapes.
A mechanical extraction system and big 95 mm rollers prevent crumbs and fillings from getting trapped in the ravioli moulds, while an ergonomic safety guard facilitates sanitization.
PastryMAK samosa machine
If you are looking for a way to increase your production, a PastryMAK samosa-making machine is the perfect option for you.
It has several filling options and can even be used to make ravioli.
This versatile machine is also suitable for making various other pastries, such as ravioli, pacanga pastries, and meat derivaties.
With its easy-to-use controls, the machine is easy to operate and is highly versatile. It can even make dough cookies with fillings.
The PastryMAK samosa maker automates a series of processes, including stuffing deposition, folding, wrapping, and ejection.
This samosa machine comprises two separate pieces, a pastry making machine and a samosa wrapping machine.
The former bakes the pastry wrapper while the latter automatically dispenses stuffing onto the strip.
TECH-250RS semi-industrial ravioli machine
The TECH-250RS semi-industrial raviol machine is ideal for a small pasta shop.
Its stainless-steel mixing tank and interchangeable moulds allow you to produce various shapes and sizes of ravioli.
In addition, you can change the filling quantity while the machine is running.
You can also purchase the additional accessories for your ravioli machine. Read on to find out what to look for in a ravioli machine.
The TECH-250RS semi-industrial raviol machine is the perfect match for medium to large production units.
It works with a single roll of 250mm wide dough and can be paired with an automatic rolling mill of identical width.
This machine produces dozens of different raviol shapes with ease and is equipped with a number of safety features. Ergonomic design makes it easy to use.
TMAK automatic ravioli machine
With the TMAK automatic ravioli machine, you can easily make the most delicious stuffed pasta at home!
The machine is made of stainless steel and comes with interchangeable molds, so you can change the size and shape of ravioli anytime.
The sheet fed into the ravioli machine is extruded from two rollers. The rollers can be calibrated to create the desired thickness of the sheet.
The machine can produce ravioli with any filling of your choice, including ricotta, spinach, feta, and mushrooms.
The TMAK automatic ravioli machine comes with a two-year guarantee.
This warranty covers the machine, 400 square meters of kitchen space, and the TMAK assurance, which ensures safe and convenient use of the machine.
These two features make the TMAK automatic ravioli machine a great investment for any food processing company.
These benefits make it a worthwhile investment for the money and are worth the price, despite the higher price tag.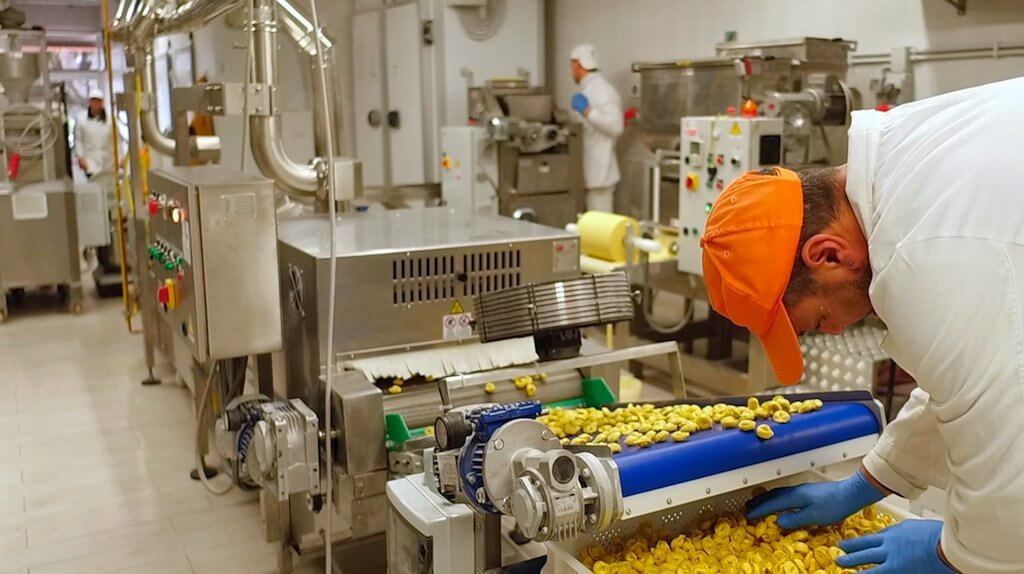 Blog: What to Look For in a Industrial Ravioli Machine