There are a number of different industrial pasta-making machines, but one type stands above the rest. Whether you're looking for a high-volume machine or an automated one, you can be sure to find one that works well for your needs.
GEA Pavan, Imperia, Mazzone, and ITALGI are just a few of the many options available.
Listed below are some of the most popular types and manufacturers of pasta-making equipment.
GEA Pavan
The Italian company Pavan has recently merged with GEA and will integrate the two companies into its booth at the upcoming Anuga FoodTec exhibition in Cologne, Germany.
GEA will showcase innovative equipment as well as integrated solutions for the food industry at its booth in hall 10.2 (A-090-C-119).
Pavan is a leading supplier of extrusion technology for all types of pasta, breakfast cereals, and cereal-based snacks.
This new partnership will allow GEA to share its technology know-how with other companies in the food industry.
The Italian company Pavan is one of the world's leading technology engineering companies.
They specialize in the processing of cereal-based products and have integrated production lines.
This division of GEA manufactures pasta, milling equipment, and packaging solutions for the food and beverage industry.
Pavan is headquartered in Galliera Veneta, near Padua, Italy and employs over 680 people at production facilities in China and Italy.
Imperia
The Imperia industrial pasta making equipment is a versatile kitchen appliance that can be used to make various types of pasta.
The pasta machine can produce up to six different thicknesses and two different shapes, including fettuccine, spaghetti, angel hair, trenette, and lasagnette.
It is compatible with the Mille Gnocchi accessories and Ravioli Maker. Listed below are some of the most popular Imperia pasta makers.
The Pasta Presto motor machine is the most popular machine made by Imperia. It features electric motors and manual crank operation.
The Imperia Pasta Easyx pasta maker comes with a recipe book and includes a sfogliatrice and a duplex cutter for fettuccine and tagliatelle.
The Sp150 pasta maker is the best-selling machine in the world, with many different models to choose from.
Mazzone
Industrial pasta making equipment consists of different machines that create various types of noodle products.
The machines feed the dough through screw extruders into the head.
Then, the dough is formed into desired shapes by inserts, knives or dies.
After the dough is formed, the products are dried using Italian low temperature technology.
This multi-stage process guarantees a long storage time and smooth, light-colored surface.
There are different types of drying chambers, and each of them has its own energy source.
If you want to create various types of fresh pasta, you can invest in a machine that extrudes sheets, long pasta, and stuffed gnocchi.
These machines are versatile enough to be used as standalone units or in an automatic line.
Many of them are equipped with double mixing tanks, adjustable scroll speed with inverter, and head cooling.
They can produce different shapes of pasta, such as lasagna, cannelloni, or other regional dishes.
ITALGI
The wide range of Italgi pasta machines allows any user to produce different shapes of pasta.
The company produces many different types of pasta machines including extruders, sheeters, ravioli, gnocchi, and pasteurizers.
Many of the machines can be operated continuously, making them ideal for high production lines.
Some models can even produce twisted or dragged shapes. To learn more about ITALGI pasta making equipment, read on.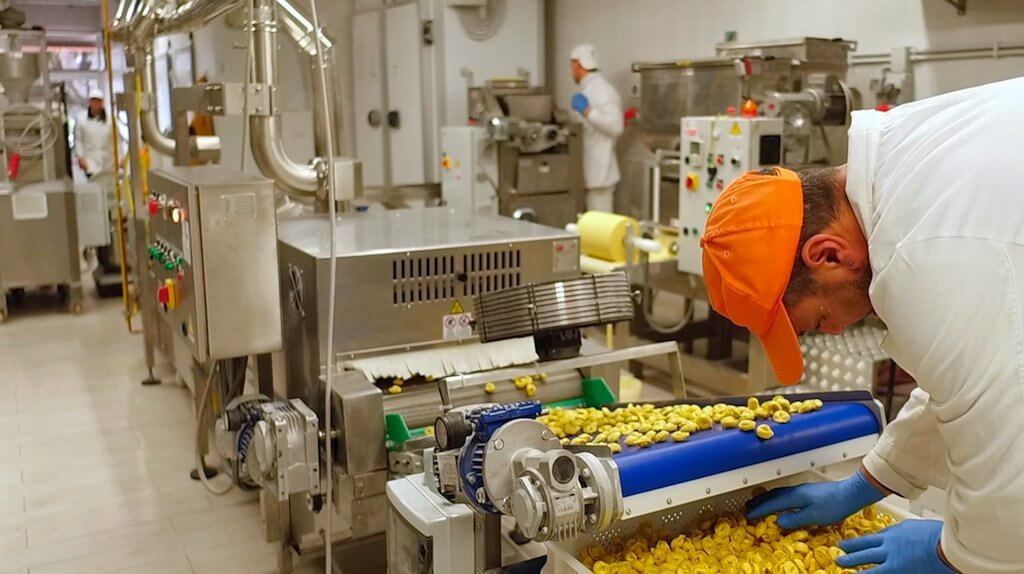 The Multipla is an exceptional pasta machine that produces a variety of shapes and sizes of fresh pasta. It was designed by Italgi in Italy and is highly versatile.
Its dedication to quality and authenticity is evident in its products. The company designs every single product in-house, and tests it thoroughly.
Its versatile Multipla pasta maker is also great for commercial use. The Multipla can produce both fresh and dried pasta.
Blog: Types of Industrial Pasta Making Equipment