Are you looking to make your own Nachos and Doritos chips at home? If you are, you can learn more about the various types of chips extruder machines. These include nacho chip machines, Doritos chip machines, and Bugles chip extruder machines.
Read on for more information! Besides Nachos chips, you can also make Bugles and Doritos chips at home!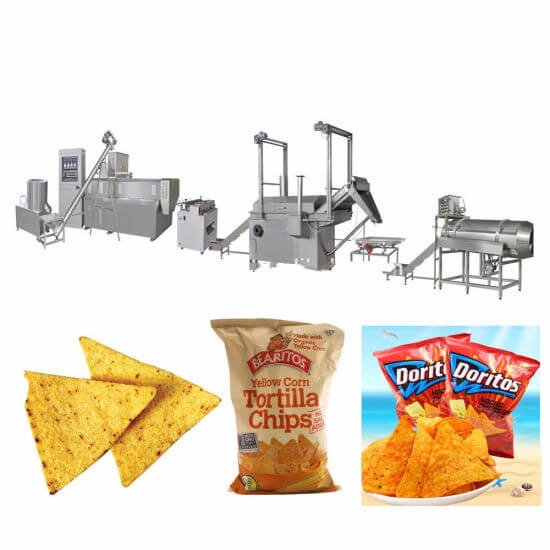 Nacho chips making machine
The Nacho Chips Making Machine has several advantages over other kinds of food processing machines. The compact structure, low failure rate, and noise are some of the main characteristics of the machine.
The machines are suitable for a wide range of food processing industries. In addition, it is possible to make different shapes and sizes of chips with the help of the machine's moulds.
The manufacturer of Nacho Chips Making Machine can give you detailed information about the machine's features and benefits.
The Nacho Chips Making Machine is a commercial-grade unit that can be customized to produce different shapes, sizes, and types of chips.
They operate on a 380-voltage, 50Hz electrical current. The machine's price depends on its capacity and configuration.
It can produce as many as 160 kg of tortilla chips per batch. Its oil content is typically twenty-two to twenty-four percent.
Its optimal cooking temperature is around 155 degrees Fahrenheit.
Bugles chips extruder machine
A Bugles chips extruder machine is used to produce different shapes of fried snacks.
The ingredients used to make bugles snacks include wheat flour, corn powder, and sugar. Flow chart of this machine shows the ingredients to be processed.
The next step is to mix the ingredients. If the ingredients are seasoned, they will be added to the batter.
Afterwards, the mixture will be passed through a screw extruder.
This extruder machine is suitable for a variety of foods, including puffing snacks, bread crumbs, and corn flakes.
They can also be used for dog pet feed. Their shapes are different from those of other snacks.
The resulting product is an edible snack with a long shelf life.
It is made with high-quality materials and is easy to operate. In addition, it consumes little oil.
This makes it the perfect choice for any medium-sized food processing business.
Doritos chips extruder machine
If you're in the business of producing corn chips, you should invest in a Doritos chips extruder machine.
These machines are great for a number of tasks, including making potato chips, tortillas, and other puffed snacks.
They come in different capacities, ranging from 120 to 150 kilograms per hour to 500 to 600 kilograms per hour.
In addition to making Doritos chips, this machine can also produce other snack foods, such as nuts, tortillas, and even shells.
In Mexico, Doritos are made from corn flour that is then cut, fried, and seasoned.
The process involves three main steps: grinding the corn, extruding it, and deep-frying it.
The first step is the extruder, which consists of a hydraulic piston that forces the corn with at least 52% moisture through a 90 degree forming die.
Then, a rotary cutoff assembly cuts the resulting corn into uniform pieces.
When the cylinder is empty, the hydraulic piston retracts, and the next step is the deep-frying process.
Nacho chips extruder machine
There are several advantages of the Nacho chips extruder machine. Its delicate design and compact structure make it easy to operate and maintain.
Its features include low failure rate, high production efficiency, labor saving, and durability.
Besides, it can produce various shapes of nacho chips. It has many benefits that make it an ideal choice for a variety of food processing industries.
And it is also suitable for any business size.
The Nacho chips extruder machine is made of food-grade stainless-steel and features an automatic lubrication function.
The twin screw feeds the ingredients continuously, ensuring the chips' quality.
The machine features a rotary cutting knife with a seat, and a V-belt drive for rotary cutting.
The machine comes with a one-year warranty and life-long maintenance service.
Tortilla chips extruder machine
A tortilla chips extruder machine can produce different shapes of tortillas. It is widely used in snack shops, food factories and bakeries.
This machine can be used with corn, wheat and rice flours. In addition to the typical shapes, it can also produce other snacks such as cheetos, nachos and waffles.
The machine is designed to reduce the energy consumption and energy costs of the manufacturing process.
The extrusion snack machine can process different types of grains, and the end result is a crispy and lively snack.
The machine also enables you to process a variety of ingredients.
Apart from tortilla chips, you can also produce corn and potato flakes, rice chips, and other snacks with it.
It is suitable for medium-sized food processing enterprises. Its features help improve the quality and shelf-life of your products.
Blog: Types of Chips Extruder Machines