Introduction of Textured Vegetable Soy Protein Making Machine
The term textured vegetable soy protein is used to describe a machine that produces meat-like textured materials. These materials are made from soy and other vegetable sources.
Unlike meat, the material is wavy rather than flat. In other words, a textured vegetable protein material swells when added to water. The wavy texture makes it resemble thin sliced meat.
Traditionally, the process of textured vegetable protein production began in China. In China, the process began in the 14th century when a Chinese philosopher named Ben Fa Ming described it as a "natural substitute for meat".
In modern day China, this machine is a staple for textured vegetable protein production. It has many benefits and is easy to use.
It can produce a wide variety of textured vegetable protein products, including Ben Fa Ming, which looks similar to thinly sliced meat.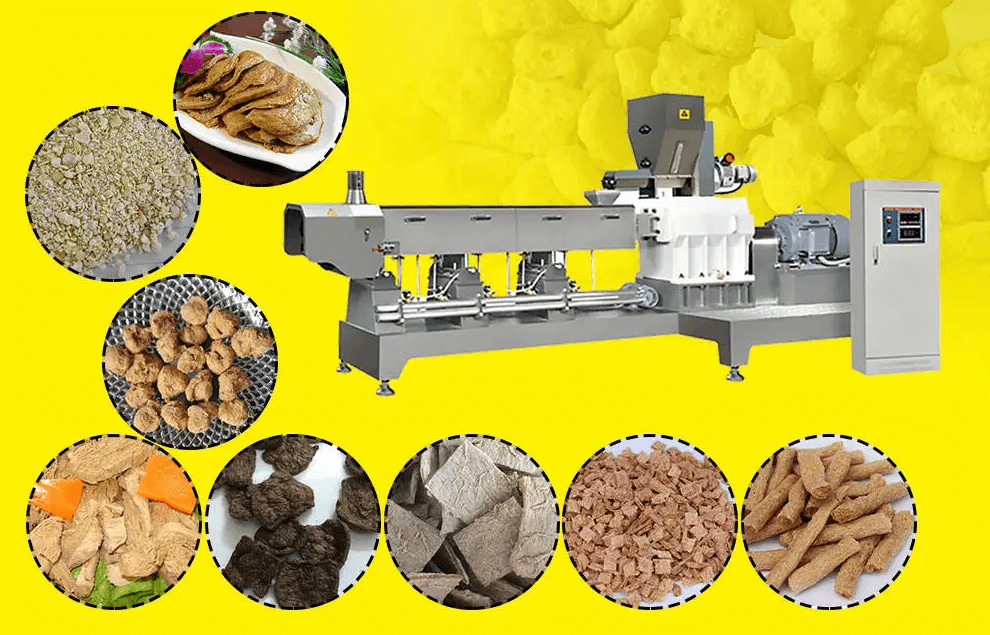 To produce textured soy protein, defatted soy flour with a high protein solubility index is first conditioned with live steam.
Texturization requires a well-controlled process that ensures a uniform product. Texturization involves using moisture content of about 20-25%.
The resulting product is usually shaped into small spheres. Depending on the desired consistency, it may be ready for a variety of uses.
The TVP making machine uses soybean protein isolate and double screw extrusion to transform the soy mixture into silk protein.
The texture of TVP is similar to that of meat, and it can mimic the taste of almost any food.
That makes it ideal for meatless loaves and meatballs, and it can be mixed with meat products to create a low-fat meat alternative.
The machine also features a double-screw food extruder.
Application of
Textured Vegetable Soy Protein Making Machine
There are several applications for the Textured vegetable soy protein making machine. This machine combines high-speed extrusion with the addition of soy lecithin to produce texturized vegetable protein.
In terms of the process itself, soy lecithin can be added at a rate of 0.4%.
Soy lecithin enhances the density of the final soy products through its ability to increase the amount of cross-linking during extrusion.
In addition, soy proteins contain sulfur, which can increase the surface area of the products and also affect the smell and taste of the final products.
Preconditioning is a key step in making textured vegetable proteins.
Raw materials must meet certain minimum and maximum protein, fiber, and fat content requirements.
Using a preconditioner can help to ensure uniformity and controllability.
It can also be used to add moisture and steam to the raw material, which increases the temperature of the finished product.
This helps in improving the stability of the extruder, thereby ensuring the quality of the final product.
Once the raw materials are mixed with the textured vegetable protein, the resulting product must be hydrated for at least five minutes in room temperature water.
This step results in the dry product absorbing about 1.5 to three times its weight in water. This absorption rate varies depending on the type of raw material used.
For example, textured vegetable soy protein is more efficient than casein because soy contains all the essential amino acids. The only limiting amino acid in soy is methionine.
By modifying the process, the addition of methionine can boost the PER value to almost the same level as casein.
89% Visitors Contacted Now and Got the Following Free Gifts
1. 2022 Full Catalogue
2. 2022 Full Price List
3. Technical Brochure
4. Operation Manual
5. A Surprising Discount
6. Some Free Accessories
Features of
Textured Vegetable Soy Protein Making Machine
Known as TVP (textured vegetable soy protein), textured vegetable protein is an excellent meat substitute.
The texture and taste of this protein allows it to mimic the flavor of almost any food, from meatballs to vegetarian meatloaves.
A TVP production line is designed to produce meat substitutes in bulk quantities.
Textured vegetable soy protein production lines are equipped with a double screw food extruder to achieve the desired texture and taste.
A textured vegetable protein making machine produces a variety of particle sizes, ranging from one to three-hundred percent.
The texture is often particulated, while the moisture content is typically in the range of eight to twenty percent.
Textured protein is ideally sized to between one-hundred to four-eight percent.
Textured vegetable protein is then hydrated to a specific moisture level and flavorings or colorants are added at this point.
This machine utilizes a vertical force feeder to convey particulate soybean material to the main horizontal pressing chamber.
The main press worm has been modified by sliding a tapered cone into the outlet space of the pressed cake.
This increases the internal pressure along the press worm and yields a compacted material that is approximately three-eighths of an inch thick.
This material is a high-quality, highly-priced, healthy food for vegans and vegetarians alike.
Soy protein fibres are a prime ingredient in Textured vegetable protein products.
Soy isolate powder undergoes a high-pressure, temperature, and shearing process in a barrel to create a meat-like structure.
This process is optional and some TVP is distributed wet. The final product is then dried and given a longer shelf life.
It also features a thorough cooling process. This prevents condensation from forming inside the packaging.
89% Visitors Contacted Now and Got the Following Free Gifts
1. 2022 Full Catalogue
2. 2022 Full Price List
3. Technical Brochure
4. Operation Manual
5. A Surprising Discount
6. Some Free Accessories
Package&Transportation of
Textured Vegetable Soy Protein Making Machine
The Ainuok Textured vegetable soy protein making machine has two layers of packaging.
The first layer is a plastic film. It mainly plays the role of waterproof and moisture-proof.
This can avoid the rusting of the wrought iron parts of the machine due to rain, sea spray, etc. during transportation.
The second layer is packed in wooden boxes. The wooden boxes are free of fumigation, and there is no danger of moths. It is safe to pass through customs.
The thickness of the wooden box is 1-3 cm. It is strong and anti-collision. The wooden box can protect the safety of the Textured vegetable soy protein making machine in all aspects.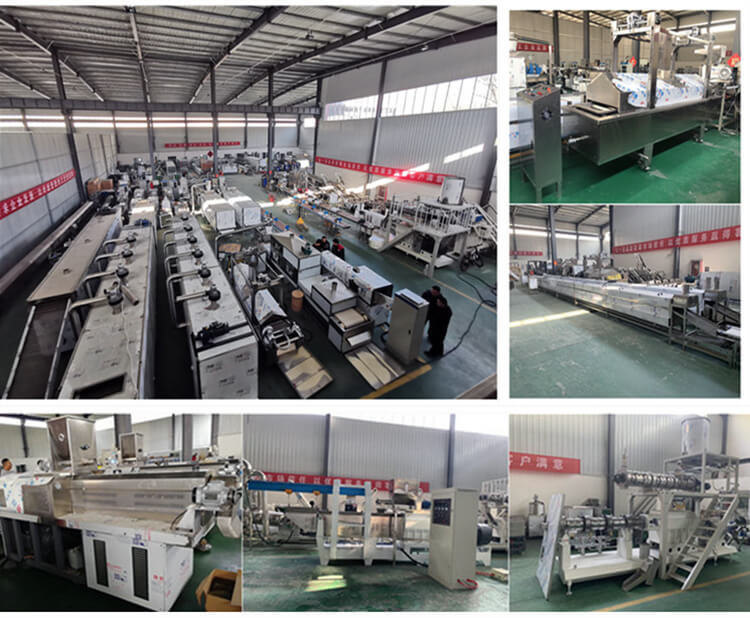 Product: Textured vegetable soy protein making machine