Snack pellet production line consists of five major machines that can make different types of snacks. Compound snack shaper is used to form different shapes of 3D snacks.
It can be customized according to the customer's requirement and can be made of various materials including potato starch, corn starch, cassava starch, wheat flour, and many other food ingredients.
Snack pellets are formed into spirals, rectangles, squares, or heart shapes. Once formed, they need to be fried to expand their size and shape.
The first step of snack pellet production line is to mix the ingredients in the correct order. After mixing the ingredients, the batch mixer cuts, cooks, and processes the mixture to form an even mixture.
Next, the material is put into the extruder pellet machine, which combines the mixing, baking, and forming of snacks into a single product.
The second step of the process is to dry the finished product and expand it for shipment. The final phase of the production line is to season and pack the finished products.
The next step is to prepare the ingredients. A batch mixer is a common machine for snack pellet production. This machine combines mixing, cutting, and cooking into a uniform mixture.
This process is completed under a controlled pressure and temperature to produce snack pellets of the perfect size and shape.
A traditional extruder uses a moving die to produce snack pellets. 2D and 3D variations can produce several shapes of the end product.
The third step is to create the snack pellets. These are produced by using extruders that utilize moisture, temperature, and pressure.
They can be two-dimensional, three-dimensional, or any other type of shape. Snack pellet production line allows you to make all kinds of shapes and colors of snack pellets.
The extruder also incorporates baking. The extruder also moves the product from one location to another to ensure a quality end product.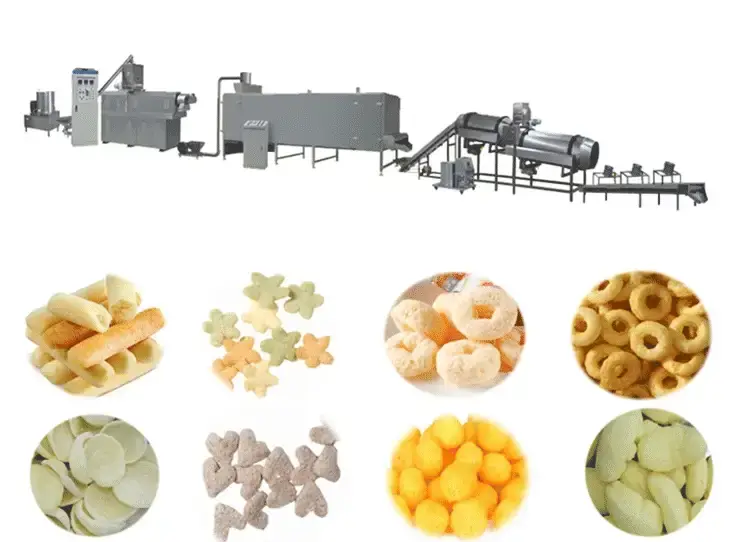 The 3D extruder is a multi-functional system that produces snack pellets in three dimensions. It is often used in bakery shops, snack shops, and food factories.
Its double-extrusion method is the best option for producing high-quality snacks. The process also produces salad sticks.
This snack processing line is versatile in that it can make both 2D and three-dimensional snacks. It also has a cutting machine.
Snack pellets are a popular snack food. A snack pellet production line can be used to create 2D or 3D snacks. It can also be used for salad sticks and salad sheets.
It is also compatible with a cutting machine. Its dual extrusion technology produces a double-layer composite puffed food.
It uses potato starch, corn starch, and whole-wheat flour. The extruder is capable of producing many shapes of the end product.
The 3D Cereal Pellet Snack Production Line is the most advanced and complete system for making 3D snacks. It has an impressive capacity and features a variety of additional functions.
Its multi-functional feature makes it a highly desirable option for customers who need a larger output. There are several advantages to this machine.
It is a cost-effective option for any manufacturer of snack foods. Its patented technology allows it to create new shapes that are not possible on other extruders.
The 3D pellet snack production line is designed to produce a variety of snacks. It can also produce salad sticks. This is a dual-layer composite puffed food that uses a double-extrusion process.
Both potato starch and corn starch are used in the system. They are easy to make, as they are made with the same extruder. Its design makes them easy to clean.
The three-dimensional format is an advantage when compared to a single-layer puffed food.
The 3D snack pellet production line is designed for the production of snacks in three-dimensional. It can produce snacks in the form of salad sticks, salad sheet, and snack pellets.
The 3D food pellets are produced by a double-extrusion process. In addition to using potato starch, corn starch, and potato whole powder, the 3-D Snack Production Line can also be equipped with a cutting machine.
Blog: Snack Pellet Production Line
Blog: Snack Pellet Production Line