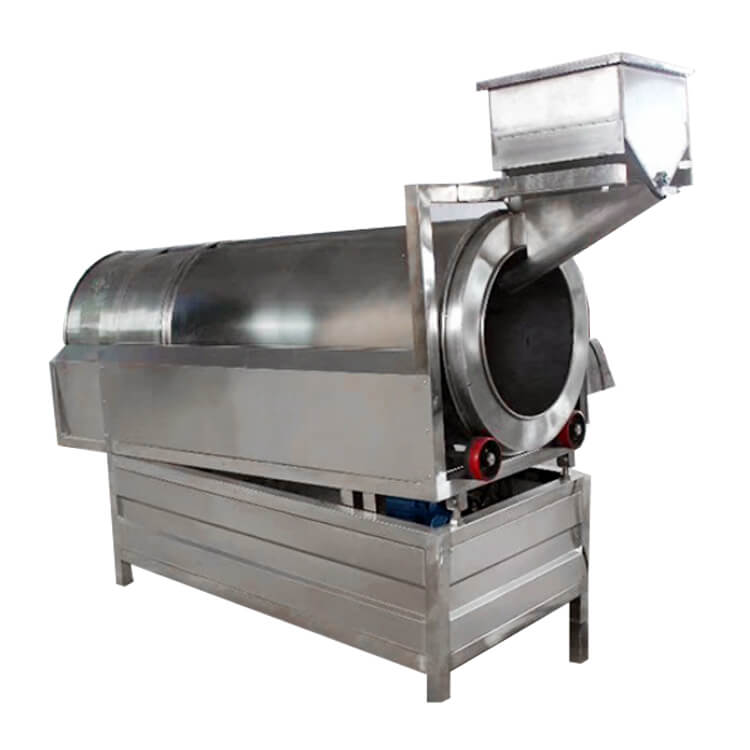 Rotary Chip Seasoning Tumbler Machine
Continuous rotary chip seasoning tumbler machine is used for seasoning food in the food production process.
This equipment has an inclined seasoning drum, which automatically controls the speed and material capacity, and is suitable for continuous seasoning operations in the assembly line.
Snack Potato Chip Seasoning Machine
The octagonal snack potato chip seasoning machine is designed with an octagonal shape, which avoids the disadvantages of the round ball mixing barrel not turning over the raw materials and uneven mixing.
The powder mixer can realize the automatic mixing function, so it is also called the "drum-type food seasoning machine"
An Introduction to Seasoning Machines
There are different types of seasoning machines.
Some of them have a drum, which is ideal for mixing powder or liquid seasoning.
Others have an electric drive and are fully automatic. All of them are designed to season all kinds of foods.
Some are also used in pulping and coating. This article will provide you with an overview of the different types of seasoning machines. Here are some of the advantages of these machines.
This is an introduction to some of the more popular types of seasoning machines.
A seasoning machine uses a special octagonal body to mix food materials and seasonings quickly. This scientific shape helps it mix ingredients uniformly and prevents dead ends.
A roller type is more suitable for full automation. You can choose the length and diameter of the seasoning barrel according to your requirements. This equipment can be used alone or with other equipment.
Various models are available in Ainuok. You can also choose one according to your production requirements.
The main components of a seasoning machine are its mixing chamber and octagonal pot body. The octagonal body is perfect for fast seasoning and mixing.
Its unique scientific shape means that it does not break fried food, while its convenient operation means it is very economical. It can also be used for mixing and discharging nuts and snack foods.
If you are looking for an effective seasoning machine, this article will help you make the best choice.
The octagonal pot body is the key part of a seasoning machine. Its unique shape makes it easy to mix and discharge food materials evenly. Its main parts are the mixing drum, feeding tube, and bowl.
These three parts will work in sync to create uniform seasoning and improve the flavor of your products.
A good seasoning machine will also improve your yield and increase your customer satisfaction.
All of these features make it the perfect tool for your production.
This seasoning machine can make it easier to use. Its design allows you to customize the size of the mixing drum to meet your specific needs. It can process a variety of materials at one time.
Whether it's salt, pepper, or any other spice, a seasoning machine will help you create the best-tasting products possible.
If you're looking for a high-quality seasoning machine, you should choose one that can meet your needs and budget.
The octagonal pot body of a seasoning machine has the advantage of achieving automatic mixing and discharging.
Unlike manual mixers, this machine is designed to blend food materials uniformly and quickly.
The octagonal shape also ensures that the seasoning powder won't get mixed with the material that falls into it.
It also provides a uniform flavor and reduces waste. This machine is a very efficient tool for your business.