When it comes to the process of converting raw materials into nutritional powders, nutrition powder extruder machines are the best choice. They can add all kinds of raw materials to the mixture.
The barrel of nutrition powder extruder machines is made of carbon steel or #45 steel coated with stainless steel.
Additionally, the gearbox is equipped with an automatic lubrication function to prolong the life of the gears.
One of the most important benefits of nutrition powder extruder machines is their ability to continuously heat the raw materials to ensure the best heating effects.
Cold extrusion
The process of cold extrusion offers a variety of benefits, from the ability to control pH levels to preserving the nutritional value of the finished product.
Cold extrusion also avoids moisture purging and protein denaturation. Using a cold extruder also allows for the incorporation of preservatives.
Raw materials used for cold extrusion include fish bones, liver, and lung.
Foods produced by this process are often low in calories, while maintaining high nutritional value and functional qualities.
The extrusion process allows for the addition of various ingredients such as vitamins, minerals, and fiber to enhance their eating properties.
These products can be presented in a variety of forms. Cold extrusion of cereal products is a prime example.
Extrusion machines can be used to produce pet foods as well.
Features
Several important features of a Nutritional Powder Extruder Machine should be considered before buying it.
The process of extruding food ingredients is complex. It involves mixing and separating ingredients before they are heated and mixed together to form a finished product.
The design of an extruder involves varying combinations of screw elements and barrel sections, which impact their efficiency, consistency, and overall operation.
It may be necessary to consider several different systems before purchasing one. A successful selection will probably be based on availability, flexibility, and economics.
The nutrition powder production line uses various types of grains, including wheat, corn, and oat flours.
Other optional ingredients include vitamin, mineral, and other nutritional substances. The extruder's high temperature and pressure cause starch and crude fiber to be organized and denatured.
This process also kills pathogenic bacteria. The result is nutrition powder that can be absorbed by the human body.
It is also easy to use and can handle a wide variety of raw materials.
Benefits
The extrusion process largely depends on the formulation and composition of raw materials.
Other factors that affect the extrusion process are the length and diameter of the machine, the amount of water in the raw materials, the rate of mixing and drying, and the residence time for the product.
Die design is also important, with the shape of the opening section of the die having a significant impact on the extrusion process.
Agricultural by-products are frequently discarded or thrown into landfills, so it is important to explore new ways to incorporate these products into our diet.
Extrusion processing is an excellent avenue for such development, since it is a versatile, low-cost and energy-efficient process.
Researchers have created breakfast cereals and pasta with the help of extrusion technology.
Many of these by-products contain high levels of nutrients and have a wide range of functional properties.
Cost
The cost of a nutritional powder extruder machine varies greatly, but the benefits that it brings are well worth the price.
The extrusion process can help produce four families of high nutritional value products, including cereals, snacks, and children's foods.
These products are affordable, nutrient-dense, and easy to obtain for poorer households. Here is some information on this equipment. Weigh the pros and cons and decide which one is best for you.
DR65 nutrition powder extruder machine has a high output range and uses two screw extruders.
The screws are made of 38CrMoAl, which is wear-resistant and makes cleaning the machine simple.
This machine requires two operators to operate. It also allows for the addition of a variety of nutritional matters, such as vitamins and minerals.
This machine produces both nutrition powder and artificial rice, and its continuous production makes it ideal for production of baby food.
Scalability
A scalable nutritional powder extruder machine can handle a large range of raw ingredients, ranging from small grains to high-value supplements.
The machine is usually equipped with multiple extruders for greater production capacity. Depending on the production scale, multiple extruders can be installed at one location.
There are several important factors to consider when selecting a nutritional powder extruder machine. The following are some of these factors.
The size of the equipment should match the production capacity of the facility. Food-grade extruders should be multicolored and able to fill the center of the product.
The capacity of the nutritional powder extruder will vary according to the product and its intended market.
Choose an extruder that can reach a full throughput per hour. The energy source used should be electricity or steam.
In developing countries, a tractor power take-off drive will work better.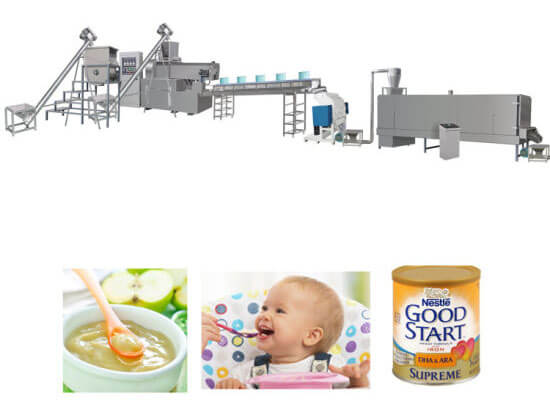 Blog: Benefits of a Nutritional Powder Extruder Machine