The importance of Nutrition Powder Processing Machines cannot be overstated. This type of machine is essential for the production of healthy baby food. Babies are extremely vulnerable during their infancy, as their immunity is extremely low and their body is incredibly weak.
Eating unlicensed foods can have detrimental effects on their health and growth, which is why it is crucial for parents to feed their babies only the safest, most nutritious foods possible.
The safety of these products depends on nutritional powder manufacturing machines that are made using only the safest processes.
Gericke
For the dry mixing and formulation of nutritional products, Gericke is the partner of choice.
The wide range of its products ensures constant quality, including the gravimetric feeding of base powders, mixing of trace elements, probiotic supplements, and flavours.
Gericke has an extensive product line specifically for the nutrition industry, including pneumatic conveying systems, sifters, feeders, mixers, valves, and bag handling stations.
Its BBU Big Bag Unloader (R) is a hygienic bulk material handling solution. The fully welded design blocks dust and bacteria from entering the processing environment.
The machine's stainless steel open frame and polished finish are also hygienic, making it ideal for food-processing environments. Gericke also offers custom-designed machines for specific processes.
These machines are available in different capacities and specifications, making them ideal for many applications.
Matcon
When it comes to sports nutrition manufacturing, choosing the right production system is critical. There are so many choices – and it can be confusing to a newcomer.
A Matcon system will reduce downtime and waste, and will be flexible enough to accommodate future product formulations. Here are three factors to consider when choosing a Matcon nutrition powder processing machine.
Choosing the right machine for your production process will maximize your product integrity and profitability.
The IBC Cone Valve: The patented cone valve is an important feature of Matcon nutrition powder processing machines.
It ensures a homogeneous blend integrity and allows for continuous production while one container is cleaned offline.
It also eliminates the dangers of segregation and is designed with hygiene and safety in mind. Matcon IBCs are especially useful for infant nutrition, food, and chemical applications.
These advantages make Matcon nutrition powder processing machines an ideal choice for the manufacturing of powdered products.
EM
Amixon(r) batch mixing equipment can perform various processing functions and achieve variable filling levels, making it ideal for supplement contract manufacturers.
Several processing functions, such as premixing, are available to suit the specific needs of each contract manufacturer.
EM mixing machines are particularly versatile and can handle various tasks, including powder deagglomeration, liquid dispersion, homogenization, and coating.
In addition, they can handle a wide range of different types of materials, including vitamins, minerals, and amino acids.
Raw materials for the EM nutrition powder processing machines are a variety of flours, pure and blended starches, and other food ingredients.
These machines can also be customized to meet individual needs and market demands. These machines can be used to make baby food, powders, and instant flour.
Some of the final products made by these machines include black sesame paste, children's nutrition powder, and infant formula.
The machines can also be used to produce baby food, instant flour, and vitamin and mineral blends.
EM small-batch drum mixer
An EM small-batch drum mixer is a versatile machine used for mixing and blending powders.
Its adjustable mixing intensity allows for gentle homogenization, intensive deagglomeration, and micro-fine admixture of solid and liquid materials.
In addition to being capable of processing small batches, EM mixers are also compatible with bar code scanners and ERP systems.
Moreover, they feature large doors for unobstructed access and visual inspection of all product contact surfaces.
An EM small-batch drum mixer for nutrients is ideal for blending tea.
The drum's rotating blades gently mix delicate tea particles while simultaneously uniformly mixing liquid flavors, fine grade gelatin, and dried fruits.
An EM batch mixer is capable of achieving technically ideal mixing qualities for a wide range of ingredients, including vitamin and mineral powders.
It is also capable of handling aggressive and gentle blending, deagglomeration, and solubility.
EM auger filling system
An EM auger filling system is used for volumetric or gravimetric filling of powder products.
The machine has a weighing system that allows you to accurately measure the powder product. In addition to volumetric dosing, an auger filler is cost-effective and ensures consistency in the product.
It is ideal for companies that need to fill small batches or test their products.
With an EM auger filling system, containers can be filled within 0.1 to 1 weight percent of a predetermined target weight.
This is possible by considering the volume variability of the containers chosen and the relation of desired fill weight with available volume.
A control algorithm that uses the weight of particulate material and its speed can control the amount of particulate material dispensed in the vicinity of the target value.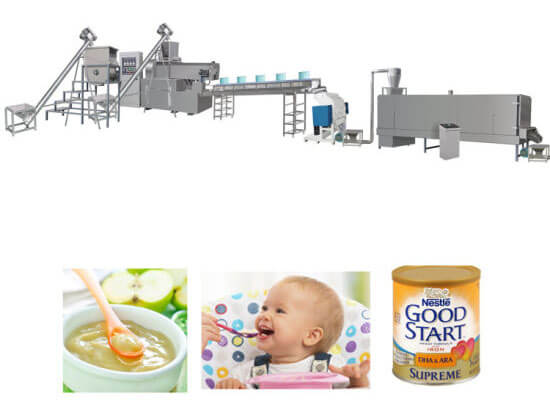 Loyal
The Loyal nutritional powder processing machines can help you manufacture quality baby food products.
Loyal can assist you in choosing the right nutritional powder machine for your production line.
They can provide CAD design drawings of the different production lines. They also provide technical support to help you get your production line up and running.
Loyal's nutritional powder machine manufacturing experience makes it possible for them to design the best nutritional powder equipment for your needs. With Loyal, you can expect quality, reliable, and reliable equipment.
The nutritional powder processing line includes a mixer, twin-screw extruder, and air conveyor. Each component is designed to process various types of flour.
The twin-screw extruder has a vibrating hopper feeder, extrusion and cutting units.
It can also process a variety of grains. The baby powder food production line is very versatile, with different raw materials like rice, sesame paste, and beans milk powder.
The machine is easy to operate, and does not produce powder dust. It also allows for quick and easy addition of all types of raw materials.
Blog: Three Factors to Consider When Choosing Nutrition Powder Processing Machines