A Nutrition Powder Processing Line is a machine that uses wheat, corn, oat and rice flour as raw materials. Depending on the production requirements, the machine may accept optional ingredients, such as vitamins, amino acids, trace elements, or other substances.
The line applies an extrusion puffing process to cure the raw materials.
This process kills pathogenic bacteria, organizes protein, and refines crude fiber.
The result is a powdered form of nutrition that the human body can absorb better.
Production process
A nutritional powder processing line can be divided into several parts, depending on the requirements of the manufacturer.
Its production process can be divided into three basic types: small, medium, and large.
Different kinds of nutritional powder machines are available, each producing different products. Baby food production lines are also different.
Choose the one that best meets your needs. Here are the main parts of a nutritional powder processing line. Read on to learn more!
A nutritional powder production line is divided into several categories, according to its target market.
There are nutritional powders for infants and young children, and middle-aged health and energy powders.
Each of these categories has different requirements. It is important to select the right nutrition powder manufacturer.
For example, a manufacturer that specializes in infant powders should have a well-maintained line to ensure a consistent product.
You can also choose the product that is made with high-quality ingredients.
Raw materials
A nutrition powder processing line can be a very useful device for food manufacturers. It can automatically process different raw materials into various nutrition powders.
It has several advantages including low energy consumption, stable product quality, and easy operation. You can also use this line to make Modified Starch, Denatured Starch, and Pre Gel Starch.
The latter two are widely used in many products, such as cereals and oil drilling.
These types of food are often made from a variety of raw materials, including rice, wheat, oat, and corn flour.
Some meal replacement powder processing lines use optional ingredients, such as cranberries and apples.
In addition, a nutrition baby rice powder processing line will use broken rice bran as one of the raw materials for the meal replacement powder.
Using this machine, you can add various vitamins and minerals to your nutritional powders.
Other whole grains flour as raw materials
The use of other whole grains flour as raw materials for baby powder production raises questions about the safety and quality of such products.
Whole grains usually contain higher amounts of contaminants, including mycotoxins and pesticides.
The outer layers of cereal grains also contain higher levels of asparagine, a substance that contributes to acrylamide formation during processing. In addition, whole grains contain higher levels of fiber than refined flour.
In addition to white flour, this line can process other whole grains flour. Some of these flours are rich in antioxidants.
For example, millet flour has the highest concentration of xanthophylls, and black rice flour has the highest concentration of vitamin E.
Some whole grain flours also contain additional nutrients such as buckwheat bran.
Depending on the specific requirements, a baby powder processing line can use other whole grains flour as its raw material.
Classification
The classification of food products and their processing methods is a necessary step for a holistic approach to nutritional value.
Foods that are processed at high levels are especially highly processed and may contribute to the development of diseases such as obesity and NCDs.
To properly classify foods, classification frameworks must be comprehensive and easily applicable.
They should also allow for the allocation of foods into different groups depending on the level of processing.
In order to maximize the benefits of the classification frameworks, they must be used in conjunction with quantitative systems.
Two common frameworks are used to categorize food products. FSANZ uses a dichotomous framework, and Poti has a multilevel processing line.
The NOVA framework has five levels. The classification of nutrition powder is based on its nutrient content, so the process can be classified according to the nutrient content and health benefits.
NOVA is most applicable in a food product research context.
Maintenance
A powder packaging machine can be expensive to maintain. The risks are obvious, and the downtime could be costly.
Keeping your equipment clean and properly maintained can help you avoid these risks.
Performing routine maintenance is critical to keeping your machines running smoothly and safely. Follow these tips when maintaining your powder packaging line.
These procedures will keep your equipment in top condition for years to come.
Read on to learn more about powder filling machine maintenance. You may be surprised at the number of benefits it offers.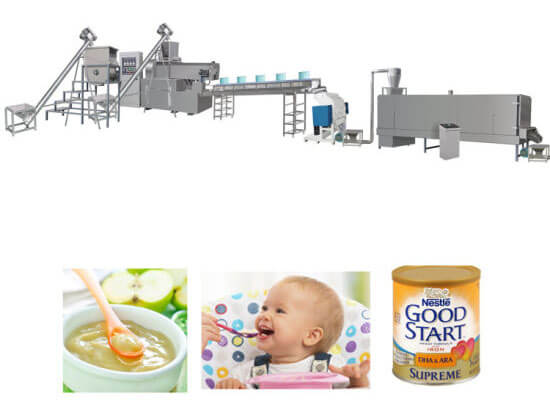 Benefits
The nutritional powder processing line has many advantages. It can process a wide range of grains and flours, thereby making it possible to produce a variety of powders.
The twin-screw extruder of a nutrition powder processing line has a dual-screw design, which means longer transmission tasks.
Its automated temperature control system ensures the optimum temperature for powder production. It also features a self-cleaning system.
This machine is a good investment for a baby nutrition production company. The nutritional powder is a convenient and safe way for babies to get the essential nutrients they need.
It also has a large market potential. Because babies are growing faster, they start eating solid foods at an early age.
Because they are still young, parents need to pay special attention to the quality of the product that they feed their babies.
It is important to choose a high-quality nutrition powder production line to ensure a healthy and safe diet for their little ones.
Blog: Main Parts of a Nutrition Powder Processing Line