The Doritos corn chips fried bugle making machine is an ideal appliance to start a business of your own. However, it is important to understand the ingredients and process before you make these crunchy snacks.
Here's what you need to know. Before you buy this machine, make sure to read the following article!
It will help you get started making your own delicious corn chips in no time. Listed below are the main ingredients to consider: Masa flour, Flavorings, and Corn.
Doritos corn chips fried bugle making machine
The Doritos corn chips frying bugle making machine is used to produce crispy fried bugles.
It has high capacity, is fully automatic, does not contain any oil, and gives a perfect crispy bugle shape.
It uses wheat flour or corn flour powder as its raw material. It is also easy to clean and has two layers of packaging.
The crispy bugles are ready for sale in a few minutes.
The Doritos corn chips frying bugle making machine is made to follow the latest technology.
It uses a food extruder to cook raw materials under high temperature and pressure.
This results in various shapes, such as triangles, oblongs, and more.
The semi-product is then fried in a frying machine and labeled for sale.
The Doritos corn chip making machine produces triangle-shaped, white Doritos, and other kinds of puffed snacks.
However, the machine can be costly and requires considerable investment.
Masa flour
In this article, we will briefly describe the process of making corn chips using a masa flour for corn chips machine.
The first step is to prepare the masa by extruding it through a die and then sheeting it into strips.
Corn chips are slightly different from corn tortilla chips because masa for corn chips contains more oil than tortilla chips.
White maize products are fried at higher temperatures and for a shorter period of time than their yellow counterparts.
This is because yellow maize's beta-carotenes degrade into beta-ionones, which are bitter and off-colored.
The second step is the cooling step, which takes about 20 minutes. This helps evenly distribute moisture within the chips.
Moreover, the process of grinding the masa involves several steps. First, the corn kernels should be cleaned and free of foreign materials.
The masa should contain no more than three percent cracked and broken kernels.
It should also be uniformly sized and impurity-free. Then, the masa must be stored under protective conditions to prevent moisture loss.
Next, the corn needs to be soaked overnight and ground to produce masa flour.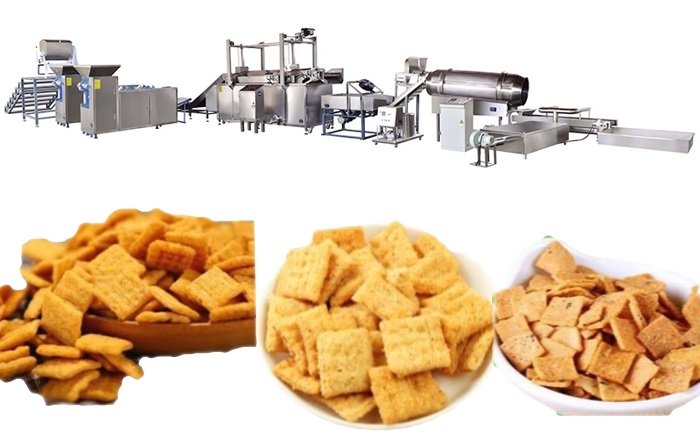 Flavorings
The ingredients used to create delicious and nutritious corn chips are plentiful. Extruded corn chips are made from ground masa, a mixture of dried nixtamal and fresh corn fiber.
The process involves frying and seasoning the corn chips. Corn chips are often red and extruded in Mexican factories.
They are made from masa mixed with FD&C-approved red colorants. One hundred kilograms of corn contains about 13% moisture.
In addition to frying and seasoning, the process also involves adding flavorings to the corn chips.
When choosing flavors for your corn chips machine, remember that your customers will be expecting different tastes.
The right seasoned chips will add the perfect flavor, without making them taste bland.
Adding spices and colorings to the dough before frying will prevent the chips from absorbing too much of the flavor.
You can also try different flavors by mixing the flavor powders with the corn masa dough before frying.
You can also experiment with different shapes and colors and experiment with your ingredients to create your perfect flavor combination.
Process of making corn chips
In the U.S., the consumption of corn-based chips continues to grow. As such, manufacturers continue to seek efficient and durable equipment.
The process of making corn tortillas and chips begins with a sufficient supply of masa.
A corn tortilla machine will allow for the production of large quantities of these snacks at high speed. It is also important to consider the material used to make corn chips.
For instance, tortilla chips are made with a curved edge. Nacho chips, on the other hand, are usually larger and contain more moisture than tortilla chips.
The first step is to cook the corn kernels, which loosens the pericarp. They are then steeped in a solution of 0.1 to 2% lime.
The liquid is then allowed to steep for two to 24 hours, before the corn is rinsed repeatedly.
Then, they need to be mixed with other materials in order to form a cohesive dough. The finished product is ready to be fried.
Blog: Masa Flour For Corn Chips Machine