Manufacturing instant noodles involves several stages, each requiring its own unique approach. From a commercial setting to an automated assembly line factory, these steps are crucial in getting the product ready for consumption.
To learn more about each stage, read on! Listed below are eight stages involved in manufacturing instant noodles.
The first step is to purchase the ingredients. In addition to these, you will also learn about how to create an automated assembly line factory.
8 stages in the manufacture of instant noodles
The eight stages in the manufacture of instant noodles are as follows: flour is transported to a storage silo by truck, mixed with water and oil, and passed through rollers to form dough sheets.
These dough sheets are then cut into strips and molded into noodle discs.
The strips are then fried in hot oil to make them crisp. The finished discs are then packaged in cups and topped with various spices or vegetables.
The process of manufacturing instant noodles includes different steps and stages.
The first stage includes the use of flour, water, oil, and salt. The dough sheet is then rolled and cut into strips or compact discs.
They are then fried in hot oil and placed in cups filled with vegetables. After the frying process, they are then ready to be consumed.
There are also different stages after the manufacturing process.
Despite the fact that the production process is largely automated, it is still necessary to include a description of each step.
The last step of the manufacturing process includes cooking and packaging the noodles.
The noodles are then sterilized using a microwave. The microwave heat also helps to maintain the texture and sterilize the garnishes.
Instant noodles are an inexpensive, easy source of nutrition for low-income groups and those on a budget.
However, they lack sufficient nutrients. Ando's process is an interesting case study in the development of instant noodles.
Automated assembly-line factory
Using the latest automation and machine learning technologies, a Chinese manufacturer has created an automated assembly-line factory that makes instant noodles.
The factory's entire production process has been automated, enabling it to meet customer demands while maintaining a high quality standard.
The company has recently installed a ML system that monitors and detects faulty products during the production process.
The factory also features a central control room that is capable of accommodating future expansion.
In an instant noodle production line, the dough sheet is rolled three times to improve its gluten strength.
The electrical part of the line has a touch screen display and digital controls.
The machine can track and automatically feed the dough sheet. Its scraper has a handle for easy loading and unloading.
Stainless steel parts are used for food contact. The automated assembly-line factory for instant noodles features an efficient process that is easy to operate and maintain.
This fully automated assembly-line factory for instant noodles uses stainless steel materials and includes international brands.
Its high sanitary standards ensure a consistent product, and the entire machine uses a PLC control system to ensure maximum food safety.
It uses a fully automatic production method and only requires 1-2 workers to operate.
In addition, the automated assembly-line factory for instant noodles features an over-temperature protection device and water-oil mixing technology that saves oil.
The temperature control system makes the entire process easy and accurate.
Commercial setting up
There are several reasons to consider setting up a commercial instant noodles manufacturing facility.
These include the investment needed to set up the plant, the operating costs involved, the income generated, and the profit margins.
The cost of setting up a manufacturing facility and the income generated will help you determine whether it is worth it to invest in this type of business.
In addition, the report will outline the factors that affect success and failure in this industry.
The first step in starting a commercial instant noodle manufacturing business is to find a suitable location.
It is important to select a location that is safe and has easy transportation.
If the location is prone to flooding and has a limited supply of natural gas, it may not be suitable for the business.
In order to ensure that the facility has access to adequate water and electricity, a commercial noodle manufacturing facility is necessary.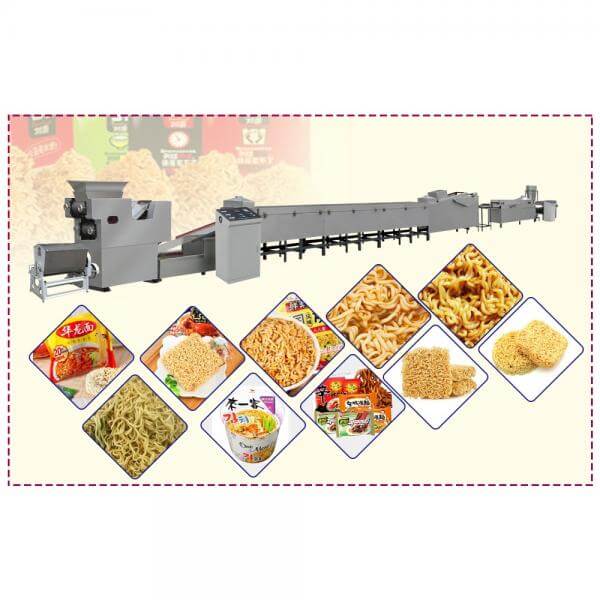 Another consideration is the type of machine. There are machines available for producing fried and non-fried instant noodles.
Depending on your needs, you can choose between round, square, or bag types.
You can also choose whether the machine comes with a brine metrology mixer with a capacity of 100 L/units.
A cutting and folding machine is another option for instant noodles, with a capacity of 1.5 kw and 0.9 kw motor speed.
Blog: Manufacturing Instant Noodles Involved Several Stages
Blog: Manufacturing Instant Noodles Involved Several Stages