There are many benefits of purchasing an Instant Noodles Production Machine. They are easy to operate, compact in structure, clean, and pollution-free. These advantages make them the perfect choice for home users. Read on to discover why.
Below are the pros and cons of each type of machine. They can help you make an informed decision.
And, you can also save a lot of money by purchasing the right one for your home.
Easy to operate
When choosing an Instant Noodles Production Machine, there are many different options to consider.
A variety of features can help you decide what type of instant noodle production machine will work best for your business.
For example, you can choose a machine that produces fried instant noodles.
If you're interested in making fried noodles, you'll need a machine that can process as much as 45 tons of wheat flour per day.
Another option is a fried ramen instant noodle production line. This machine is automatic and uses the latest technology to produce fried noodles.
The design of an automatic fried instant noodle production line takes into consideration the needs of the mass consumer market and the features of similar products overseas.
Its compact structure and high degree of automation make it a perfect choice for the home or business owner who wants to increase their production capacity while saving money on labor.
This machine will also help you save a lot of money on labor, as it requires only a few people to operate.
Compact structure
A compact structure of an instant noodles production machine is a key factor for its high-speed performance. Its parts are easy to install and operate.
It consists of a stainless frame, oil container, heat exchanger, driving part, noodle shaping case, and folding device.
The main function of the machine is to fry and dehydrate boiled noodle. Its automatic folding process makes it easier to put the noodle pieces into the container.
The instant noodles production line adopts a variety of advanced technologies and features an integrated process to produce non-fried instant noodles.
It is equipped with vacuum dough mixer, belt aging machine, and automatic control system. Its compact structure and novel design ensure a high degree of automation and precision.
The entire machine is made of stainless steel and food grade materials. It can produce both round and square instant noodles.
It is the perfect choice for those who want to make delicious and healthy instant noodles.
Easy to clean
If you want to have a high-quality noodle production machine, you should clean it regularly.
Wiping it down won't get rid of all the dust and pasta stuck in the machine. Instead, you should use a kitchen brush to clean it.
However, be careful to avoid getting brush hairs in the machine, as this may lead to more serious problems.
If you're unsure of how to clean a machine, you can disassemble it and clean the surfaces of the noodle maker.
This machine has a thickening knob which allows you to change the taste and texture of the noodles.
This knob is easy to use and large, and it's equipped with anti-skid base and sturdy feet.
It runs silently and is made of stainless steel, which is safe and rust-proof. You can easily clean the machine after each use, and it's easy to clean.
However, the machine's design is a little more complicated than other noodle makers.
No pollution
When choosing an instant noodle production machine, you should first look at how it will work in your specific location.
There are a variety of models that suit different countries and regions, and you can choose one that meets your exact requirements.
In addition, you can choose to include packaging machines such as sauce and powder packets.
Most manufacturers make it easy for you to install the machines themselves, as they come with a user manual and factory inspection form.
You can also have 1-2 engineers come to your factory to help you install the machine and train your first-line workers.
The No pollution instant noodles production machine contains innovative technology for the production of non-fried instant noodles.
The machine consists of various components including a steaming and ageing device, an agitating device, and a drying device.
During the production process, the flour is mixed with water to produce a high-moisture slurry.
The slurry is then cooled to form noodles that are high in edible content.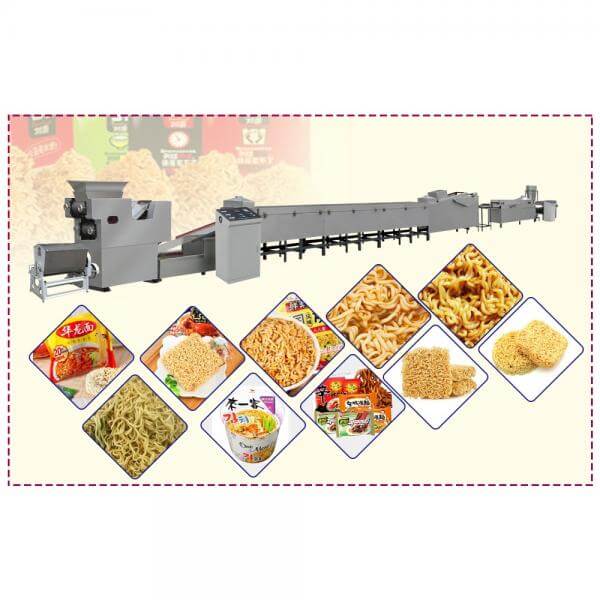 Easy to store
There are many different models of instant noodle production machines.
You should choose the right machine for your specific needs. You can purchase the machine online and enjoy free shipping anywhere in the world.
Here are some features to look for in an instant noodle machine. Listed below are some of the most important features to consider.
These factors will make the machine more affordable and easier to use. These features are also key to determining whether an instant noodle machine will work for you.
Automatic noodle production machine: This machine makes the process easy by automatically putting dough into the feeding port.
It can form both sheets and noodles at one time. The wavy surface allows for easier drying, molding, and shaping.
Additionally, this machine cooks the noodles evenly at a temperature of 100 degrees Celsius.
After the noodles are made, they are transferred to a container for storage. This feature is particularly useful if you have a limited space.
Blog: Choosing an Instant Noodles Production Machine