An Instant Noodles Machine is an excellent way to produce the famous Asian food. These products are produced by mixing raw materials into a dough and then cooked. The resulting noodles are then shredded, sliced or steamed, then fried in a deep fryer.
The resulting products are packaged and ready for sale. The benefits of an Instant Noodles Machine are many, including the ease of use and the ability to create various types of noodles, including instant ramen and Gelgoog.
Gelgoog instant noodle manufacturing plant
If you're planning to purchase an instant noodles machine, you've come to the right place.
The GELGOOG instant noodle machine manufacturing plant has all the necessary equipment to make your favorite noodles.
The factory covers an area of 4000 square meters and is equipped with frying, tunnel oven, and noodle machines.
The company's product quality is first-class, and the machines have achieved SGS certification.
It also focuses on user quality and well-deserved reputation.
The production line is equipped with frequency conversion speed control. It can produce wet rice flour and dry powder.
It can also produce various specifications, ranging from 30 grams to 100 grams.
The machine uses 304 SUS as the touch food. This ensures the safety of the noodles, while the multi-roll processing ensures that the dough is elastic and tasty.
The machine's automation allows it to operate unattended and minimize labor cost.
LONGER(r) instant noodles machine
A LONGER(r) instant noodles machine has a different structure than conventional ones.
In this design, the noodles are produced in a pyramid shape.
This helps to increase the surface area of the noodles and increase their reconstituting properties.
The pyramid-shaped noodle strips have good texture and chewiness, and they never bore consumers with their taste.
They are made using a single molding roll, instead of two.
The invention also focuses on enhancing the reconstituting and soup matching properties of the noodles.
The dough sheet is passed through a needle roll to form holes. Once the dough sheet is complete, it is dried using hot air.
This improves the quality of the noodles and helps them match the soup better.
Another key improvement to the LONGER(r) instant noodles machine is its increased durability.
It is designed to withstand rough handling.
Automatic fried ramen instant noodle production line
An Automatic Fried Ramen Instant Noodle production line will produce a wide variety of fried noodles that come in bowls.
This machine uses state-of-the-art technology to produce the fried noodles as fast as possible.
It can also process up to 45 tons of wheat flour per day.
To help you increase production, an Automatic Fried Ramen Instant Noodle production line includes many different functions.
These features make the entire process completely automated.
Among the many benefits of an Automatic Fried Ramen Instant Noodle production line are its ability to produce high-quality, low-calorie ramen with little to no oil.
This innovative technology uses a specially designed oil circulating system and auto noodles arrangement systems to ensure the highest quality of ramen.
This equipment also ensures that the oil content meets national standards.
Considering the rising demand for instant noodles, an Automatic Fried Ramen Instant Noodle production line will meet your needs.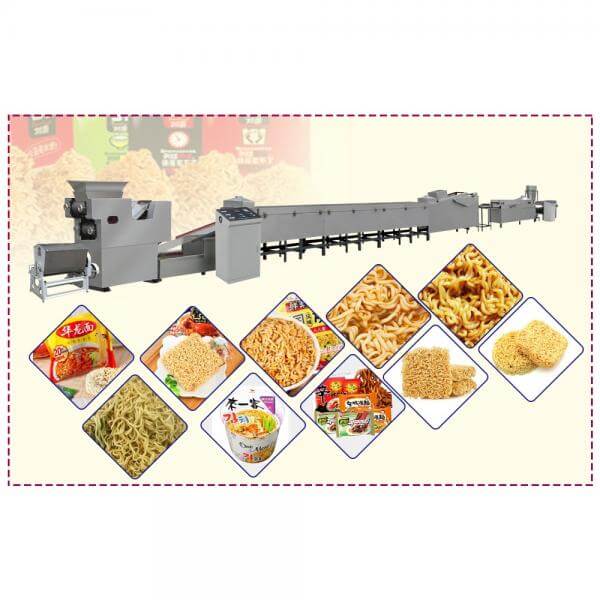 Blog: The Benefits of an Instant Noodles Machine