How to Start an Instant Noodle Production Line? There are many different options available. Here are some of the basics you need to know. This equipment includes the buck bucket, quantitative plus bucket, twin shaft dough mixing machine, oil spraying machine, flavoring machine, air cooler and shunt conveyer.
There are many types of instant noodles, so choosing the right one will depend on your needs.
Purchasing an instant noodle production line can help you launch your business quickly and easily.
Machines
The machineries used in instant noodle production line include mixing, cutting, refrigerating, and steaming machines.
The first step in making instant noodles is mixing the raw materials.
Next, the dough is pressed into strips, slices, or waving shapes.
Then, the finished product is packaged for sale.
Depending on your preferences, you can also use a vacuum noodle material pack to enhance nutritional content.
The cost of noodle machines is usually not much more than a few thousand US.
There are noodle machines for various regions and countries. Some of them are equipped with sauce and powder packet packaging machines.
Before delivering the machine, Kelid helps the client check it and provide a user manual.
They also send one or two engineers to the client's factory for installation and training.
These companies provide training to first-line workers.
Equipment
Instant noodles are popular and widely consumed around the world, and you can meet the demand with a fried instant noodle production line.
This equipment uses programmable logic controllers to control each individual machine and the entire production line.
It also has a networked electrical cabinet that can transmit data to a computer terminal via a wireless network.
The advantages of this type of instant noodle production line include low energy consumption, high output, and easy maintenance.
Besides, you can use food-grade materials that are free from chemical additives and chemicals.
When choosing a machine for an instant noodle production line, consider the type and capacity of the product you plan to produce.
Many machines have the same basic function, but may be better suited to a particular region or country. Some machines also come with packaging units, such as bags, canisters, or tin cans.
For example, if you plan to produce packaged instant noodles, you may want to purchase a packaging machine, but this is not always necessary.
In addition, steam-heated fryers or steamers can be cheaper than electricity.
Variations of instant noodles
A complete production line for the instant noodle business is available from GELGOOG.
This machine is available in different capacities for both fried and non-fried varieties.
Its configurations include a brine metrology mixer with a capacity of 100 L/units, a cutting and folding machine with a motor speed of 1.5 kw and an air knife with a spray device.
A modern instant noodle production line is made of food-grade stainless steel and uses internationally famous brands.
The machine is also sanitary, with all parts in contact with the food being thoroughly tested.
The entire production process is automated, with minimal labor costs.
The PLC-controlled machine also features an over-temperature protection device for food safety.
The water-oil mixing technology extends the use of oil and reduces costs, while the automatic filtering of residue reduces labor costs.
Price
The price of an instant noodle production line depends on the machine that you buy and where you buy it from.
You can purchase these machines directly from manufacturers or from second-tier cities.
However, you should consider the cost of middleman profits and the guarantee of after-sales service when purchasing from direct manufacturers.
There are several advantages of buying directly from manufacturers. Here are some of them.
Buying directly from manufacturers will save you a lot of money, and you will get better after-sales services as well.
There are many kinds of instant noodle equipment available.
There are fried and non-fried instant noodle machines, stick noodle machines, and fresh ramen noodle lines.
The price of each kind of equipment varies greatly, from a few hundred dollars to millions.
Before you buy an instant noodle production line, make sure that you understand the features and benefits of each machine.
This way, you will know how to best use it and maximize its value.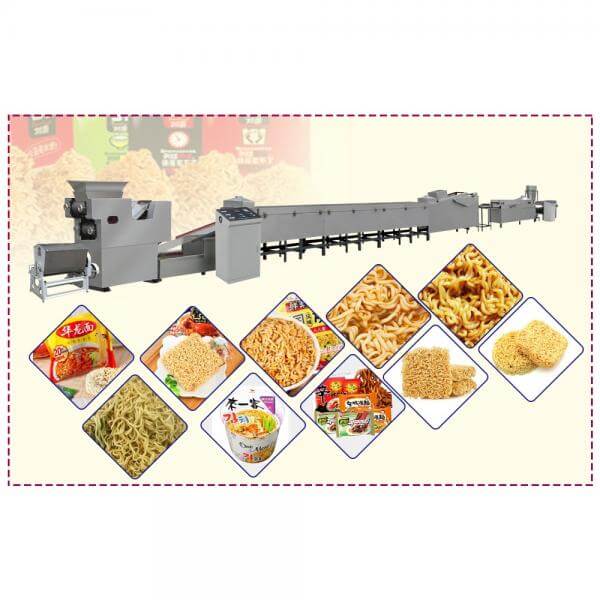 Location of machine
An instant noodles production line consists of various machines to produce the food.
There are machines for cutting and frying the noodles, mixing the dough, and baking the noodles.
The process of dough sitting has an important impact on the final quality and shape of the noodles.
Various factors should be considered when selecting the right dough feeder. First in, first out is a critical consideration.
The belt-conveyor-dough-sitting machine is used for making raw spaghetti and may be adapted to instant noodles production line in the future.
The perfect technology of the Instant noodles production line ensures the high automation and reliable performance.
It is a new generation of high-tech equipment, which reflects the development status of domestic food industry.
The machine's compact structure, high operability, and low energy consumption make it a cost-effective solution for making noodles.
The main components of the instant noodles production line are a dough mixer, a mixing machine, and a measuring water supply part.
Blog: How to Start an Instant Noodle Production Line