Whether you're looking to start your own noodle business or just want to learn more about it, this article will provide you with information that can help you build an instant noodle manufacturing plant.
It will include information about the construction process, the equipment used in making the noodles, and even the cost involved in setting up a noodle production line.
Read on to learn more about instant noodle manufacturing and get started today!
Construction of the noodle plant in 2005
The nongshim company is the world's leading noodle maker, and they are targeting the US market to compete with dominant Japanese ramen makers. Nongshim recently invested $120 million in a new plant in California.
They plan to double US sales by 2020, compared to $41.7 million in 2005. Their new plant is located in California's Rancho Cucamonga.
The company says it is investing in advanced processes and scrupulous hygienic practices.
The New Dragon Asia Corp. is a Florida-based corporation with a branch in Chengdu, Sichuan Province.
Its products are marketed through a nationwide network of over 200 key distributors.
The company also has 16 regional offices in China, where it sells to consumers in more than 30 countries.
The noodle company intends to add 6 new production lines in the near future.
This will increase production capacity to 1.5 billion packets per year.
The company is also expanding its manufacturing capabilities to Mexico.
Its goal is to capture 25% of the Mexican instant noodle market.
This includes a new production plant.
The company's technology helped them develop instant cup noodles that could be easily reconstituted and were wildly popular in Asia.
Nong Shim Foods' technology was used to set up a plant in Mexico.
The company has sent engineers to establish the manufacturing facility.
Equipment used in the noodle production line
There are various types of equipment used in the instant noodle production line, which can be divided into five categories: noodle mixing machine, buck bucket, compound calendering machine, cooking machine, steamer, fryer, and cooling device.
You can also purchase packaging machines if you are planning to sell your products in bulk.
Electric fryers and steamers can be used to heat the dough sheets, but steam is much cheaper and easier to clean.
The new double-axis frequency conversion kneading machine features high and low speed rotation. Its time can be arbitrarily adjusted.
Another new kind of lifting multi-layer steamer is equipped with a counterweight cutting folding structure that can be cleaned in a complete way.
This equipment can make a square or a round noodle cake. Before entering the frying stage, it needs to be blown.
Automatic instant noodle production line has numerous advantages. The machines are made of stainless steel and use well-known brands for sanitary purposes.
Besides, they are highly efficient. All parts that come in contact with the food are inspected and tested for sanitary properties.
The fully automated production method reduces labor costs. The PLC controller controls the machines. It is also easy to operate for ordinary workers.
Its energy-efficient and durable design make it a good investment for the production of high-quality instant noodle.
Cost of a noodle production line
If you are looking for a reliable instant noodle production line, you should look into the cost of its equipment.
You can purchase instant noodle production line equipment directly from manufacturers, or from companies in second tier cities.
Purchasing direct from a manufacturer is an advantage as it cuts out the middlemen's profit and gives you guaranteed after-sales service.
The cost of an instant noodle production line can vary widely, depending on the type and size of the equipment you choose.
Instant noodle production lines have the following features: food grade stainless steel, automatic noodles arrangement, and temperature distribution systems.
The parts that come into contact with the food are tested for sanitary quality. The fully automated production method reduces labor costs and increases efficiency.
A PLC-controlled instant noodle production machine has simple controls and can be operated by ordinary workers after a short training.
The machine is equipped with a temperature control system and a water-oil mixing technology to prolong oil usage.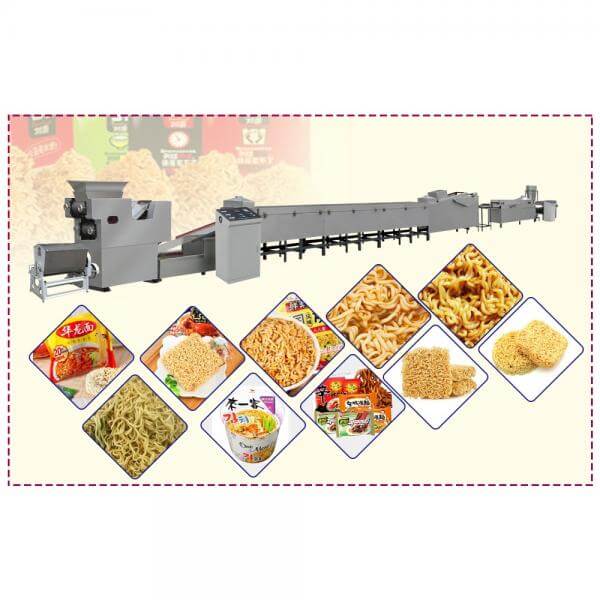 In addition to this, a quality instant noodle production line should be maintained on a daily basis to reduce the chances of frequent maintenance and improve efficiency.
These simple steps will help you maintain your equipment for many years.
If you're unsure about how much a production line should cost, consult with an expert in the field.
You can also look into financing. In general, an instant noodle production line costs between $500,000 to $5 million.
Blog: Instant Noodle Manufacturing Plant