An Instant Noodle Making Machine is an efficient investment for anyone looking to produce noodles for home or business use. These machines can be used for a variety of purposes, including hot air-dried instant noodle production and fresh rice noodle production.
There are many advantages of owning one of these machines.
Read on to discover the many different types of instant noodle production lines and which type would best suit your business.
A high-quality instant noodle production line will increase your profits.
Automatic instant noodle production line
The Automatic instant noodle production line is a complete set of machinery for making the noodles. The machine combines flour, water, and other ingredients to create a dough.
Its high processing efficiency and uniform size of the noodles ensure the quality and uniformity of the finished product.
The final product is then cut into strips, slices, or waves, and packaged for retail sale.
In addition to ensuring the quality of the final product, the Automatic instant noodle production line is also ideal for food companies looking to maximize profits.
The Automatic instant noodle production line comprises several components, including a dough maker, a forming host, a steam noodle machine, a cutting machine, a frying machine, and a cooler.
The equipment is highly automated, with its high level of automation and compact design allowing it to be operated by ordinary workers with minimal training.
Its high degree of automation also allows it to run efficiently and quickly, and the investment needed is only a fraction of the cost of larger-scale equipment.
Hot-air-dried instant noodle production line
A hot-air-dried instant noodle manufacturing process involves applying hot air to the noodle mass for a short period of time.
Its temperature should be 120 to 160 deg C. During the drying process, the water content of the noodle mass should be 6% or less.
A typical production line uses a single hot-air dryer. It may require several stages to complete the process.
The first step of hot-air-dried instant noodle manufacturing is to produce a noodle band.
The noodle material is a powder, and the next step is to attach a noodle string to it. Then, the raw noodle string is steamed and the noodle is quantitatively filled into a retainer.
The third step of the process is to add an indigestible starch to the inner layer.
Cellophane vermicelli noodle production line
If you are looking for a cellophane noodle production line, you have come to the right place.
Cellophane noodle production involves a series of steps from weighing raw materials to cooking.
You need to weigh both the starch and water used for making the noodles in a certain proportion, as well as the other ingredients.
After that, you need to pack the final product into cellophane bags. Here are some important steps in noodle production:
To begin the production process, the mass is manually emptied into a tubular cylinder.
A piston works with a gear system to force the paste through a screw mold, which is cut at a two-millimeter-wide slit.
After the noodles are molded, they are placed on flat tables and cut with letter-shaped dies.
The finished products are then put in drying carts to dry.
Automatic fresh rice instant noodle production line
This fully automatic noodle production line combines traditional mode with advanced technology.
With this machine, you can enjoy noodles with good elasticity, smoothness, and transparency.
You can serve the noodles hot or cold. It is easy to operate and maintain.
All parameters are marked, and the production line is easy to operate. It can make both fried and boiled noodles.
You can select the appropriate cooking temperature and add other ingredients to make the final product more delicious.
The automatic fresh rice instant noodle production line comprises five steps, including the soaking and sheet forming process.
It is also equipped with a steamer to cook the noodle sheets. The noodle blocks are then stacked and conveyed to a drying process.
This production line can produce up to 20 tons of dry noodle blocks per day. You can easily use it to make instant rice noodles.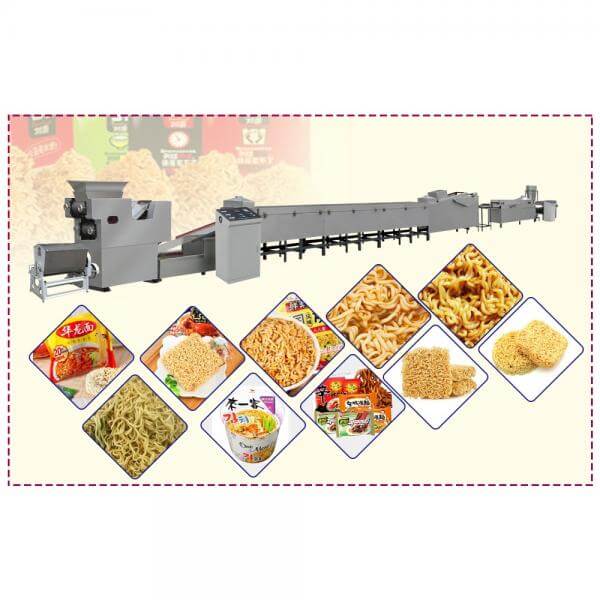 Automatic dry rice ada flake production line
An Automatic dry rice ada flake manufacturing plant is an excellent way to make the popular sweet ada pradhaman.
This dish is traditionally made with coconut milk and brown sugar, and is a staple of the Onam Sadhya menu.
This machine produces the perfect quantity of rice flakes with minimal effort. The product can be used as a snack or a dessert.
Blog: The Advantages of Owning an Instant Noodle Making Machine