The Instant Noodle Machine combines many features to make instant noodles. There are several types of machine, including noodle mixing machine, compound calendering machine, cooking machine, and fryer.
You can also purchase packaging machines for instant noodles, but they are not necessary for making bulk instant noodles.
You can heat the fryer and steamers with electricity or steam, but steam is cheaper. There are also noodle machines that heat the noodles in a pot.
Heshan's Instant Noodle production line
Besides instant noodle machines, Heshan manufactures other types of food machinery, including rice vermicelli and stick noodle machines.
This production line includes everything necessary to produce these products from rice and other ingredients.
It also comes with equipment for dehydrating food-grade starches. For a quick turnaround time, it's a wise investment.
Here are some benefits of using Heshan's food machinery:
First, the dough is compressed into a thin sheet. It's then shaped into noodles.
In order to create wavy noodles, the conveyor speed is set at a lower speed than the noodle cutter, so that they twist.
The wave-forming and cutting processes are controlled with advanced control systems.
Once the noodles are cut and formed, they're steamed for two minutes at 100 degrees Celsius.
Yamato's Instant Noodle production line
An energy-saving Instant Noodle production line is one of the latest innovations from Yamato's.
It has many unique characteristics of industrial production, and was designed in response to the needs of the mass consumer market.
It consists of a series of components that work together to produce a quality product with minimal energy consumption.
It has all of the necessary tools to help manufacturers maximize their profits and minimize their energy bills.
The components of the instant noodle production line include vacuum mixers for dough preparation, a refrigeration cooling system, multiple-layer steamers, and an auto-steaming machine.
The main function of this equipment is to increase the alpha-starch gelatinization of the dough during the steaming process, preventing the noodles from sticking together during the cooking process.
This enhances the rehydration of the finished product, which has a delicious texture.
LONGER(r) instant noodles machine
The LONGER(r) instant noodles machine is a high-speed noodle-making device, which is capable of making various kinds of instant noodles.
Its large-scale production capacity is approximately a hundred sets per year, resulting in an annual output value of about 200 million yuan.
In addition to that, it employs hundreds of people, including dozens of senior engineers and designers. One employee even enjoys State Council allowance.
The LONGER(r) instant noodles machine combines multiple methods of drying instant noodles.
The first method consists of placing the gelatinized noodle strings into a drying retainer and blowing hot air at a high speed into the noodle mass.
This method helps the noodles dry out more quickly and achieve the desired texture and cooked-like feel.
The LONGER(r) instant noodles machine is capable of producing noodles that are thicker and softer than their traditional counterparts.
Pot noodles production line
A production line for instant noodle products is an excellent investment for a fast-growing restaurant.
The line consists of four separate linear noodle production lines, as well as a soup base powder and dipping sauce manufacturing facility.
Each line utilizes state-of-the-art technology and is fully automated.
Among these, the fried ramen instant noodle line is one of the most innovative and efficient.
It is capable of processing up to 45 tons of wheat flour per day.
The automatic instant noodle production line of Shangbaotai includes a dough mixer, noodle feeding unit, soup powder and dried garnish feeder, lid feeder, and cup removal unit.
It also features an automatic noodle cake feeder which supplies noodle cakes into the wrapping machine automatically.
An automatic cutting machine is also available to produce instant noodles.
A continuous noodle roller is an important component in an instant noodle production line.
It uses nine pairs of chilled alloy rolls for uniform thickness and a smooth surface.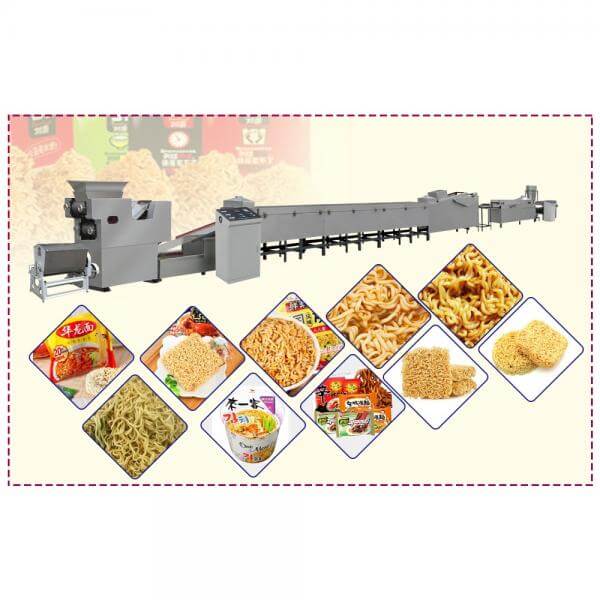 Dry rice ada flake production line
If you're looking to start making your own instant noodles at home, consider investing in a dry rice ada flake production line.
This machine automatically creates rice flakes, which are very convenient for preparing Indian delicacies like ada pradhaman, a popular coconut milk and brown sugar dessert.
These flakes are a staple of the Onam Sadhya menu and are ideal for preparing delicious desserts.
MT machinery & equipment co.,ltd.
MT machinery & equipment co., LTD. is located in the capital city of Shandong province, China.
They are specialized in producing twin-screw and single-screw food expanding machinery, as well as complete sets of equipment. Their team has over ten years of experience in the food industry.
They have been dedicated to exploring and improving food technology, and their machines are well-known and appreciated by customers around the world.
MT machinery & equipment co.,ltd. is a manufacturer and supplier of various machines and equipments, including food, beverage, and pharmaceutical products.
The company was founded in 2013 and is located in Jinan, Shandong, China.
It is listed on Trade India's verified sellers list, and its products are recognized for their superior quality.
It is also listed on BIBi.com, so you can be assured of receiving high-quality goods and services.
Blog: Benefits of Investing in a Heshan Instant Noodle Machine