There are several advantages of the Instant Cross Bridge Rice Noodle Production Line. The price is reasonable and procures are convenient. The bowl-packed rice noodles are well-known for their smooth mouthfeel, rice flavor keeping, transparency and fineness.
The rice noodle production line is widely approved by the Jinfeng Industrial Corporation.
Moreover, the product is easy to operate and requires little maintenance.
The following sections provide you with detailed information about this product.
Product
The instant cross bridge rice noodle production line features an extensive range of benefits.
Its bowl-packaged rice noodles have a pleasing, smooth mouthfeel, and the rice flavor is retained.
Its fineness and transparency also make it a highly attractive product.
The machine has already received a wide range of approvals from various authorities, including the Jinfeng Industrial Corporation.
Moreover, it is also compatible with a variety of instant noodles, including Maggi authentic Indian noodles.
The advanced instant noodle production line has more than 100 functions, including soaking, steaming, sheet aging, and noodle shredding.
It is also equipped with a dehydration machine.
The production capacity of a complete instant noodle production line is approximately 30000 packs per day, with a high rate of noodle dryness.
Its noodle drying process can reach a rate of 20 tons per day.
Price
You have heard about the popular "instant cross bridge rice noodle" but are unsure of how to make it at home.
Instant noodle factories are relatively advanced at the moment.
But you'd be surprised to learn that the process of making instant noodle isn't much different than making regular noodles.
A bowl package rice noodle is easy to eat, and a bag package rice noodle offers a smooth, delicious mouthfeel.
Instant cross bridge rice noodle production line has a reputation of being reliable and cost-effective, which is why you need to know how to buy it.
Instant noodle production lines are highly efficient machines that process the raw materials.
This line consists of several separate components: rice soaking, sheet forming, steamer cooking, and aging.
After the sheets are formed, they're automatically stacked and conveyed to the noodle dryer.
In addition to this, the complete line can produce up to 20 tons of dry noodle blocks per day.
Approval
The Yunnan Provincial Food Safety Local Standard Cross-bridge Rice Noodle Food and Beverage Processing Hygiene Code was issued in May 2011.
The code requires that the noodle's diameter is at least 22 cm and the noodle be extruded through a ram extruder.
The nozzle is required to have a diameter of at least 0.5 mm, preferably 0.6 or 0.9 mm.
The larger the nozzle, the lower the pressure of extrusion, the less the back flow and shearing and higher the capacity of the instant noodle production line.
The Instant Cross Bridge Rice Noodle Production Line has achieved a wide range of approvals in the food industry.
Its reasonable procures, smooth mouthfeel, and rice flavor retention are among its outstanding characteristics.
The approved line has achieved broad approval from Jinfeng Industrial Corporation, a leading food machinery manufacturer in China.
Its flexible configuration allows it to be easily installed at any location, whether small or large.
Variations
Different varieties of instant cross bridge noodle are available. Some varieties are semi-transparent while others are white.
They are all made using similar instant rice noodle production lines. Some are fried, while others are made without frying.
These are all good for making instant noodle recipes for instant enjoyment.
Read on to learn more about these variations of instant noodle production lines. Let's take a look at some of them!
The traditional method of making bridge rice noodle includes cooking it in water with a special type of sauce.
In Mengzi, Chinese people serve it with vegetables and meat. The locals also add edible chrysanthemums to the soup.
It is a ritual and a good treat for everyone! Authentic bridge rice noodles can bring back many memories.
In addition to its delicious taste, they also taste great!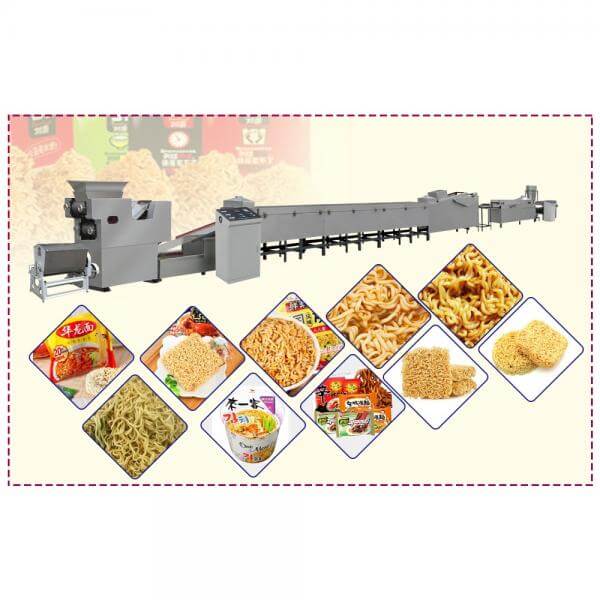 Rehydration time
Rehydration time for instant cross bridge rice noodle products is dependent on several factors.
These factors include the quality of the noodle's texture, cooking loss, and protein content.
Improved noodle properties can increase the acceptability of the product.
Low absorbency, poor texture, and high cooking loss are factors that negatively impact the acceptability of instant cross bridge rice noodle products.
This study aims to identify the best rehydration time for instant cross bridge rice noodles.
A high fiber content is beneficial for rapid water absorption, which promotes high rehydration.
In addition, the high protein content enables it to hold charged and polar molecules.
Despite the fact that the noodle's high protein content is good for rehydration, it has a lower rehydration rate due to the reduced water required during cooking.
The high protein content of the product may also contribute to its acceptability.
Blog: Instant Cross Bridge Rice Noodle Production Line