An industrial spaghetti making machine is an effective and reliable piece of machinery for producing high-quality pasta. This machine has several features including double bowls, removable mixing trees, adjustable scroll speed with inverter, cutting and cooling of the head, and more.
Depending on your needs, it may also come with a refrigerator and an automatic line. You can even purchase a machine for pasta-making and serving at the same time.
To maximize efficiency and reduce your production costs, you may consider purchasing one with refrigeration as an option.
Features
Industrial spaghetti making machines are designed to produce pasta in an efficient and convenient manner.
Their efficient process is based on extrusion, which forces dough through a shaped die to create spaghetti.
Once the dough has been formed into spaghetti, it is dried using a multistage, delicate process, which preserves product quality and shelf life.
This process is used by most pasta factories and is a time-tested method for producing high-quality products.
An industrial spaghetti making machine is typically equipped with double mixing trees, adjustable scroll speed, cooling head, and other features.
Some models also come with additional refrigerators, so the finished product can be kept fresh.
A quality industrial spaghetti making machine will produce high volumes of fresh pasta at a time.
It also has several useful features such as a two-tiered water cooling system and an adjustable scroll speed.
Once the pasta is shaped, the machine will automatically remove the clogged spaghetti and place it in a storage bag or tub for further storage.
Benefits
The industrial spaghetti making machine is a highly sophisticated equipment that produces pasta quickly and efficiently. It extrudes dough through a screw extruder.
The dough is then shaped by rotating knives or dies, and then dried in a delicate multistage process, preserving quality and increasing shelf life.
The extrusion process is used in pasta factories to make pasta because it forces dough through a die and remains elastic.
This machine is made from high-quality stainless steel, and comes with a variety of attachments.
Its stainless steel body and removable parts make it easy to clean and maintain.
The noodle-making attachments make it easy to customize the thickness of the noodles.
A large variety of pasta styles is possible, and the machine is flexible enough to accommodate a variety of ingredients.
The removable main parts of the pasta maker make cleaning easy.
Drying process
The drying process for industrial spaghetti making machines is important in order to avoid breaking and spoilage of pasta.
The process is controlled by regulating the amount of oxygen in the drying tanks and lab technicians are constantly checking for bacteria.
The most delicate noodle is spaghetti, so the drying process must be done slowly.
Once the pasta is dried, a plastic sheet is placed over each container and sealed using a hot press. It takes about three hours to dry one sheet of spaghetti.
Depending on the capacity of the industrial spaghetti making machine, this process may be automated or manually operated.
Automated systems have multiple stages and can be used to make different types of pasta.
For example, the sarp spreader may be used to automatically lay long pasta on sticks or stack trays of short pasta.
Another automated system may include a cutting machine to cut the dough longitudinally or transversally.
It can also be calibrated to produce different shapes of pasta.
Packaging
An industrial spaghetti making machine is a highly sophisticated and powerful piece of equipment that can produce a wide variety of pasta products.
These machines are capable of combining a variety of ingredients such as pasta sauces and seasonings into a single pouch.
A high-speed, inverter-driven scroll conveyor system enables the machine to move product up and down the plant.
Additional features include cutting and cooling heads, and an optional refrigerator.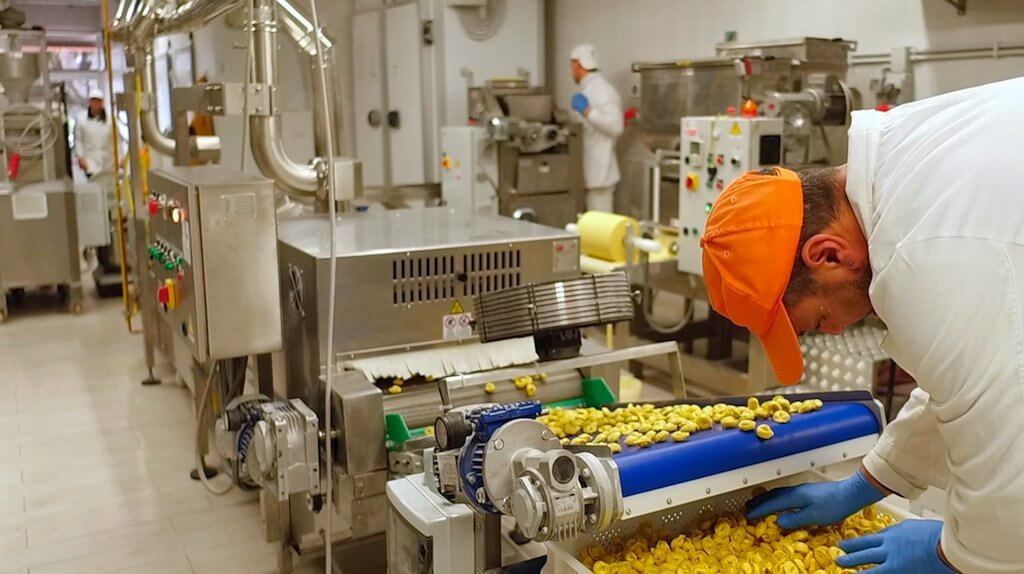 Blog: Industrial Spaghetti Making Machine