The Industrial Spaghetti Machine is a complete, powerful, reliable, and versatile pasta making machine for industrial use. It features double bowls, a removable mixing tree, adjustable scroll speed with an inverter, and cutting, cooling, and head cooling capabilities.
For added convenience, it can be equipped with an optional refrigerator.
It is easy to clean and maintain and is ideal for large-scale production plants.
A single machine can produce both traditional and specialty pastas.
Pasta extruder
If you are looking for a pasta extruder for your industrial spaghetti machine, you have come to the right place.
This versatile piece of equipment has all of the features you could possibly want in a pasta-making machine.
It can be used in automatic lines and has features such as double mixing trees, adjustable scroll speed with inverter, cutting, and head cooling.
Additionally, it can be used to prepare fresh spaghetti, lasagna, ravioli, and other pasta varieties.
Pasta extruders are an essential piece of equipment in any industrial spaghetti machine.
You can use them to create different shapes of pasta, including flat sheets, lasagna noodles, ribbon-cut pasta, and macaroni tubes.
Some models are available with interchangeable pasta dies, so you can create various shapes. You can also use these extruders to create ravioli, pierogies, and dumplings.
Continuous cycle press kneader
The most basic kneaders for industrial spaghetti production are single and double-basin types.
These machines produce the dough sheet required to feed the forming machine.
The double-basin type is suitable for small productions and continuous cycles.
These machines are made of stainless steel and are available in a variety of models.
There are also several different options for the size of the dough sheets.
The machine has a three-chamber design that combines dough mixing and dough evacuation.
This configuration offers high-speed mixing of the dough. Then, a continuous kneading machine works the dough in vacuum conditions.
Then, a self-drive blower divides the dough into strands that pass freely into the gap between the movable and fixed cutting knives.
Chinese noodles
An industrial spaghetti machine can produce fresh, precooked, or frozen Chinese noodles.
These noodles are very similar to the Italian version, but require less processing to produce.
The raw flavor of Chinese noodles is retained. The Da Sanjiang China noodles machine makes both precooked and frozen wet noodles.
Depending on the desired texture, these noodles can be made with any type of sauce.
The following table describes how this machine produces both fresh and frozen Chinese noodles.
As a result, the North American region is expected to lead the market. The region has an extensive food stall and restaurant sector.
According to the National Restaurant Association of India, the country has more than 4,000 restaurants in 2019.
By 2020, the number of Chinese-style restaurants is expected to reach 2.2 million, with a growth rate of 11% annually.
Further, increasing consumer demand for fresh pasta is expected to increase the market size in the region.
Ribbon-cut pasta
When you're trying to cut the most precise ribbons for your pasta recipes, an industrial spaghetti machine can help.
These pasta machines feature blades that rotate in different directions to create a variety of shapes.
For example, one of these machines can make capellini, angel hair, and ribbon-cut pasta.
Another type of industrial spaghetti machine makes tube-shaped pasta by pushing dough through different-sized dies.
Some of these machines are also adjustable in terms of thickness, making them versatile.
This type of industrial spaghetti making machine is a sophisticated piece of equipment that makes a wide variety of types of pasta.
It can cut and roll a variety of ingredients into a single pouch.
These machines feature a high-speed inverter-driven scroll conveyor system to move the product up and down the plant.
Several heads can be used to cut the pasta and cool it.
In addition to the basic machine, there are specialty models that can produce noodle-like noodles, dumplings, and spaetzle.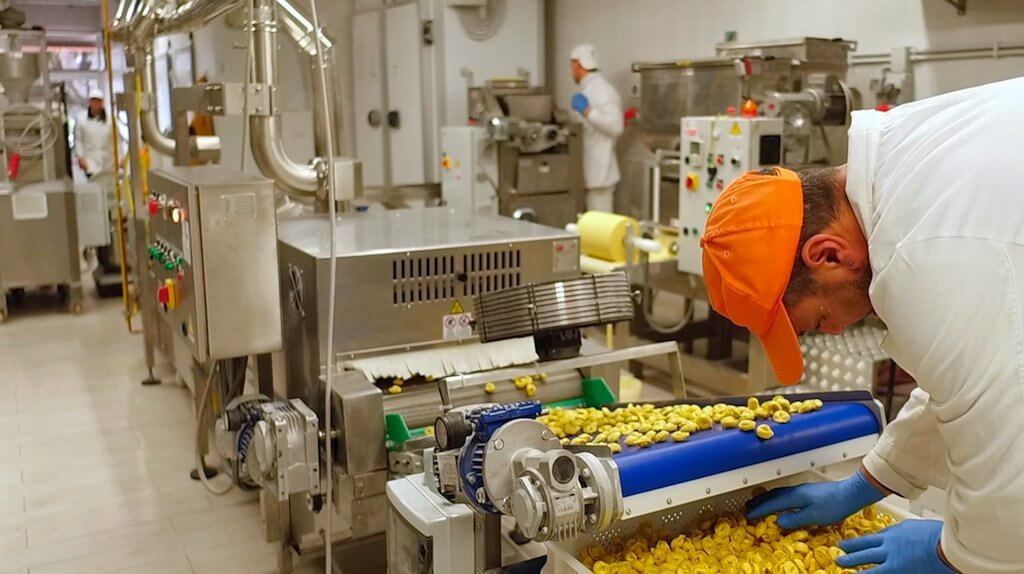 Macaroni tubes
An industrial spaghetti machine uses a variety of cutting tools to create a variety of pasta shapes.
These pasta machines can produce long and short macaroni tubes as well as lasagna noodles.
Some models feature multiple drying chambers and a variety of energy sources to reduce energy consumption.
You can choose an electric or manual model, depending on your needs.
An industrial spaghetti machine is a versatile addition to your kitchen and is the ideal solution for your pasta making needs.
You can choose from various sizes and models, and some of these machines are even compatible with specialty pasta, such as dumplings and spaetzle.
Macaroni products are made from dried dough units made from wheat flour or semolina.
Macaroni products may include optional ingredients, such as calcium carbonate, glyceryl monostearate, and gum gluten.
All of these ingredients must be used within specific ranges.
A fully automatic industrial spaghetti extruder can produce macaroni of many shapes, including square, rectangular, and round pasta.
Multipla
Multipla is a combined pasta machine that is designed for restaurants, bakeries, rotisseries and other similar businesses.
Its compact size makes it suitable for limited spaces and ensures maximum ease of use.
The machine is also made with care to ensure maximum safety and reliability. Read on to learn more about Multipla.
Here are a few of its best features. They will ensure that your business gets the most from this machine!
The machine produces high-quality pasta fast. It makes noodles by extruding dough through a screw extruder and shaping it with rotating dies.
It then dries in a delicate multistage process.
This high-tech piece of machinery has an inverter-driven scroll conveyor system that moves the product up and down the line.
It features cutting and cooling heads. It can produce many types of pasta at once.
Blog: The Industrial Spaghetti Machine