An industrial pasta extruder machine has many advantages. It is complete, powerful and reliable. It can be installed in automatic lines and has double mixing trees, adjustable scroll speed with inverter, cutting and cooling heads, and more.
The electric model can even be combined with a refrigerator.
The pros of an industrial pasta machine make them a wise choice for high-volume locations.
But before you purchase one, you must know some important features of an industrial pasta machine.
Die for Sarp machines is interchangeable
The die for the Sarp industrial pasta extruder machines is a versatile piece of equipment.
It allows for easy removal and replacement, and is interchangeable across all of the Sarp models.
This makes the machines suitable for various types of pasta production.
Medium-sized productions can easily accommodate a variety of die sizes and types.
Here are some reasons why it's important to use interchangeable dies.
Manual or electric, a pasta extruder creates long and short shapes.
A cylinder forces dough through and squeezes it out of a die.
Most pasta extruders have interchangeable dies, which make them easy to change and customize your extruder.
A manual extruder uses a metal cylinder and is typically operated with a hand crank.
It comes with 5 interchangeable dies and is made of chrome-plated steel.
Die for Imperia machines is made of bronze or brass
The Imperia pasta extruder machines use bronze or brass as their dies.
Bronze dies make the pasta pieces rough and allow the sauce to adhere to the surface.
If you prefer a smoother texture, you can use teflon-coated inserts.
Pasta extruders are available in several shapes, from flat sheets to filled pasta.
The Imperia pasta extruder machines are easy to operate and come with many useful accessories.
The Imperia pasta extruder machine comes nearly complete. To use it, you must mount it on a firm surface.
Fasten it with a table clamp and screw band around the brass die plate.
Then attach a handle to the housing. You can now prepare your ingredients and start cooking!
The pasta extruder is suitable for making any type of dough.
For example, it makes excellent squared spaghetti, macaroni, and bucatini.
Die for Marcato machines is made of steel
A Marcato pasta machine is designed to produce 3 different types of pasta.
The Atlas 150 model is the most versatile, as it is compatible with up to 12 different types of cutting attachments.
The Regina pasta machine, on the other hand, has extruders and dies for making five additional types of short and long pasta.
The dies and extruders on Marcato machines are made of steel, and you can use them for various purposes.
The die for Marcato machines is made of steel, which makes it more durable than plastic or aluminum.
Unlike many other brands, Marcato machines have dies made of thick steel, so you can rest assured that they will not rust or bend.
Another benefit of buying a Marcato machine is that the die is very easy to remove if you need to change shapes.
The dies are usually available in several different shapes, making them great for various occasions.
Electric pasta machines are great for busy, high-volume locations
When compared to hand-cranked machines, electric pasta extruder machines require much less space.
A hand-cranked machine needs space to knead the dough and rest it before cutting and shaping.
Electric machines mix the dough directly in the machine, skipping all these steps.
They can also produce noodles or shapes as opposed to merely sheets of pasta.
Dies are easily changed to fit a variety of ingredients.
Another benefit of electric pasta extruders is their speed. The machine will mix and extrude pasta in no time.
While older models did not produce the right consistency of dough, electric models will extrude pasta with the right texture.
They can also extrude ribbed penne, ziti, bucato, and vermicelli.
Electric extruder machines save time and effort in busy, high-volume locations.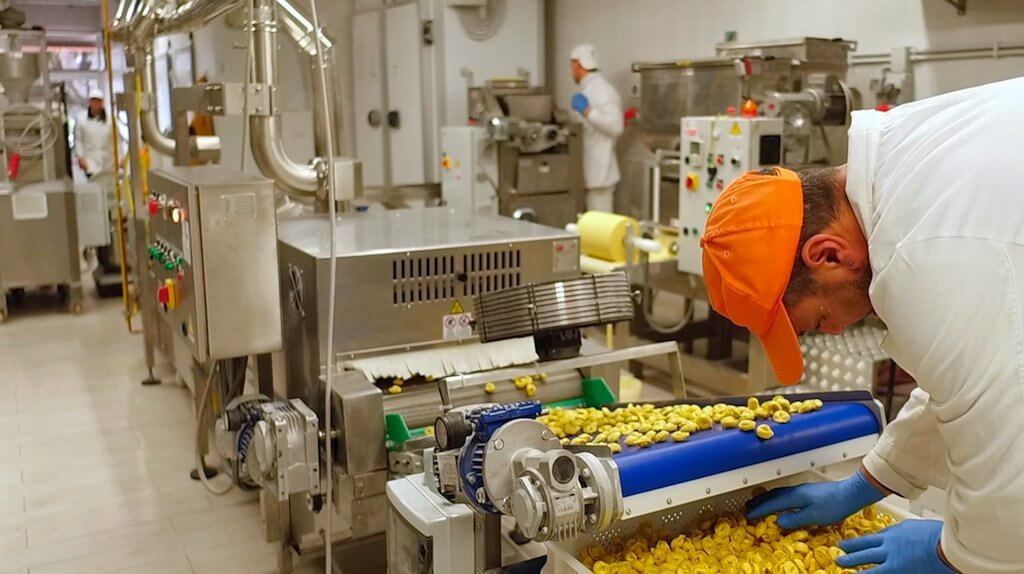 Cost of a pasta extruder machine
There are many different types of pasta extruder machines.
Some extruders can make different kinds of pasta, such as fettuccini, linguine, and angel hair noodles.
Many machines are equipped with a variety of dies that allow you to customize your pasta making process.
However, you should know that not all dies are included with every machine.
To get the most out of your machine, you should consider purchasing extra pasta dies or attachments.
The process is simple. Most pasta extruder machines have very few moving parts.
The higher end models are more durable than the cheaper ones.
To find out more about the different models available, check out the product reviews on Amazon.
Be sure to read the reviews, and look for 3 to four star reviews.
These reviews will give you the best idea of the quality of a pasta extruder.
If you are unsure of what kind of machine you need, read the reviews on Amazon first.
Blog: Important Features of an Industrial Pasta Extruder Machine