If you're looking for an industrial pasta machine, you've come to the right place. Industrial pasta machines are complete, powerful, and reliable.
They work well in automatic lines, and feature double bowls, removable mixing trees, adjustable scroll speed with inverter, head cooling, and cutting.
There are even options to add a refrigerator to the industrial machine. Here are some of the benefits of each model. Read on to learn more.
GEA
GEA has a wide variety of pasta machines that are perfect for pasta manufacturing. From fresh pasta to gnocchi, GEA provides the machinery needed to meet your needs.
The innovative process technology and advanced machinery used in GEA pasta machines help you maximize the productivity of your operation while reducing energy consumption and footprint.
GEA pasta machines also feature TAS technology, which expresses the full potential of TAS technology by operating at low temperatures and providing the perfect consistency of the pasta.
The slow rotation mixing paddles also prevent mechanical stress on the gluten matrix, thereby ensuring perfect consistency.
Italgi
For the commercial production of fresh pasta, Italgi offers a variety of industrial machines to meet any needs.
These machines include extruders, sheeters, ravioli makers, gnocchi-makers, and pasteurizers.
They can produce different shapes of pasta, including sheet and dragged types.
The multifunctional machines are easy to operate and require minimal investment.
They also feature several advanced features, such as automatic drying cycle management and a customizable design.
Wohl Associates
If you are looking for industrial pasta machinery, you've come to the right place.
Wohl Associates is a leading used food processing and packaging equipment dealer.
You can find pasta processing equipment from top manufacturers at Wohl Associates, including Dominioni A250 Pasta Mixer/Sheeter and other similar machines.
You can purchase one of these machines for your business or use it in your own kitchen.
These machines can help you save money while processing the freshest pasta possible.
Toresani
Toresani makes a variety of industrial pasta machines and equipment for various uses.
One model, the CISF-300A, is a compact machine with a 15-inch conveyor and a push-button starter.
Another model, the MT265-A, is a four-punch pasta machine with a three-inch auger flour recycling system and a stainless steel cabinet.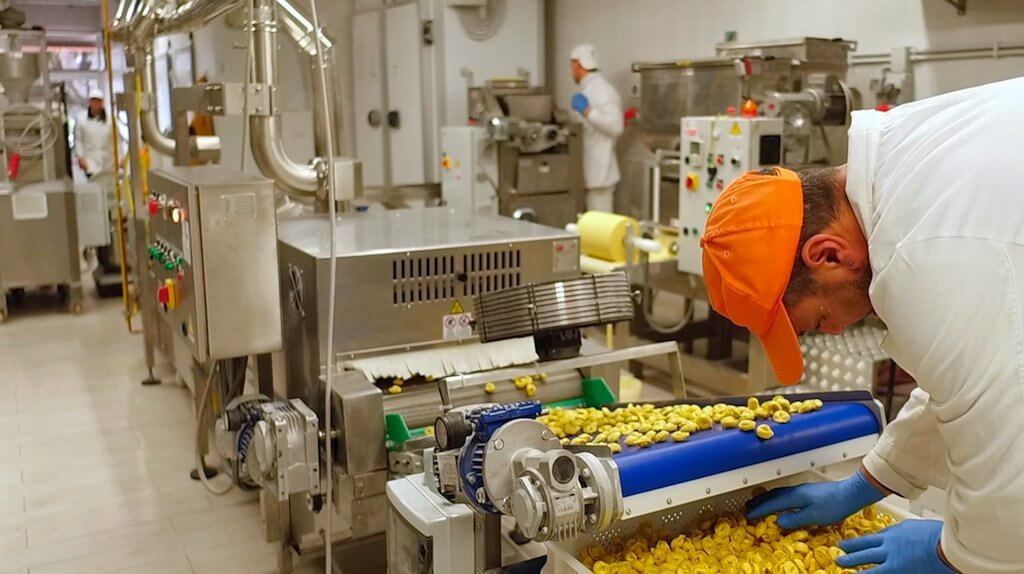 Modula
Modula industrial pasta equipment includes a cylinder that can produce ravioli, gnocchi and other varieties of fresh pasta. The modular design makes it easy to assemble.
The machine is made of stainless steel and other materials suitable for culinary use.
Its components can be easily maintained and cleaned.
It is ideal for restaurants, bakeries and other commercial establishments that require high-quality fresh pasta.
The modular construction allows for easy setup and easy cleaning.
Modula Plus
The Modula Plus is an industrial pasta machine, designed for the production of several types of pasta and ravioli.
Its innovative design is aimed at achieving the highest hygiene standards, as well as safety and fast cleaning.
Its components are made of stainless steel and materials suitable for use in the culinary industry.
Unlike other industrial pasta machines, the Modula Plus does not require any special maintenance and is easy to assemble and use.
GEA Pavan
GEA has completed the acquisition of Italian-based pasta maker, Pavan.
The acquisition, completed in September 2017, creates the leading global supplier of extrusion technology used to produce a variety of pasta, snack and breakfast cereal products.
Pavan's products include extrusion moulds and cutting systems for a variety of different applications.
GEA also offers video support and leasing terms.
The acquisition will expand GEA's food processing offering and further strengthen its position as a leader in the Italian pasta industry.
Blog: Industrial Pasta Equipment