The FRK Fortified Rice Kernel Production Line takes broken rice as its main ingredient. It can also include other vitamins and minerals. After the material is ground, the rice is extruded into the shape of a rice strand by a twin-screw extruder and dried using a rotary dryer.
This process solidifies and strengthens the micronutrients in the rice, while increasing its nutritional value. This process also helps in reducing the costs of raw rice.
FRK fortified rice kernel production line makes the perfect fortified rice product by coating the kernel with a blend of vitamins and minerals.
Unfortified rice can be dusted with this powdery mix to increase its nutritional value. However, this method is only effective in countries where consumers do not wash their rice before eating it.
The FRK fortified grain processing line is a complete solution to your production requirements.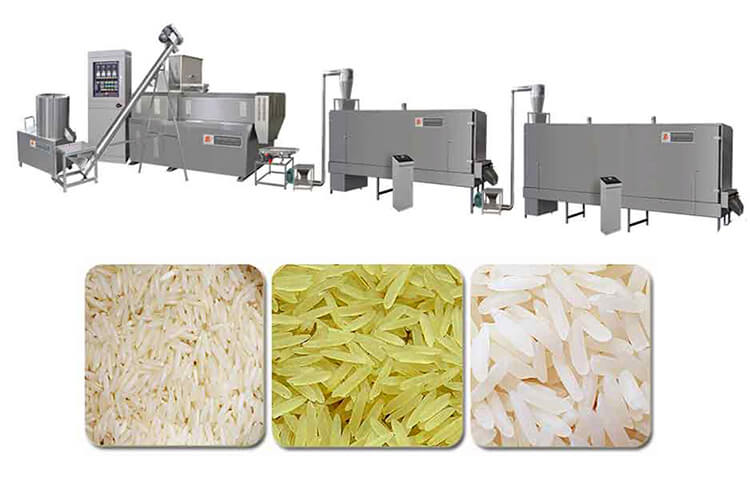 The FRK fortified rice kernel production line uses broken rice flour to make the shaped kernels. This system utilizes twin-screw curing and temperature-control systems in all heating zones.
The accuracy of temperature control helps improve the ripening and extrusion of fortified rice. The FRK fortified rice kernels are available in different sizes and shapes.
The FRK fortified corn milling plant is the perfect choice for anyone looking to increase their output and lower their expenses.
Whether you are looking for a fully automated or manual system, a fortified rice kernel production line is the right choice for your needs.
PATH maintains a list of fortified rice kernel suppliers that provides high quality fortified rice. The PATH list is not an endorsement of any particular company or program.
You can use variable flow mechanisms and modern mixing systems to achieve uniformity.
Continuous quality assurance, regular analyses, and government inspections will ensure the best fortified rice product.
The FRK fortified rice kernel production line uses broken rice flour. The FRK is an extruder which ripens the fortified kernels with an even distribution of the ingredients.
These fortified rice are then transferred through the extruder. The FRK can produce a wide range of fortified rice varieties. There are many advantages to this machine, but it may be too costly for your needs.
The process of producing FKs involves precise proportions of the raw materials. Premixing is a cost-effective option because it eliminates the need to pre-mix the raw materials.
Using a mixer that is specifically designed for FKs is more convenient and cost-efficient than mixing the ingredients by hand. With an extruder, the broken rice kernels are passed through a mixture of vitamins and minerals.
It is important to maintain the correct proportions of all the raw materials for the production of FKs.
It is preferred to use a premixing process because it is cheaper than other methods.
A standard hopper is required to have two hoppers. Then, the fortified rice kernels are extruded.
This process involves an extruder, which is an agitator. It has a rotary table and a vibrating table.
The Fortified Rice Kernel Production Line is designed to meet the nutritional needs of consumers. It does not lose the essential nutritional elements in the rice.
This process is energy-efficient and environmentally friendly. It can process rice flour, broken grains, and other grain.
The breakage rice is re-used and re-processed with additional nutrient components.
The resulting fortified rice can be dried and consumed in the same manner as natural ones.
This line will produce the product from rice kernels. It is a combination of two types of fortified rice. It uses rice flour as the main raw material and an appropriate amount of konjac flour.
It is enriched with selenium and anthocyanins, which are beneficial antioxidants and prevent more than 100 diseases.
It is an ideal food for people of all ages. The plant will produce the fortified rice kernels in the form of flakes and other products that are good for human consumption.
Various fortification methods are available. For example, pneumatic transports are the most efficient and effective fortified rice.
Other fortification processes include spiral screws, elevators, and conveyor belts. Besides, the fortification process can be adapted to various conditions and countries.
Fortified rice is a valuable food for people of all ages. It is easy to prepare and cook, and is rich in vitamins and minerals.
Blog: Fortified Rice Kernel Production Line