Floating fish food extruder machine is a kind of automatic equipment for processing different kinds of floating fish food. It is equipped with a high-strength, high-precision and reliable extrusion machine, which can be used to produce sausages, meatballs, meat sticks, fish cakes, shrimp balls and other products with different shapes. The extrusion molding method is simple, fast and convenient.
China Fish Food Extruder Machine
The China fish food extruder machine is an ideal choice for making fish feed, which is the most important part of fish breeding and raising.
It can be used to produce various kinds of fish food pellets, such as shrimp feed pellet, carp feed pellet, salmon feed pellet and so on.
The machine is equipped with a continuous casting machine and a screw conveying device.
The continuous casting machine can be used to cast different shapes of pellets by adjusting the material flow rate and the rotation speed of the screw conveyor.
Floating Fish Food Extruder Machine
Floating Fish Food Extruder Machine is a kind of machine to produce different shapes and sizes of floating fish food.
It is widely used in the aquaculture industry, to feed the aquatic animals, such as fish, shrimps and so on.
The main working parts of this machine are feeding barrel, kneading barrel, chopping barrel and extruding barrel.
Fish Food Extruder Machine Price
Fish food extruder machine price is one of the most important points to consider when purchasing fish food extrusion line.
The cost of a fish food extruder machine depends on many factors, such as the specifications and requirements of the client.
For example, if you want to produce large-sized pellets and make them look more attractive, then it will take you more time and effort to do so.
Therefore, you should be prepared for this situation by increasing your budget accordingly.
However, if you are looking for simple solutions that can be used in everyday life, then there is no need to spend so much money on them.
China Fish Food Extruder Machine Supplier
We are one of the leading China fish food extruder machine suppliers and manufacturers. We have an excellent team of experienced professionals who are dedicated in their work.
We also have a group of professional salesmen who are experienced in this field and work hard to meet the demands of our clients. We provide you with high-quality products and services at reasonable prices.
Our fish food extruder machines can be used for making various kinds of fish feed pellets, such as salmon feed pellets, shrimp feed pellets, and crab feed pellets etc.
These machines are made from high quality stainless steel material which is corrosion resistant and easy to maintain. The raw material that we use is sourced from reliable vendors so that we can be assured about its quality.
Each machine undergoes several quality tests before being dispatched to our clients' end customers so that they get nothing but the best fish food extruder machines in the market today!
Fish Food Extruder Machine Company
Fish Food Extruder Machine Company is committed to making sure that you have the best experience possible when buying your fish food extruder machine.
We pride ourselves on our high-quality products, and we want you to feel comfortable with the decision you make when buying one of our machines.
We know that it's a big investment, and we want to be sure that you're making the right choice.
Our team has over 25 years of experience in the fish food extruder industry, and we've been working hard to improve our machines year after year.
If you have any questions about our products or about how to use them, please don't hesitate to reach out!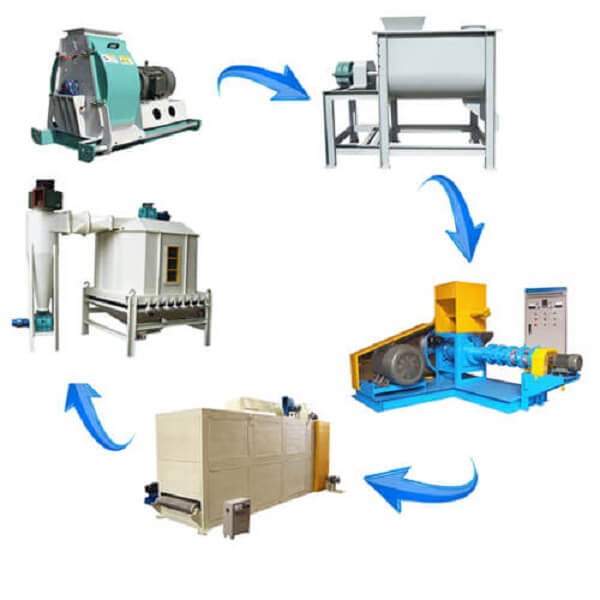 Fish Food Extruder Machine Manufacturer
If you are looking for the best Fish Food Extruder Machine Manufacturer, then you are at the right place. We offer a wide range of products and services to our clients.
Our fish food extruder machine is one of our top-selling products. It has been designed for producing high quality fish feed pellets with high nutritional value.
This machine can also be used for making other fish food products like chum salmon feed, herring roe, mackerel bait, shrimp feed and many more.
Our company is one of the leading manufacturers of fish food extruder machines in China.
We have been serving our customers for over 20 years now and have gained a lot of experience in this field during this time period.
We have several satisfied customers who have praised us for our excellent customer support services as well as quick delivery times.
We use only high quality raw materials when manufacturing our products so that they can meet international standards required by customers all over the world who buy these machines from us online through various websites such as Alibaba or eBay etc..
Blog: Floating Fish Food Extruder Machine
Blog: Floating Fish Food Extruder Machine