The dry pet food production line is the most convenient way to manufacture your dog or cat's favourite snack. This equipment is a large, complex machine that makes the most of various technologies to create the perfect dog or cat treat.
It features several key processes to ensure the quality and taste of your product, including extrusion, drying, and packaging. This equipment is available at affordable prices and allows you to produce high-quality products for your pet.
This dry pet food production line produces different shapes of pet food, including pellets, fish feed, and cat food. The puffing degree is adjustable, so you can make a floating or sinking feed for your pet.
You can also produce different shaped products for your pet by changing moulds. This machine is easy to operate and will save you a lot of money. You can even create your own recipes to add to your pet's daily meal.
Another essential part of a dry pet food production line is adding fat and oil. Fat and oil are the most important nutrients in pet food, so they are commonly added to your product. Using an extruder machine, you can add 2% to 40% of fat and oil to your dry pet foods.
While a pet formula should not have more than 12% fat and oil, the higher the oil content, the firmer the granular material. After the pellets have dried, you can apply extra oils to the mixture for a smooth texture. For the best results, you can use a vacuum spray, which enables the air to escape easily.
Another important part of dry pet food production is mixing. Raw materials are weighed and mixed according to a formula, before being placed into a crushing machine. After being crushed, they are placed temporarily in a storage bin.
Afterwards, the mixture is processed in a blender. This enables the finished product to be easily packaged. It is important to remember that pet food manufacturing is not a laborious process, and even beginners can make it.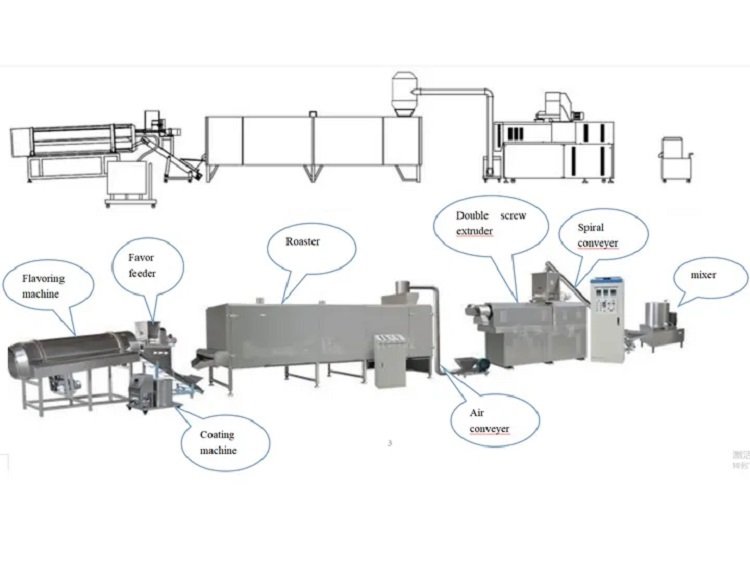 Once the pellets have been cooled, the next step of the process is sterilization. This stage is necessary for the pet food to be safe and free of harmful substances. The pet food is packed in cans that are sealed in boxes.
The entire process is automated and efficient. The final product is made into a variety of shapes, and the kibble is automatically packaged. When the pellets are completely dried, they will have a crisp texture and a rich flavor.
A dry pet food production line is an efficient way to produce a variety of shapes. It uses high-puffed corn powder cereal as the basic raw material and supplements it with protein, bone meal, meat, and vitamins.
It uses an automatic extrusion machine and a strong squeeze instantaneous puffing molding machine to produce a variety of sizes and shapes of pellets. A flavoring coating is applied to the pellets before they are packaged.
This dry pet food production line can be adjusted to produce different shaped pellets. It can also be equipped with a flavoring machine, which sprays a flavor onto the pet food.
The main extruder uses a frequency-controlled screw to produce pet food pellets with high-puffed corn powder. The screws are made of alloy steel and special craft for high-pressure and long-lasting performance. Its building block structure allows it to be combined depending on the needs of the manufacturer.
A dry pet food production line can produce many different products. The ingredients are weighed according to a formula, and then fed into a blender to mix them with other ingredients.
This machine also uses an instantaneous expansion molding process to ensure the highest possible quality for your product. During this process, the raw materials are poured into the retort and smashed. The pellets are then transferred to the next stage.
The basic material for the pet food production line is high-puffed corn flour. During this process, the ingredients are added to the mixture, such as meat, bones, and vitamins.
The pellets are then heated to 250degF and cooled quickly to achieve the ideal temperature for your pet.
The final product is ready to be packed and packaged, whereas a dry pet food production line can be easily transported.
There is no need to store raw materials, since the pellets can be kept fresh for a long time.
Blog: Dry Pet Food Production Line