If you're a pasta lover, you probably know that there are industrial extruders for sale. But how do you know which one is right for your needs? Read on to learn more.
In this article, you'll learn about the different types of pasta extruders and their pros and cons.
There are plenty of different uses for pasta extruders, so read on to find out what you can do with yours.
Micra Paster Extruder
The Micra pasta extruder is a versatile machine that can produce a wide range of shapes.
Its optional electronic cutter lets you easily make lasagne sheets, and its food-grade materials make cleaning easy.
Its durable, long-lasting design also includes safety devices. Its easy-to-clean mechanisms ensure a long life for your machine.
Read on to find out more about this excellent pasta machine.
This industrial pasta machine is complete and powerful. It can work in automatic production lines.
It has double bowls, a removable mixing tree, adjustable scroll speed with inverter, a cooling head, and a variety of other features.
You can even add a refrigerator to it, if you desire. It can produce a variety of shapes, including angel hair noodles.
With its automatic function, you don't need to worry about storing or transferring raw materials.
Imperia Pasta Extruder
The Imperia pasta extruder industrial is a countertop machine that is suitable for commercial kitchens or the home.
This model allows for consistent rollout of the dough and kneading of the finished pasta, yielding a firm yet tender sheet of pasta.
This machine comes with a 170mm pasta sheet die, complete line of accessories, and ergonomic button panel.
The product can be used for long or short pasta production.
The Imperia pasta maker has barely changed from the time it was first made.
Available in both home and commercial versions, it offers table clamps and electric motors.
The Sp150 is the most popular pasta maker in the world, and features standard spaghetti cutters.
For more advanced shapes, the Commercial Pasta Maker offers various dough mixing and kneading options.
The Sp150 is the most popular pasta maker in the world, and is ideal for home use.
Marcato Pasta Extruder
The Marcato Regina Extruder is a manual machine that produces 5 hollow shapes: Rigatoni, Maccheroni, Bucatini, and Maccheroncini.
Made of food-grade ABS and polycarbonate, the Regina Extruder is easy to use and clean.
This pasta maker has 5 interchangeable dies and measures 10 x 5 x 7.5 inches. It comes with a 2-year warranty.
Unlike most other pasta makers, the Marcato Atlas 150 Wellness uses a special type of anodized aluminum to keep harmful particles out of the dough.
This makes it a healthier choice for your family. This unique feature has been patented by Marcato.
In addition, the Atlas 150 features a special lid to keep the dough from sticking.
The anodized rollers are also dishwasher-safe, which prevents them from rusting.
Italia Mini Pasta Extruder
The Italia Mini pasta extruder industrial is the most versatile and complete pasta machine on the market.
Its dual mixing trees and adjustable scroll speed with an inverter make it a very good choice for automatic lines and for making pasta dough.
This machine has an additional feature that allows you to cool your product after it is made – a refrigerator.
The machine comes with a two-year warranty and can be used with multiple dough sheets.
This is a popular manual machine manufactured by an Italian company.
Made of chromed steel, it has an adjustable crank handle and is available in seven stylish colors.
It can roll dough to ten different thicknesses, with a dual-sided blade for cutting tagliolini and fettuccine.
It also produces a rough surface that holds sauce better than smooth pasta.
It comes with 12 different attachments for various pasta shapes.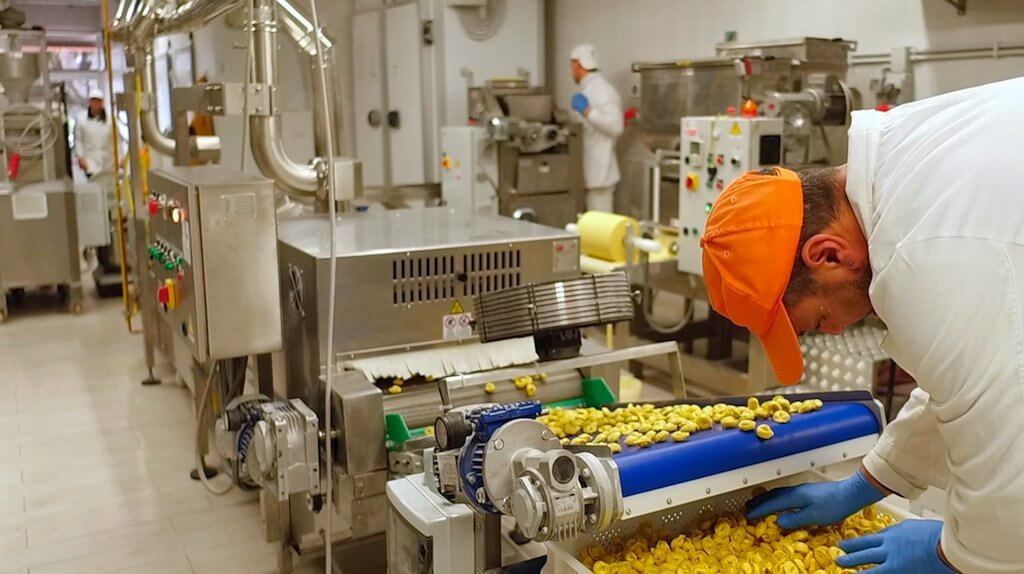 Sarp Pasta Extruder
A pasta extruder is the most versatile piece of equipment you can buy, and the Sarp pasta extruder industrial line is no exception.
These machines are versatile and can be used for many types of pasta, from traditional to gluten-free.
Some of their pasta extruder industrial lines are automated and other are artisanal.
A long-cut production line may be made with a double basin extruder, which is also available with linear and round dies.
The basic components of a pasta extruder are the barrel, die, and screw apparatus.
The screw profile is key, as it influences the size and rehydration of the end product.
Raw materials, such as wheat, corn, and rice, should be selected according to their characteristics, as well as the type of processing.
Then, the system must be configured to meet the needs of the end product.
Once all these components are in place, the extruder can begin producing precooked pasta.
Blog: Different Types of Pasta Extruders For Sale