If you are planning to buy an industrial pasta machine, here are some tips that will help you make the right choice. A pasta machine will make the dough for fresh, excellently textured and flavored pasta.
However, before buying one, make sure to consider the price and features of the machine.
Here, we will cover the costs of an industrial pasta machine and some of its features.
Moreover, this article will also tell you what to look for in a commercial pasta machine that features conveyor belts.
Cost of an industrial pasta machine
There are several types of industrial pasta machines available, and each one has its own advantages and disadvantages.
For example, some types of machines are more expensive than others.
If you plan to use your machine in a restaurant, consider buying a pasta maker that is made of chrome-plated steel.
The Atlas 150, for instance, comes with a 10-thick sheet roller and two attachments for making linguine and fettuccine.
Compared to a hand crank, this machine is powered by 110-volt motors, which deliver even thickness and rotation.
Its durable construction also leaves your hands free to guide the dough.
Arcobaleno is a Pennsylvania-based manufacturer of industrial pasta machines.
Commercial pasta machines are typically larger and designed for higher volume artisanal production.
They have larger motors, gearboxes, additional cooling systems, and can run anywhere from six to twelve hours per day.
These machines are great for pasta factories and large restaurants alike.
To find a commercial pasta machine that will fit your needs, contact a manufacturer. It should be available at an affordable price.
You can also find beat-up models, which can be purchased for a fraction of their cost.
Features of an industrial pasta machine
What are the main features of an industrial pasta machine?
Its basic features include: high power, versatility, completeness, and reliability.
It is capable of working in automatic production lines and has double bowls, removable mixing trees, adjustable scroll speed with inverter, cutting and cooling functions, and can also be equipped with a refrigerator.
Its versatility is a huge plus for a variety of pasta-making applications. Read on to learn more about the features of a pasta machine.
Pasteurization machinery: It should have a steam production tank and cover that can be completely cleaned.
This will help prevent heat loss into the environment, while minimizing power consumption.
It should also have a stainless steel cover that will allow for total cleaning of the steam production tank.
It should have steam injection nozzle groups and an adjustable hatch to reduce humidity.
All the parts that come in contact with stuffing should be made from food-safe materials.
P200V: This pasta machine is an excellent choice for medium-sized restaurants. It can extrude long or short pastas.
You can also use it for speciality products, such as lasagna sheets.
The P200V comes with automatic die cutting and a control panel.
It has an Italian AC motor. It can also make couscous, fresh pasta, and lasagna sheets.
These machines are highly durable, with stainless steel construction and adjustable speed.
Cost of a commercial pasta machine with conveyor belts
There are many advantages of having an industrial pasta machine.
Apart from being reliable and powerful, these machines are designed to be flexible and easy to use.
Some industrial pasta machines even have the ability to create automatic production lines.
Some of these machines also feature double bowls, removable mixing trees, adjustable scroll speed with an inverter, and cutting and head cooling.
In addition, these machines can be equipped with a refrigerator.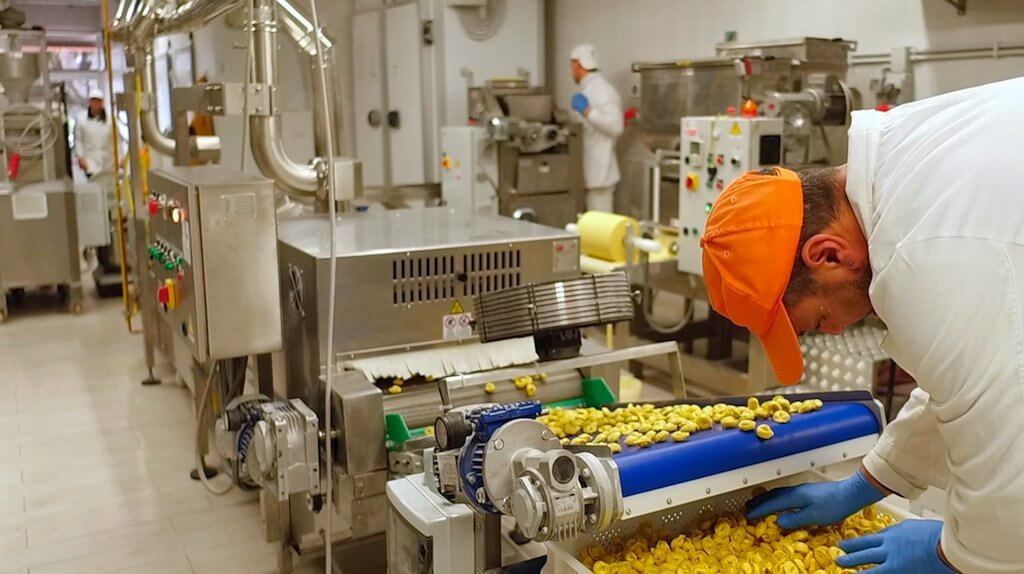 In a conventional machine, the pasta is put onto the conveyor belt and placed on a sheet of cheese.
Another sheet is then put on top. The two sheets then move along a conveyor belt, which passes under a cutting machine.
The machine then cuts each layer of pasta into squares according to the pre-measured dimensions.
Different types of pasta require different drying times.
While elbow macaroni takes three hours to dry, egg noodles can take up to 12 hours.
Blog: Costs and Features of an Industrial Pasta Machine