If you are thinking of starting your own corn tortilla chip business, you may be wondering what to use the corn tortilla chip making machine for. This article will cover the basics of making these tasty treats, from choosing the best equipment to setting the value of the extruder.
Also, we'll look at the cost of the equipment and the best ways to save money.
In addition, we'll also cover the pros and cons of each type of machine.
Process of making corn tortilla chips
To make corn tortilla chips, the first step is to create coarse masa. A typical recipe calls for 2.5 to 3.0 liters of water, one kilogram of moist corn, and 0.01 kilogram of food-grade lime.
The masa solution is heated using steam in a Hamilton kettle. It then passes through a conveyor belt and into a grinding machine. The final product is the perfect chip.
The tortilla chip market is growing significantly. The popularity of tortilla chips is increasing in the United States and around the world. Plants have already started in Australia, India, Korea, and People's Republic of China.
The industry continues to grow with the demand, and many new products are in the pipeline. The tortilla chip industry must remain competitive in order to stay profitable in this fast-paced industry.
A corn chip making machine will help make corn tortilla chips more efficient.
Types of equipment
There are different types of equipment used in the production of corn chips. Extruders, for example, are used for producing corn chips. They help produce uniform chips by forcing a masa mixture through a die plate.
Extruders have several advantages, such as high production rates and minimal downtime. Here are a few of them. Read on to learn more about each of them. Also read on to learn more about corn chip processing.
Doritos Corn Chips Fried Bugle Making Machine: This equipment is capable of producing all types of fried snacks, from Doritos to tortillas and screw products.
It is designed to use corn flour powder as its raw material and cook the raw materials to crispiness. This type of machine also uses high quality stainless steel to separate the inferior oil.
Semi-automatic industrial deep fryer: This equipment is perfect for small to medium-sized food processing companies. It improves the quality of finished products and increases their shelf-life.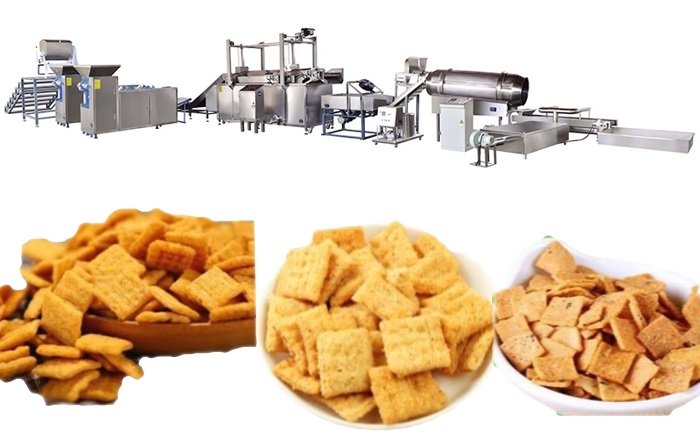 Setting value of extruder
Acorn chip making machine features an extruder that can produce a wide range of shapes and tastes.
The machine is made of stainless steel and features a small window for checking the product's moisture content.
The machine is fitted with an electrical protection device and a water tank for humidification. The power source of this machine is a four-kilowatt Turkish-made engine.
The user can select one of the three output speeds depending on the capacity of his or her machine.
The material for a corn chip can be dry whole kernels, partially-cooked kernels, or ground corn flour.
The present invention eliminates the time-consuming steeping stages of corn, which are used to soften and gelatinize the corn's starch.
Instead, the kernels are mechanically reduced to small particles and introduced into the feeding end of the cooking extruder.
Leaving the hulls on the kernels increases the fiber content and the overall calorie content of the product.
Cost of equipment
While tortilla chips are one of the most popular snacks in the world, corn tortillas are fast gaining ground as a more nutritious alternative to processed snack foods.
Today, they're a close rival to white bread, and corn-based chip consumption continues to rise.
Because of this increase in popularity, manufacturers continue to search for durable and high-speed equipment that will ensure the quality of their products.
Making tortilla chips and corn chips starts with a good supply of masa.
A high-quality corn chip making machine will include a twin-screw extruder and cutter. The extruder will provide a continuous stream of corn chips while ensuring uniformity.
A large roller cutter will allow for many different shapes and sizes. This will allow you to create a variety of corn chips and tortillas.
You can choose a chip making machine that's suitable for your business by comparing its features and cost.
Blog: Corn Tortilla Chip Making Machine