Corn fried bugle is a three-dimensional puffed food that is made from starch raw materials, such as corn and rice flour. The process involves mixing, shaping, and frying.
In this article, we will talk about the working principle of corn bugle production line and its main raw materials.
Once you understand these aspects, you will be able to purchase a bugle production line for your business.
Raw material
A fried bugle production line consists of a series of equipment that processes corn and rice flour into crunchy snack products. This equipment uses screw extrusion to form the finished product.
The molds are made of stainless steel that can provide a durable, stable, and good-quality product. The fried bugle production line also enables producers to customize the snack shapes and fillings.
This article will describe the different types of bugle snacks that can be produced by a corn fried bugle production line.
The Doritos Corn Chips Fried Bugle Production Machine is used to produce the famous snack. It can make fried bugles in a variety of shapes, including triangles and squares.
It can also produce other puffed snacks and can be used as a food ingredient. It is a costly machine but is well-worth the investment.
The machine is able to create a variety of crispy snacks, including the iconic Doritos.
Working principle
The frying bugle production line can produce a variety of fried snacks. The machine uses corn or rice flour as its raw materials.
The end product is a variety of crispy, fried snacks. The output can be as large as 500kg per hour, depending on the type and capacity of the machine.
The machine also has the ability to add protein and other nutrients to the snack, ensuring that it meets a wide variety of consumer preferences.
Corn fried bugle snack food production line uses corn powder, wheat flour, or rice powder as its raw materials.
This snack food production line is capable of producing a variety of shapes, including fish, triangles, and white corn.
The finished product will be crispy and delicious. Corn fried bugle snack food production line includes the following processes: continuous feeding, automatic leveling, and frequency conversion.
The machine can produce fried bugles with uniform size and quality.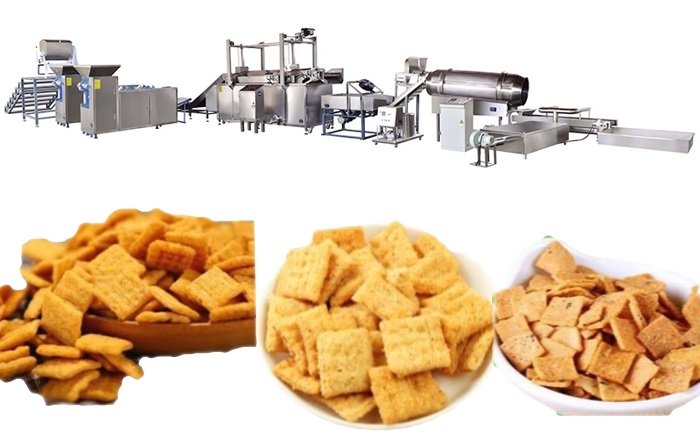 Raw material composition
The corn fried bugle is a snack made from chopped and powdered corn, vegetable oil, salt, and other ingredients. It is a popular snack that is eaten by both adults and children alike.
Corn fried bugles are commonly made from yellow corn, but can also be made from white or red corn.
The corn frying bugle production line includes several important processes, such as extrusion, roasting, and flavoring.
The fried bugle production line uses a double screw extruder to produce crispy snacks. This allows the owner to control the texture of the resulting product and the amount of flavoring.
There are no boundaries to what the snack can look like; it can be in any shape and size. The machine can also produce other shapes like oblong, rectangle, or round.
The final product will be packaged using an automatic packing machine.
Main raw material
The main raw materials in the corn fried bugle production line include corn powder, cut-corn, vegetable oil, salt, and spices.
The snack is generally made of yellow corn, but can also be made of white or red corn.
Moreover, the crunchy and tasty bugles are highly digestible and have a savory flavor.
The machine is equipped with a self-cleaning mechanism.
After roasting, the scraps will be ground into powder. This will greatly reduce production cost.
This machine has many advantages. It uses total wheat flour or other grains to produce bugles in a uniform puffed size.
It uses a double screw extrusion technique to replace the traditional steam booling process.
This method is highly efficient, pollution-free, and enables high-quality crispy bugles.
The machine can also process other ingredients, including potato and cassava starch.
Blog: Corn Fried Bugle Production Line