A Corn Chips Making Machine consists of a feeding system, extrusion system, rotary cutting system, heating system, and transmission system. It has a reasonable design and a high degree of automation.
Its high-temperature drum extruder uses high pressure screws to make chips evenly expand without a paste.
It also does not generate any waste water or gas, nor does it lose raw materials. It can produce a wide variety of delicious snacks at a high rate.
Tortilla chips production line
A Tortilla chips production line can process a wide range of materials. Extrusion technology is used to produce chips that have a crispy taste and a lively shape.
This type of machine is often used by smaller manufacturers, but larger producers may use fresh masa flour.
A well-designed tortilla chip production line is highly efficient, reducing labor costs, energy costs, and raw materials used in the production process.
Read on to learn more about this type of machine and how it can help your company.
Tortilla chip production lines are designed to meet the highest standards of quality and reliability. They integrate every feature necessary to ensure a consistent, reliable production.
They are available for corn chips, other nuts, pellets, and churros, among other snack foods.
They are highly versatile, allowing your company to expand your business while improving your profits.
Once you have your tortilla chips production line, you'll be on your way to increasing your revenue.
Bugles chips extruder machine
Bugles chips extruder machine is used to make various types of snack food, including fried ones.
The machine uses a double-screw extruder, so you can control the opening and closing of the die.
The resulting snack food has a crispy and chewy texture. In addition to bugles, this machine can also make other snacks, such as pizza and rice crusts. Its easy-to-use features make it the ideal choice for any snack food manufacturer.
The MDX/CB250 Chips Bugles Extruder Machine is made of stainless steel and coated stainless steel.
It is an efficient machine for making fried chips.
It is easy to use and consumes very little oil, allowing you to focus on other areas of your production.
The MDX/CB250 has a 2.2-kw direct-drive redirucer motor and a high-quality, American-made design.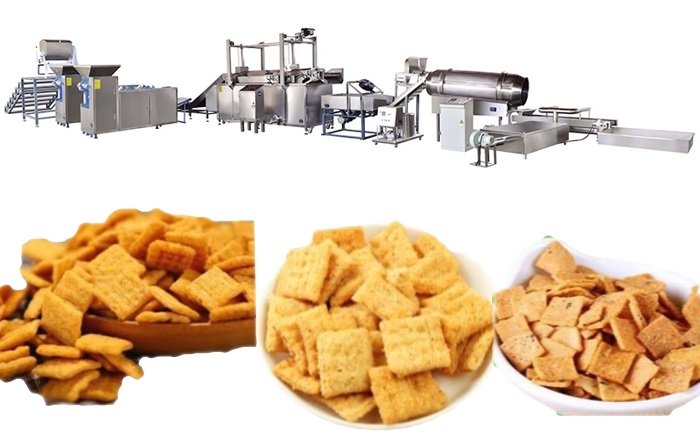 Nacho chips extruder machine
The Nacho chips extruder machine features a compact design and a low failure rate.
It can produce various shapes of chips, including nachos, pizza rolls and rice crusts.
Another notable feature of the Nacho chips extruder machine is its high production efficiency, low noise, and high durability.
These characteristics make the machine a perfect choice for food processing industries.
Furthermore, you can customize the shape of the chips with the help of different moulds.
The main raw materials for this type of snack machine are corn starch, corn flour, and potato powder. After the ingredients are mixed well, they are forced through a twin screw food extruder.
Afterwards, the semi-product is fried and flavored. It is then packaged and labeled for sale. It is easy to operate and requires no special expertise.
The Nacho chips extruder machine uses a hydraulic piston to force the masa through a 90-degree forming die. Then, the hydraulic piston retracts the cylinder when the material is finished.
Stoneless Masa mill
A Stoneless Masa corn chips making machine will extrude tortilla and corn chips into uniform, thin sheets.
Corn masa should be free of foreign matter and contain no more than 3 percent cracked or broken kernels.
The majority of masa manufacturers use yellow, white, and blue corn. In addition, the corn kernels must be clean and uniformly sized. Broken masa will absorb water and become sticky, reducing shelf life and quality.
A stoneless masa corn chip making machine uses a plastic material that rehydrates the pre-processed corn flour.
The masa is then fed onto rollers that rotate counterclockwise and clockwise to create the desired dough consistency.
The finished product is then packaged and sold. The stoneless machine also helps reduce a person's carbon footprint, as it uses virtually no electricity.
To make masa chips, a machine like this reduces the need for electricity and saves on heating.
High-temperature drum extruder
Using a high-temperature drum extruder for corn chip production requires a combination of work input and a temperature profile.
The temperature profile determines the final product, and the number of zones in the system is not as important as the overall temperature profile. The temperature profile also influences the product's taste and aroma.
For example, corn chips prepared using the process described above typically have a moisture content of between one and two percent.
The WSI value is a useful parameter of the invention, because it demonstrates how the processed product differs from conventional corn and tortilla chips.
While a conventional corn chip contains a WSI of two to four, the WSI of an extruded chip can be in the range of 10 to 50.
The higher the WSI, the greater the textural and mouthmelt properties of the product.
Blog: Corn Chips Making Machine