Are you interested in starting a corn chip business? If so, you should know some of the basics about how this type of processing equipment works. You should know about the Extruder, Flour product production line, and Marketing methods for this product.
After all, you're trying to sell a product, so knowing more about these aspects is necessary. So, keep reading to learn more.
We'll also discuss the different components of a corn chip machine and what each one does to create a delicious product.
Extruder
An extruder for corn chips makes delicious snacks with minimal effort.
The basic components of an extruder are a horizontal hydraulic piston, a forming die with a 90-degree angle, a stainless steel table built on the extruder, and an electric control panel.
An extruder can produce up to 1,000 pounds of finished product per hour, and the set includes two interchangeable dies for different shapes and sizes.
A partially defatted corn chip is widely produced in Mexico, where its frying process results in a 36% oil content.
To remove this oil without damaging the preformed structure, the chip is placed in a perforated wire type basket.
The chips are then returned to the fryer to finish cooking.
A corn chip has a similar interior structure to a tortilla chip, with pores and tunnels developing within the masa.
Flour product production line
Acorn chip machine and flour product production line can be used to produce a variety of snacks. It works by mixing corn flour and water, then conveying it to an extruder feeder.
An extruder will then create the desired shape for your snacks quickly. The shapes can range from shell to shrimp, ball to tube.
After extrusion, your snacks are conveyed through a pneumatic conveyor to a continuous rotary drier. They will then fall into a continuous rotary seasoner, where spices are added.
A tortilla chip production line can run at variable speeds. There are many models available, ranging from low to high-speed. Some models feature automated thickness control.
These models are designed for medium-size food processing businesses. The TO8600 series oven provides uniform baking, even if you're producing a smaller amount of tortillas.
It also features a multi-tiered cooling system so that your product cools properly before packaging.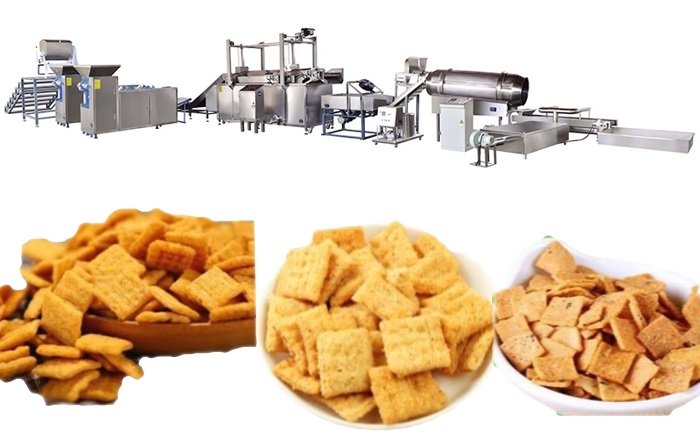 Marketing methods for corn chips
If you're considering setting up a corn chip machine, here are some marketing tips that will help you grow your business. The first step is choosing a name and a product.
Then, consider your audience and marketing strategy. Are you targeting a specific demographic?
Do you want your product to reach a large number of people? If so, consider selling corn chips on your website or at local events.
This way, you'll have a chance to reach more people and generate more business.
A well-known product, corn chips are made by boiling white and yellow corn kernels in a lime-water solution.
After they've been boiled, the material is ground into a corn masa dough and extruded into a heated oil.
The masa pieces lose most of their water during the first ten seconds of frying at temperatures around 175degC.
The frying process can last for up to 1.5 minutes, and the masa is generally seasoned with salt afterward.
Ingredients in corn chips
The key operations of a corn chip machine are forming and deep-frying the masa, which is ground into flour or meal and extruded.
The masa extruder comprises a hydraulic piston that forces the mixture through a die at a 90-degree angle.
It can produce a wide variety of shapes and sizes, and it can be equipped with interchangeable dies for custom-made chips.
The final process involves a rotary cutoff assembly that cuts the masa into uniform pieces.
For the best corn chips, masa flour should be reconstituted with a large particle size, which allows the air to escape during frying.
A smaller particle size causes excessive puffing during frying and easily breaks apart the chips. While corn chips are high in fat, a quality tortilla chip contains 25% fat.
In addition, the tortilla is baked before frying, which minimizes oil absorption. To obtain light-colored corn chips, white and yellow masa are typically used.
Process of making corn chips
A corn chip machine is a large-scale food processing equipment that forms the chips.
It produces uniform, high-volume chips. The process begins with grinding the corn into a masa mixture.
Once the masa mixture is ready, it is immediately seasoned with salt or other flavorings.
In Mexico, red extruded corn chips are commonly made from masa mixed with FD&C-approved red colorants.
The masa pieces are shaped into desired shapes and sizes.
The frying process takes approximately 1.5 minutes, and during this time the masa loses most of its moisture.
When the masa is done, it exits the fryer with about 1.5% moisture.
Blog: Corn Chip Machine - Extruder, Flour Product Production Line, and Marketing Tips