A conveyor mesh belt dryer is a drying equipment with a continuous conveyor line. The dryer has several sections and a material feeder distributes the materials evenly on the mesh-belt. The hot air passes through the hot air section, and the materials are dried in one or more sections.
The heat generated by the device evaporates moisture and other materials from the product. The material is easily transported, and it can be stored and transported after processing.
This drying equipment is used to dry a variety of materials, such as strips, granular materials, and granular materials. The high evaporation capacity and fast drying time make it the ideal choice for irregular materials.
The mesh-belt is typically made of stainless steel, which allows it to breathe well.
The dryer is a continuous production process, with separate sections used for different kinds of drying.
The belt is drawn into the dryer by the transmission device. An exhaust fan draws the damp air from each section.
The main difference between a chain-guided and chainless conveyor mesh belt dryers is the type of conveyor used. The former is composed of a feeding conveyor and a discharge conveyor.
Both types of conveyors have a dehumidifying fan and hot air fans. The reticular belts are best for granular products that do not flow. Both types of dryers can be used for different types of materials.
This belt dryer is primarily used for drying finished briquettes, but it has several other uses as well. It can be used for various materials, including fruits, vegetables, and even molding materials.
Another popular application for a conveyor mesh belt dryer is as a finishing step before making wood fiber boards.
If you are interested in buying a conveyor mesh-belt dryer, consider a supplier from China. The country offers the best prices and the broadest variety.
A multi-layer conveyor mesh belt dryer uses a series of reversible sections to dry the product. The single-belt dryer is ideal for dusty, brittle, and wet products, but is also suitable for products that are sensitive to intense movements.
In addition, it can also be used to dry food that is not suitable for vacuum packaging. A conveyor mesh belt dryer can be used in multiple industries. This kind of drying equipment is a great option for many businesses.
A conveyor mesh belt dryer can be used as a nut and vegetable dryer. It is often used in combination with other drying equipment such as a homonizer. A multi-layer dryer has a transmission system and a control cabinet.
The main features of a belt-drying machine are: a. The multi-layer unit can be designed to dry different types of materials.
The resulting materials can be dried quickly and efficiently, and the final moisture content can be controlled by the unit.

The Mammoth Conveyor Belt Dryer is a highly effective and cost-effective solution for a variety of materials. Its large-scale operation reduces energy consumption while allowing for a variety of drying needs.
Its multi-layer design can be customised to the requirements of any client. This machine can be a good alternative to a batch or continuous flow drying system. Its compact design makes it very easy to use and is highly customizable.
A Multi-layer belt dryer can have a variety of drying options. The multi-layer model is designed for a large-scale operation, and requires a long drying time. A belt dryer can also be heated from the inside.
It should be suitable for drying products that tend to stick to the belt. A layered belt is less likely to damage the product, and requires less floor space.
A three-layered model is recommended for drying grains and other materials that are prone to break and stick.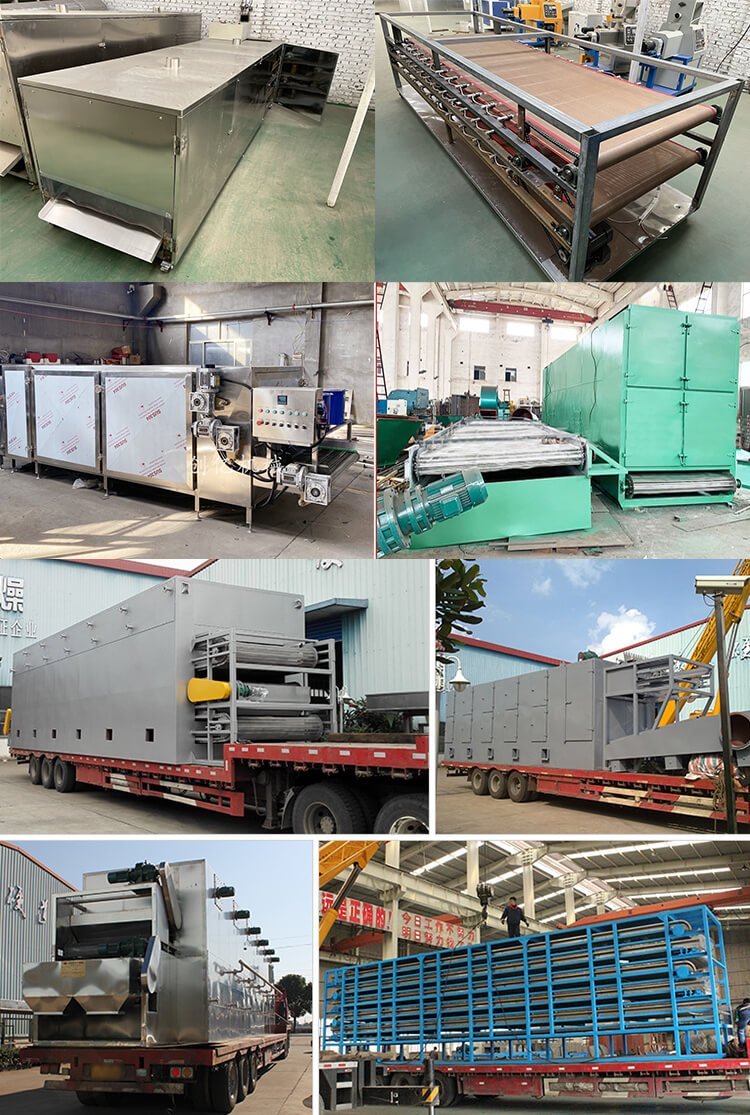 A conveyor mesh belt dryer can be heated by steam, electric, or hot air. The motor and transmission shaft can be enclosed for safety.
A belt dryer is designed to be a continuous process and can be customized for the specific needs of its users.
In addition to a continuous operation, a conveyor mesh belt dryer can be customized to the needs of a customer.
A cooling unit can be added to the dryer to provide an additional cooling stage for the finished products.