If you are looking for a reliable corn chip machine manufacturer, you have come to the right place. There are many brands to choose from, including JC Ford, Grace Food Processing & Packaging Machinery, and Ainuok Machinery. In this article, we will discuss the benefits of each of these brands.
We will also discuss what to look for in a corn chip machine. Listed below are the features you should look for when choosing a corn chip machine manufacturer.
JC Ford
The JC Ford Company, a privately owned company with headquarters in California, has announced plans to expand its manufacturing operations in Maury County, Tennessee.
Construction of the new manufacturing facility is scheduled to begin in summer 2021 and run for five years.
The company plans to invest $30 million in the project, which will create 210 new jobs in the local area.
The company has been manufacturing corn tortilla machines for more than 80 years and recently began expanding its production facility in Columbia, Tenn.
Two existing facilities will be renovated and a third building will be built to accommodate the company's needs.
JC Ford is a leading manufacturer of tortilla chip production equipment. Its machines can produce anything from 250 pounds to 4,000 pounds of corn tortillas an hour.
Customers can also customize their machine's layout and design, as well as its equipment.
JC Ford also provides service and product development options, which can help businesses get the most from their new tortilla chip machines.
Regardless of your needs, JC Ford can create the perfect solution for your business.
JC Ford has a long history of making high-speed tortilla production equipment. Their high-speed corn tortilla machines can produce 1,000 to 8,000 products per hour.
Customers include Frito-Lay, Tyson, and General Mills. Its products are used in the production of a wide range of products, including popular snack chips like Doritos.
In fact, the company plans to expand its Columbia facility to 90,000 square feet by 2022. When completed, the facility will be fully operational in August.
Grace Food Processing & Packaging Machinery
As one of the leading snack food manufacturers in India, Grace Food Processing & Packaging Machinery provides complete end-to-end solutions for the production of corn chips and other snack foods.
The company's range of machines includes corn chip and snack bar machines, and automatic packaging machines, as well as flavoring and blending equipment.
Its machines are highly innovative, feature superior design and manufacturing, and are easy to install.
The company's vast experience and knowledge of different snack food industries helps it develop high-quality equipment to meet the unique needs of snack producers around the world.
The company's core removal machine is ideal for companies that want to increase their snack production without sacrificing the quality of their products. The machine's feed hopper accepts fruits, and it can operate continuously.
It solves problems with low efficiency, labor, and time consumption. This machine's construction is sturdy and reliable, made from stainless steel square tube and channel steel welding.
Its parts are fastened with bolts and are designed to meet hygienic standards.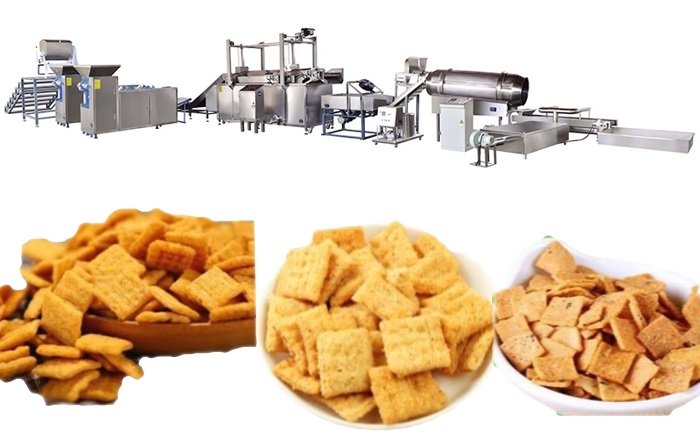 Founded in 2010, Anyang Ainuok Machinery Equipment Co., Ltd is specialised in the research, development, production and sales of Bone Grinder, Mixer Machine, Extruder Machine, Seasoning Machine and Industrial Dryer for more than 10 years.
We have got quality certifications of ISO9001, SGS, and CE etc. Machine color, logo, design, package, carton mark, manual etc can be customized!
With a production ability of 5000 sets per month, AINUOK is the largest crusher and pellet factory in China.
Bone Grinder, Mixer Machine, Extruder Machine, Seasoning Machine and Industrial Dryer have been exported to England, Russia, Sweden, Poland, Romania, Malaysia, Indonesia, Vietnam etc 120 countries and districts.
Warmly welcome clients at home and abroad to visit Ainuok company.
Continous Fryer machine
The Continous Fryer machine for corn chip can be used for various purposes, including frying potato chips, chicken, bacon, and French fries. It uses a 304 stainless steel construction for optimal durability and hygiene.
The machine also features a high level of automation. Its various components, including electric heating, mesh belt conveying system, and circulation and slag scraping system, ensure a perfect frying process.
A Continous Fryer machine for corn chip produces high-quality, crispy chips that remain crunchy and delicious even after repeated use.
It features continuous oil circulation, precise temperature control, easy adjustment, circulating cleaning system, and self-locking motorized screw jacks to raise and lower the frying bed.
It also reduces energy consumption and time requirements. This frying machine will save you money on oil and time.
A Continuous Fryer machine can save fuel and ensure a consistent temperature throughout the entire frying process.
The continuous machine can be heated using gas, electricity, or both. The frying temperature is maintained at a constant level, ensuring that all fried materials are cooked evenly.
Regardless of the heating source, the Continous Fryer machine for corn chip is environmentally friendly and cost-effective. Its high oil temperature allows it to operate efficiently with little maintenance.
Blog: Choosing a Corn Chip Machine Manufacturer