When choosing a cheeto machine, look for features such as the following: manufacturing process, ingredients, safety, and reliability. To avoid problems and to purchase a high quality machine, you may want to look for wooden boxes.
These are free from moths and fumigation and are sturdy enough to pass through customs. The wooden boxes will protect your cheetos extruder maker machine line from damage.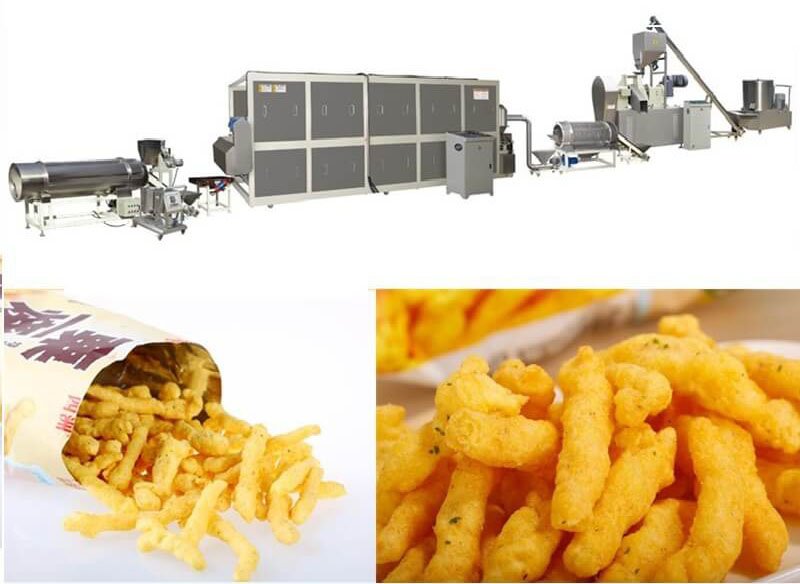 Manufacturing process
The manufacturing process of a cheeto machine starts with the preparation of cornmeal. Cornmeal is pumped through a pneumatic tube and then put into a massive feed hopper. The cornmeal is heated with the help of a heating screw.
A rotating heating screw turns the raw material into a cheeto. After this, the cheetos are cut into the desired shape. To finish the process, the finished product is packaged using an automated process.
The first step of the manufacturing process is to use 20 mesh corn kernels as raw material. Next, a Twin screw extruder is used to extrude irregular Cheetos. Flavorings are added to the finished product.
The process is highly automated and popular in Southeast Asia. Here's a video showing the complete process. The second part of the manufacturing process is the drying stage.
This step is crucial in the creation of cheetos with a high level of crispiness.
Ingredients
A cheeto machine is used for making the popular puffed cornmeal snack. Corn and water are blended and heated under pressure before being extruded through a die. Once through the die, hot air causes the corn to puff and give the Cheetos their unique texture.
Finally, they are either oven-dried or fried, and the flavoring is added. This total-automatic line features a frequency control to feed the corn into the die, and screw speeds control the flavoring.
The process of making Cheetos is similar to the production of potato chips. They are extruded, baked, or deep-fried. Cornmeal is first mixed with water to form a paste.
Make sure to use water with very low moisture content, as too much moisture will result in a soggy product. Then, the mixture is heated. Then, the mixture is extruded under pressure.
The pressure will further gelatinize the starch, and the resulting product will be a chewy, crispy, and crunchy snack.
Safety
A cheeto machine can produce a variety of puffed snacks, including cheetos. They can also be used to produce pet food and fish feed. The cheeto machine has two layers of packaging, a plastic film and wrought iron parts.
The plastic film plays the role of moisture proof and waterproofing. The final products are sprayed with desired ingredients. Safety is an important consideration when purchasing a cheeto machine.
A wooden box is an excellent choice for shipping. Wooden boxes are free of moths and fumigation. They're also very strong and anti-collision. They're also a good choice for shipping a cheetos machine line.
Once you've purchased one, make sure it's packaged in a way that protects it from damage during shipping. Also, if you plan to eat a large amount of the snack, make sure to use plastic bags.
Reliability
In 2004, the Frito-Lay company rolled out a new quality-management system called A.R.M. that included training every employee at every site, especially maintenance workers.
The corporate reliability group spent up to 20 hours at each facility, customizing the program to meet specific requirements. In total, three teams covered all facilities in North America.
The program was reduced to seven basic laws that every employee must abide by.
In order to increase the accuracy of the cheetos produced by a machine, the company implemented artificial intelligence.
The machine learned from data collected by a computer vision system to make adjustments when the product falls out of specification.
The machine proved its reliability in a pilot plant, and PepsiCo plans to implement this technology in real production plants. The company plans to continue testing AI's benefits to produce high-quality products.
Cost
If you're looking for an inexpensive way to make cheetos, you should consider purchasing a cheeto machine. Prices start around $99 for a 1.5″ Cheeto, which is not a cheap purchase.
But the extra time and effort required to make these snack treats will make them worth the money. In addition to making tasty snacks, they also make great gifts for children and adults alike.
One way to make your own cheetos is to design them yourself. For example, if you want to make a presidential Cheeto, you can have a Cheeto machine made in the shape of the President of the United States.
And if you want a presidential Cheeto, you can get an orange model from eBay. The orange model, for example, cost a whopping $1,000, but was still on sale as of publication.
Blog: Choosing a Cheeto Machine