A China sinking fish feed production line is a highly advanced and reliable fish food machine. It can produce all types of fish feed according to customer's requirements. The machine is easy to operate and features accurate parameter control. It can finish products within the specified time, temperature, and pressure. Besides, the machine ensures the stability and durability of feed.
Fish Feed Production Line
A Fish Feed Production Line includes various machines to produce fish feed pellets. These pellets are mainly made from plant and animal proteins. Plant proteins are obtained from various sources, including soybean, corn, wheat, and peanut cake powder. Animal protein comes from shrimp, crab, and sleeve-fish meal. Other ingredients can also be added to the formulas depending on the needs of the animals. This process is highly automated and can produce from 0.06 to 5 tons of feed pellets per day.
Several factors determine the price of the ingredients used in the production of fish feed. Most of these ingredients are locally produced, including maize gluten meal. Many manufacturers also import soyabean meal, which is a source of high-quality protein. These factors contribute to the low profit margins in the industry. The price of feed ingredients is controlled by the Government through government regulations, which ensures that the products have high quality.
The high-pressure processing system helps improve the quality of feed. It greatly reduces decomposition of the starch and protein components. In addition, it greatly improves the capacity of the feed. Another feature of this type of production line is the electric heating device. It can increase feed expansion rate by five to ten percent.
The feedstuffs are then sieved to remove large particles. The particle size should be less than 2 mm.
Sinking Fish Feed Production Line
Sinking Fish Feed Production Line is used for the manufacturing of fish feed products. The feed can have different shapes and sizes, ranging from 0.5mm to 15mm in diameter. It can be shifted and formulated according to the requirements of the customer. The process includes three stages: raw material preparation, mixing and weighing. Then, the material is extruded by a twin-screw extruder. The finished product is then dried in multi-pass dryer to make it shelf-stable.
Several manufacturers offer this sinking fish feed production line, with varying price ranges, interpretations, and parameters. The final cost of the production line varies from US $ 100.0 to US $ 80000.0. If you're interested in investing in a sinking fish feed production line, it is highly recommended that you contact a supplier directly and discuss the needs of your company.
The sinking fish feed production line can be used for the production of premium-quality fish feed for pet fish. The equipment used in this process uses steam to extrude the feed, and high-efficiency driving systems to maintain the proper balance of nutrients. It also includes a high-quality mixing machine to ensure the feed quality.
The extruded feed has a uniform surface, which eliminates disease and infection. Because of its high-pressure and temperature, the extrusion process kills bacteria and other organisms.
China Sinking Fish Feed Production Line
If you have a small fish farm, you can use a China Sinking Fish Feed Production Line to produce a wide range of fish food products. This production line is designed to meet the needs of different fish species. It has the flexibility to adjust raw materials, temperature, water, and pressures. You can also adjust the production parameters to create a wide range of pet food.
A complete fish feed production line is composed of a mixer, hopper, extruder machine, dryer, cooler, and packing machine. Each part works to process different kinds of grains. The mixer is responsible for ensuring the quality of the fish feed. You can choose a single or twin-ribbon mixer to meet your needs.
The sinking fish feed pellets have a diameter of 1 to 12 mm. Different pellet sizes are available for different types of fish. A good sinking fish pellet is soft and easy to absorb water, and it is not too hard. This reduces feed waste and water pollution. The sinking fish pellets have a high degree of maturity.
A good quality pellet feed is much more efficient than many extruded feeds, as the processing costs are lower. If you are looking for a reliable, low-cost sinking fish feed production line, look no further than Richi Machinery. They offer a 2 ton per hour sinking and floating fish feed pellet making machine.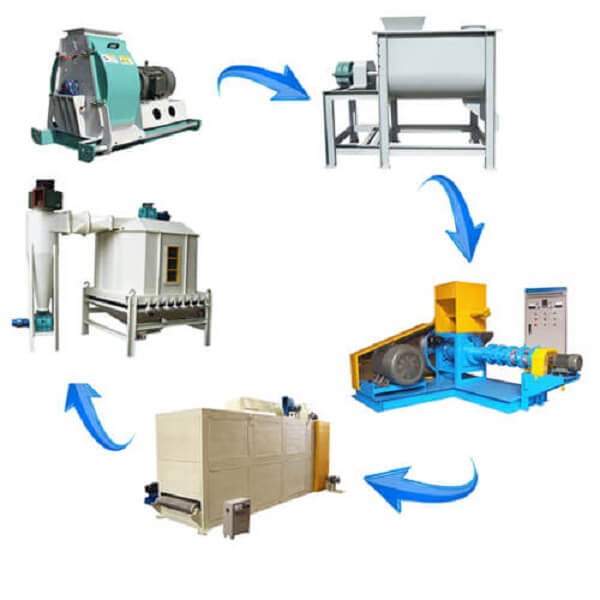 Blog: China Sinking Fish Feed Production Line
Blog: China Sinking Fish Feed Production Line