You can buy a high-quality China Nutrition Powder Machine from a reputed manufacturer or a factory. This article is about the functions and features of nutritive powder machine. It also contains factory list.
Here, you can easily select a machine that meets your needs and budget. Read on to get more information.
We have provided the details of the main features of China Nutrition Powder Machine, and also the specifications and features of each machine.
Features
The Nutrition Powder Processing machine can produce baby food and nutrition powder. It is widely used to nourish babies and young children in many countries.
It is often used as a basic ingredient for porridge and soups. Its centralized control system makes it easy to operate.
This machine can also process various raw materials. Depending on the recipes, it can be adjusted to meet varying demands.
In addition to supplying nutrition powder, it can also provide other nutritional substances such as vitamins and minerals.
It can fill any type of powdered materials with ease.
Its features make it ideal for a variety of powdered products, including detergent, infant rice flour, sesame paste, and beans powder.
The machine's automatic filling head can be adjusted to fit various-height containers.
Its automatic system makes it easy to operate, thereby saving labor and time for the operator.
The machine also features a trainee program and can produce related products based on customer requirements.
Functions
The DR65 Baby Nutrition Powder Machine is a complete nutritive powder making machine that can be used for the production of all types of nutritional powder.
Its main body is made of stainless steel, making it easy to maintain. Its screws are made of 38CrMoAl, which makes them durable and wear-resistant.
The DR65 Baby Nutrition Powder Machine requires only two workers for its operation, making it a good choice for small-scale enterprises.
It has many useful functions, including a reasonable design and high automation.
Specifications
The China nutrition powder making machine is designed to process different kinds of raw materials into high-quality nutritional powder.
Its working process includes extrusion, inflating, crushing, and mixing, and can produce different kinds of nutritional powder in a short time.
The whole process can be automated and is easy to operate. Its features include easy operation, low cost, and energy-saving.
Here are some important characteristics of this nutritional powder making machine.
First, it should have a high-performance filling system. High-efficiency filling systems are the hallmark of Dahe's products.
Its stainless steel construction allows for easy cleaning and removes powder waste.
The machine's high-quality gear motors can control its filling system with a high level of accuracy.
A wide range of recipes can be processed with the help of the Baby Flour Extrusion Line.
Factory list
The Nutrition Powder Machine is a kind of processing machine that produces baby food and nutrition powder.
This powder is commonly used around the world as a basic ingredient in porridge, soups, and other foods.
The Baby Flour Extrusion Line is particularly suited for manufacturing flours.
It can process various kinds of recipes with consistency and optimum food safety.
This line can also produce milk powder. It is very easy to operate and maintain.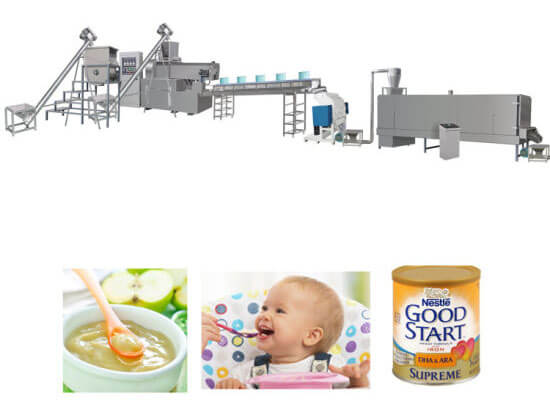 Price
The Nutrition Powder Processing Machine is a kind of food manufacturing equipment that produces baby nutrition powders and baby foods.
It is widely used for nourishing young children around the world. In many countries, nutrition powder is the main ingredient of soups and porridges.
This machine has a good adaptability to a variety of raw materials and recipes.
It ensures consistency and optimum food safety. It can also process different kinds of flours.
This machine is capable of producing instant flour and infant baby food.
It uses a double-screw extrusion technique to process grain materials, such as oats and buckwheats, into multifunctional and nutritionally dense foods.
The advantages of the nutrition powder machine are high productivity, easy maintenance and lower unit dosage cost.
It is an ideal choice for small and midsize manufacturers who need to expand production capacity and reduce unit dosage cost.
Blog: Functions and Features of China Nutrition Powder Machine