This article focuses on the advantages of a nutrition powder process line based on foreign advanced technology. The main improvement of this equipment is the high-pressure, high-temperature, and denaturation of starch, which results in a higher nutritional value than traditional craft.
The whole line consists of a mixing machine that mixes the raw materials, a feeding machine that transports the mixed materials to a feeding hopper, an extruder that produces granules, and an air delivery machine for delivering the particles to the oven.
DH-Q3-D auger filler is an automatic high speed filling machine
The DH-Q3-D auger filled machine features a dual-station+two-steps fill design for higher production rates, excellent accuracy, and ease of maintenance.
It can perform bulk and dribble filling operations, and its dual-inline check weighers with reject device will guarantee consistent fill weights.
The DH-Q3-D auger filler is equipped with the latest filling technology, including a user-friendly menu that lets the operator easily access the product memory and control filling parameters.
This dual-spindle auger filling machine is suitable for high speed, accurate filling of powders.
Its large hopper capacity and PTFE construction enable it to withstand tough product handling and rigorous production environments.
Its high-speed filling capacity allows it to fill different products at the same time.
It is also HACCP and GMP compliant, which means that it can be used to fill a variety of products.
It is suitable for rice, corn, beans
The nutrition powder machine can process various grains and other grist to produce nutritional supplements.
The main steps in the production process include extrusion, inflating, drying, crushing, mixing, and other procedures.
Depending on the model, the output can range from 100 to 150kg per hour. It is made of stainless steel, while the screws are made of 38CrMoAl.
Two workers are required to operate the machine. The plant area should be at least 100 square meters, and its length should be at least 20 meters.
The China Nutrition Powder Machine Supplier can produce various types of nutritional powders. It is suitable for maize, rice, beans, and broomcorn.
The finished products can be of different sizes, depending on the customers' requirements.
It also allows customers to adjust the size according to the size of the product.
It is also suitable for multi-time loading and unloading by trucks.
Our products are designed to withstand rough handling, and are free from any defect.
It is a double-screw extrusion technique
A double-screw extruder is a highly efficient machine for the production of nutritional snacks and baby food.
It is a great alternative to traditional stir-fry handwork, which has low efficiency, less usable raw materials, and a difficult sanitation and quality control process.
Double-screw extrusion technique is capable of processing any type of grain material and is also able to create a wide variety of multifunctional, nutritionally dense foods.
This double-screw extruder combines two intermeshing screws with a barrel.
These screw elements can be manipulated by changing the combination of screw elements and can be used for various processes such as cooking, mixing, pumping, and shaping.
This process is suitable for the processing of a wide range of foodstuffs, including snack foods, baby food, and pet foods.
It is widely used in food
A complete line of Nutrition Powder Machine is designed to meet the requirements of different food processing industries.
The machine is equipped with various features, including high automation, stability, easy operation, and high output.
It can process different kinds of raw materials with different properties, and improves the quality of nutrition powder products.
It is suitable for various kinds of food manufacturers, including those whose main products are infant formulas and nutritional powders.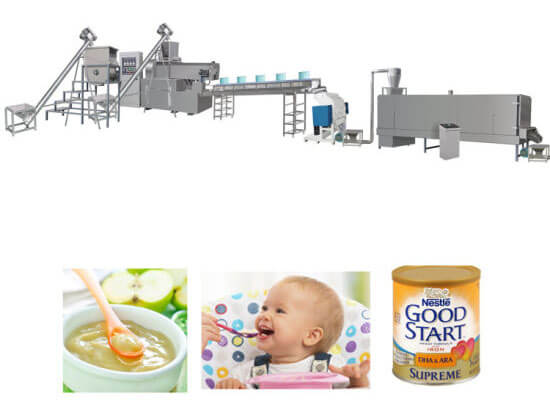 Blog: Advantages of a China Nutrition Powder Machine