Are you looking for the best corn chip making machine? Are you looking for a food grade stainless steel twin screw feeding machine? Are you interested in the latest technology and comprehensive data of Chinese suppliers?
If so, you have come to the right place! Listed below are some of the benefits that you can get from the China corn chip making machine.
Read on to discover how you can find the best chips-making machine for your business. A well-designed machine can help you make more delicious chips than ever!
Nacho chips making machine
The Nacho Chips Making Machine has many advantages. It has a compact structure, low failure rate and low noise. It is suitable for different types of food processing industry.
Depending on the needs of the product, the Nacho Chips Making Machine can be customized to produce different shapes.
It uses 380V/50Hz and has a variety of configurations. The price of the Nacho Chips Making Machine depends on its capacity and configuration.
Tortillas are the most common ingredient in nachos. It can also stand alone as a snack. They are made from yellow corn, white corn, whole wheat cornmeal, or blue, cornmeal.
The corn kernals are ground into a coarse dough called masa, and then the dough is formed into chips. The chips are typically seasoned with salt and are perfect with salsa.
The Nacho Chips Making Machine helps make a supply of masa, which is a key ingredient in making nachos.
Food grade stainless steel twin screw feeding machine
This Food Grade Stainless Steel Twin Screw Feeding Machine can feed the raw materials easily and continuously.
It can be used on the feeding, extrusion, and cutting systems. Its high feeding stability guarantees the quality of chips.
This machine also has automatic lubrication function and an increased radiator on the driving part, providing a forced cooling effect and ensuring the safety of operation.
In addition, it can handle different kinds of raw materials with different viscosity, such as peanuts, soybeans, and rice.
Corn puff snack food production line is able to process various types of grains. It uses the frication of barrel and screw to cook the corn powder and form the chips.
Adjustable dies can make the shapes of the pellets. It is capable of producing different size pellets with a high degree of uniformity.
With this Food Grade Stainless Steel Twin Screw Feeding Machine for China Corn Chips Making Machine, you can produce different shapes and sizes.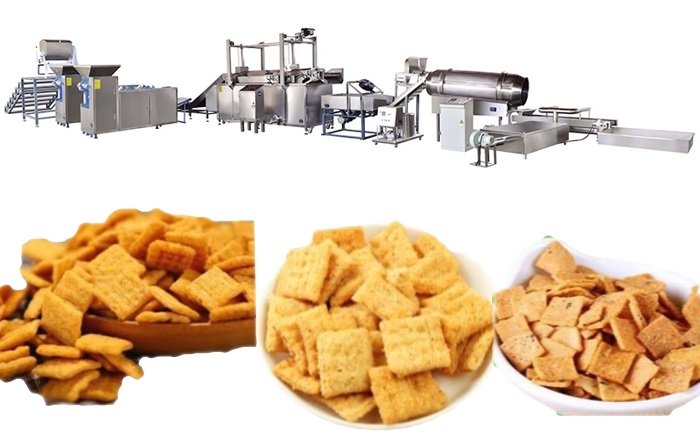 Indirect-fired fryer
The advantages of the indirect-fired fryer are obvious. This type of equipment reduces operational costs, is more energy efficient, and filters the fines continuously.
Commercial fryers can process up to 353 pounds per hour and can produce up to 160 kg of tortilla chips per batch.
Typical tortilla chips contain 22-24% oil, and less than two percent moisture.
The optimum cooking temperature is around 155 degrees Fahrenheit or 68 degrees Celsius.
This machine is equipped with a stainless steel hood assembly and a telescoping stack assembly with a spray ball. The entire assembly is rated for continuous operation.
The filter system's frame and components are all made from stainless steel. Its hood lift assembly is made up of four motorized jack screws.
The control panel houses a Honeywell solid-state temperature controller and is protected by an explosion release panel.
The temperature control system is housed within a Nema 4x stainless steel enclosure.
Quality control aspects of tortilla chip production
To improve yields and minimize waste, manufacturers are turning to improved temperature detection in their chip manufacturing processes.
In the past, the restart period between process-heating cycles resulted in product burnt on the conveyor belts.
Infrared sensors, on the other hand, provide accurate temperature measurements of the conveyor belts, enabling the production process to restart without losing product.
This method has several advantages, including increased product yield and reduced scrap.
A key aspect of the frying process for tortilla chips is air impingement drying, which takes place after the tortilla is baked and before deep fat frying.
To test the drying process, disk-shaped tortilla pieces were subjected to air impingement drying at temperatures between 93 and 177degC for six to 10 min.
After drying, partially dehydrated chips were fried at 200degC for 20 s. The resulting chips lost approximately 14% of their original weight and increased in thickness by about 9%.
Suppliers
The Corn Chips Making Machine is a highly automated food processing machine.
It is mainly composed of a feeding system, extrusion system, rotary cutting system, heating system, transmission system, and control system.
It has reasonable design and high degree of automation. Corn chips made by this machine are evenly expanded without any paste.
The machine does not produce any waste water or gas, and it does not lose any raw materials.
To ensure the freshness of the final product, it is important to control the quality of the chips.
The major parameters are temperature, relative humidity, cooking time, quenching time, and steeping time.
The quality of the products is greatly improved and the shelf life is extended. This kind of machine is the ideal choice for medium-sized food processing enterprises.
It helps them increase their production capacity and improve their product's shelf-life.
Blog: China Corn Chip Making Machine