The Frito-Lay cheetos production line involves a series of steps. First, the finished Cheetos are dried on a conveyor belt and then they are moved toward a packaging area. From there, they are bagged or boxed for shipment.
In order to ensure that each batch is nutritious, samples are taken every half hour to determine their nutritional content.
Every four hours, a four-person panel inspects the finished Cheetos.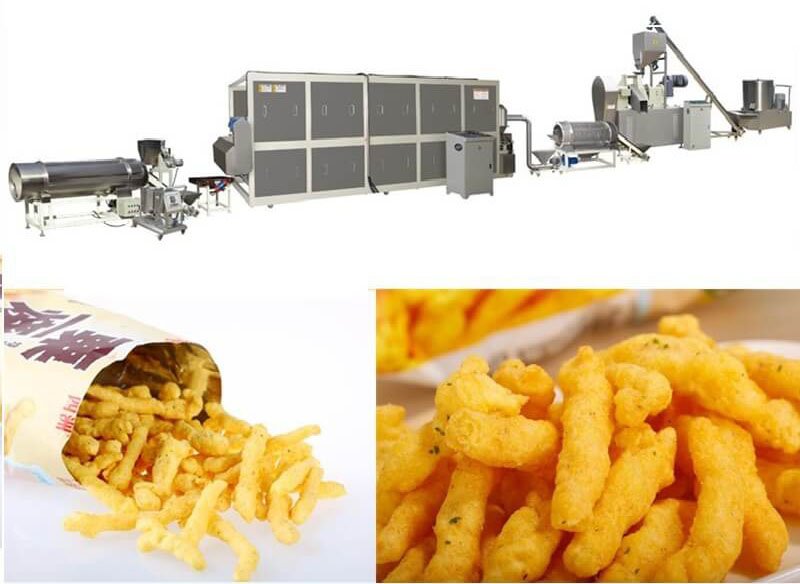 Twin screw extruder
The cheetos production line is a series of specialized equipment. It uses 20 mesh corn kernels as its raw material and a Twin screw extruder for the creation of irregular shapes.
The extruder then adds various flavors to the resulting crunchy snacks.
This cheetos production line is particularly popular in Southeast Asia. Here's a look at the features of this equipment.
The Twin screw extruder has two distinct types of screw configurations. Counterrotating twin screw extruders are used for the production of Cheetos.
Their positive displacement capability allows for easier pumping of hard-to-feed materials.
Achieving a high rate of mixing without excessive local heating is another advantage of the twin screw extruder.
Its disadvantage is that it requires more complex mechanical and geometric designs, which can raise its capital costs.
Corn grit
In the process of producing cheetos, corn grit is the main raw material. The materials are mixed with water, oil, or other liquid to produce a crispy and striped snack.
This mixture is then conveyed to a twin screw extruder. After extruding, the products are cooled, separated, and baked. The resulting cheetos are then packaged using plastic film.
A complete cheetos production line consists of various special equipment. The main component of this production line is 20-mesh corn kernels.
A Twin screw extruder is used to shape and flavor the resulting product. The Cheetos production line is a highly specialized piece of equipment that is used by the food industry worldwide.
A Cheetos production line can be purchased from a company specializing in these grits.
Corn water
The fully automatic Kurkure Cheetos Corn Chips production line is a special extrusion process used to make these famous snacks.
This line uses corn grits that are mixed with water evenly. A special extruder then squeezes and twists the mixture to produce the distinctive Cheetos shape.
The resulting snack is then flavored and fried. Then, a special cooling system removes excess moisture before the Cheetos are ready to be eaten.
Traditionally, the corn in Cheetos is made by milling the kernel into a paste, removing the germ to prevent spoilage.
The resulting cornmeal does not have the necessary nutrients that germs provide, so the producers use enriched cornmeal.
These enriched cornmeals are used for the Flamin' Hot Cheetos flavor and Reduced Fat Flamin' Hot Puffs flavor.
After the blending and milling process, the resulting mixture is extruded through a die.
Crunchy Cheetos
Crunchy Cheetos are fried, cheese-flavored cornmeal snacks. Their manufacturing process begins with blending cornmeal and water. The germ is removed to prevent spoilage.
The result is a cornmeal product that lacks the nutrients found in the germ. To provide more nutritional value to Cheetos, enriched cornmeal is added.
The enriched cornmeal is used in Crunchy, Reduced Fat Flamin' Hot Puffs, and Cheddar Jalapeno Crunchy flavors.
The enriched cornmeal is then heated under pressure and extruded through a die to form Cheetos.
Crunchy Cheetos are special extruded snacks. They are made using a special extrusion process.
First, corn grits are moistened with water and fed into a flour mixer.
Then, two rotary plates squeeze the corn grits and produce curled shapes.
The finished products are cut, flavored, and then packaged using plastic film.
A conveyor belt connects the entire production line.
Natural Cheetos
The first batch of natural Cheetos hit the shelves in the mid-2000s.
These crunchy snacks tout all-natural ingredients and real Wisconsin white cheddar cheese as their main ingredients.
Like Pirate's Booty, they are a direct competitor to the popular snack.
Fortunately, they have an artificial intelligence (AI) monitoring solution to help them achieve their goal of improving product quality while reducing waste.
The AI-based monitoring solution was developed by a team at PepsiCo's Frito-Lay division with the help of Microsoft.
To ensure that their natural Cheetos are the best possible, the factory tests each batch for quality and freshness.
Each batch of natural Cheetos is put through rigorous quality control testing and stringent supplier evaluation.
Each batch of the snack is then sent to an in-house lab to undergo an analysis.
Tests include chemical composition, nutrient density, and content, and four panelists are required to taste every batch for four hours.
Blog: Frito-Lay Cheetos Production Line