If you want to make your own protein bars, cereal bars are a great choice. You can find various types of cereal bar making machines, such as automatic protein bar extruder machine, full automatic production line, and puffed cereal bar making machines.
In this article, we will discuss the features of these machines, including the advantages and disadvantages of each type.
This article also introduces some of the best cereal bar making machines, including SnackFix.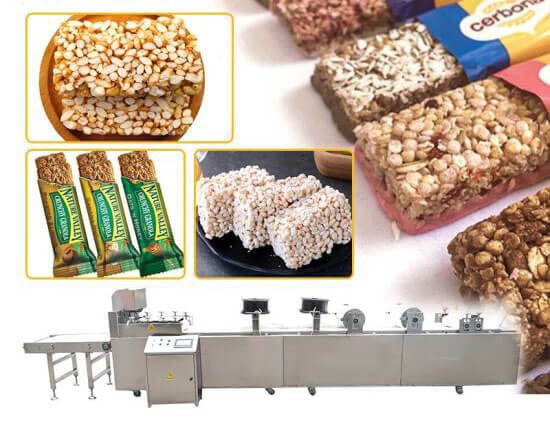 Full automatic cereal bar production line
The fully automatic cereal bar production line adopts German technology to make different kinds of bars.
The cereal bar machine has a high production capacity of 200kg/h and can be connected with the chocolate enrobing line.
This production line is widely used in big and medium-sized enterprises as well as food factories. With different shapes, it can produce various types of bars.
It can be operated manually or with the help of automatic controls, ensuring a high degree of product quality.
This full automatic cereal bar production line uses advanced mechanical structure to realize full automatic production.
It has many advantages, including reliable system operation, wide application, easy operation, and low maintenance.
Compared to the traditional workshop type manual forming process, it can reduce the production cost and improve the efficiency of the cereal bar production line.
It can produce various kinds of snack bars and leisure foods. It is an ideal choice for manufacturers that want to modernize their production process.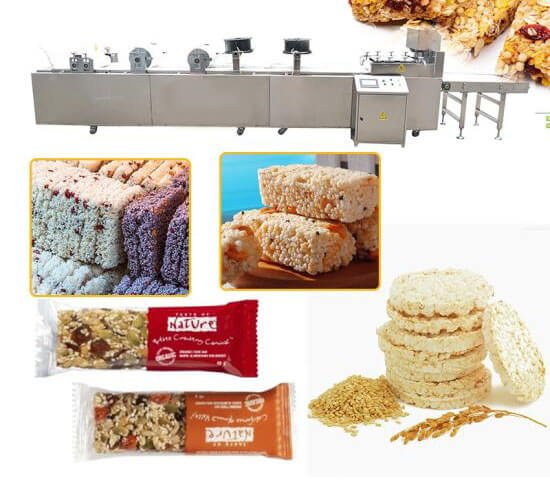 Puffed cereal bar production line
The Puffed Cereal Bar Production Line is a complete set of food processing equipment.
It comprises of a rice puffing machine, sugar cooking machine, mixing machine and spreading machine, as well as a conveyor system for cutting and packaging the finished bars.
This line is ideal for the production of peanuts, puffed cereals and other varieties of bars. The resulting products are a delicious snack for everyone!
Puffed cereal bars are popular as meal replacement snacks due to their nutritional value and crisp texture. They are also easy to transport and convenient to eat.
The Puffed Cereal Bar Production Line uses advanced mechanical structure and high-quality components to achieve full automatic production. The machine lowers production costs and increases efficiency.
To maximize the production efficiency, it enables a wide range of cereal bars. Puffed cereal bars are an ideal treat for busy people and those on-the-go.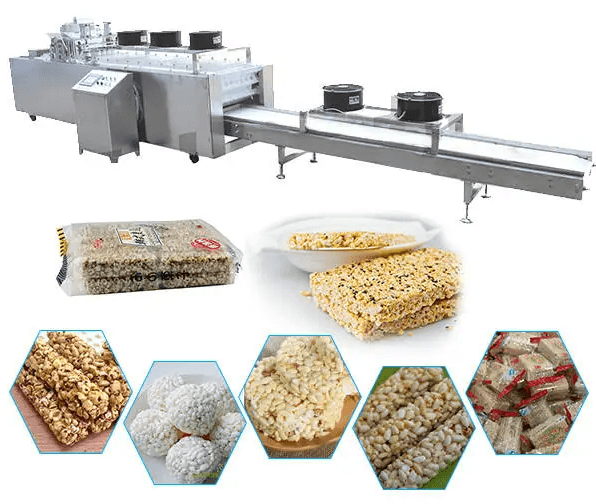 Automatic protein bar extruder machine
In the past, sausages and other questionable meat products were made with an automatic protein bar extruder machine.
This type of machine does not have sanitary protection and can only produce about 500 pieces per day.
This machine is very different from pizza cutters and needs specific parts and accessories. This machine can produce bars of any shape, size, and texture.
Compared to a pizza cutter, the automatic protein bar extruder is much faster and more efficient than manual methods.
The benefits of an automatic protein bar extruder include reduced labor and manufacturing cycle.
In addition to that, these machines reduce the cost of working capital and raw materials, resulting in reduced production costs.
The automatic protein bar extruder machine has high performance and low maintenance cost. Its miniaturization makes it a perfect investment for small energy bar production facilities.
With this equipment, you can save on operating and maintenance costs and focus on increasing your product's shelf life.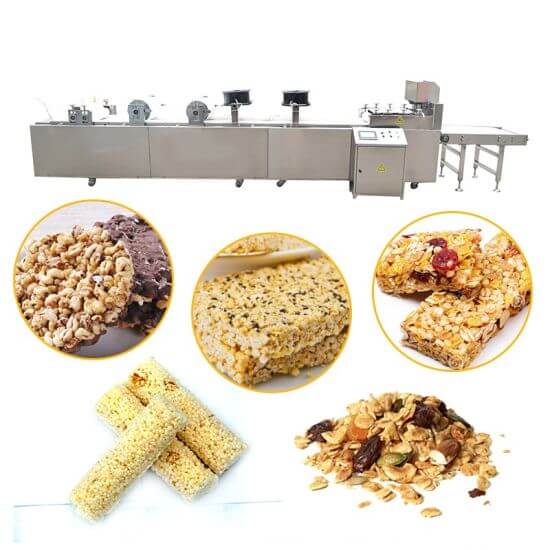 SnackFix
SnackFix cereal bar making machines are one of the most popular and versatile types of energy bar production lines. These machines are composed of a mixer and equalizing rollers to evenly mix the ingredients into the desired consistency.
The machines can produce as much as 130 kg of cereal bars per hour. Because of its versatility, the machines are suitable for small to medium food enterprises and commercial kitchens.
In addition to making energy bars, the SnackFix can also produce other kinds of granular snacks, including popcorn and nut-based snacks.
The SnackFix cereal bar making machine features two main parts: a mass preparation unit and a cross-cutting unit.
Each component of the machine is capable of producing a variety of shapes.
Whether you need a circular or elliptical bar, the SnackFix machine will deliver the results you desire. The SnackFix can produce up to 130 kg of bars per hour.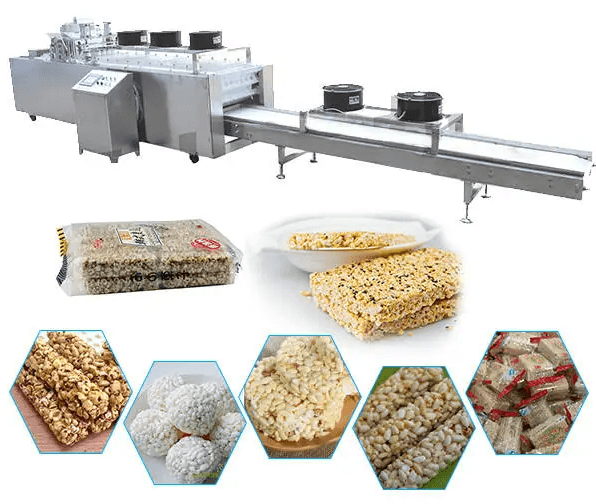 Loyal
The production process of Loyal cereal bars involves the boiling of sugar and other raw materials. After the sugar and raw materials are dissolved, they are mixed, the mold is pressed, and the mixture is baked.
When the process is finished, the cereal bar mixture is mixed with coating decoration, and the product is packaged.
Protein bar machines are especially suitable for making viscous snack foods, as the machinery features a simple operation, ease of use, and high production capacity.
Besides the standard cereal bar machine, Loyal cereal bar making machines also produce granola, peanut candy, puffed rice, and nougat bars.
These machines have high production capacities, can be adjusted at will, and are easy to operate.
They are ideal for manufacturers who want to make a lot of energy bars quickly and efficiently. You can select the machine depending on your production requirements.
Once you select the right machine for your needs, you will be well on your way to a profitable business.
Blog: Cereal Bar Making Machines