When it comes to buying corn chip equipment, the first thing you want to consider are the ingredients and processes that will go into the final product.
If you're aiming to produce corn chips for retail sale, you'll want to make sure that your corn chip machine is suitable for the production of your desired snack.
Read on to learn more. Here are some tips to find the perfect corn chip machine:
Processes
Extruded corn chips are formed from ground masa (fresh nixtamal or dried masa fiber) and are deep-fried.
They are made in a single step, and the key operations are the nixtamalization and extrusion of masa.
The process requires a horizontal hydraulic piston that forces masa with at least 52% moisture through a 90-degree forming die.
This die is interchangeable with a series of dies for custom shapes, including ovals, squares, and rectangles. Then the masa exits the fryer with a moisture content of 1.5%.
The first step in tortilla chip production is the creation of coarse masa.
The typical masa recipe contains 2.5 to 3.0 liters of water, one kilogram of 12-percent moist corn, and 0.01 kilogram of food-grade lime.
This masa solution is then heated in a Hamilton kettle using steam to turn it into a batter.
The resulting masa is then pumped onto a conveyor belt and then ground into chips.
Ingredients
For the production of corn chips, manufacturers use two basic ingredients: yellow and white corns. White corns are the most common variety, as it has a higher nutritional value.
Yellow corns are slightly more nutritious than their white counterparts. Adding a pinch of salt to the mix increases the nutritional value.
While corn chips can be fried at a lower temperature than white ones, they retain a higher nutritional value. The lime helps control the microbial activity and improves the shelf-life of the product.
To guarantee the freshness of the product, the production process requires strict quality control.
During the manufacturing process, major parameters are controlled: cooking temperatures, relative humidity, steeping time and quenching time. The corn silos must be properly controlled to avoid overcooking.
These are the critical factors that affect the freshness of tortilla chips. The right corn chips making machine will help produce these snacks without compromising on the quality.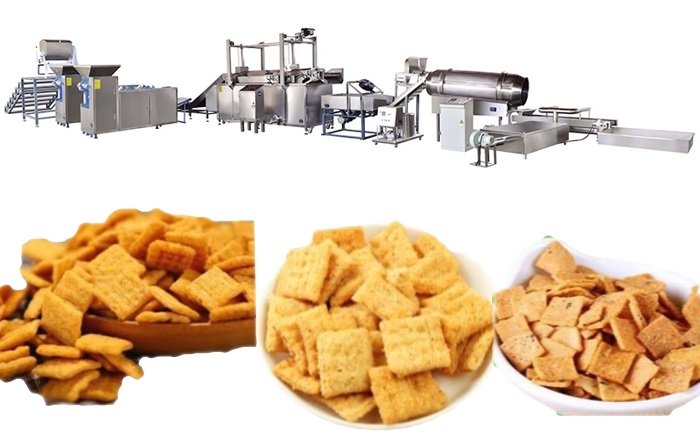 Equipment
The demand for high-quality and durable tortilla chip manufacturing equipment is increasing.
Today, corn tortillas and corn chips are battling white bread as the most popular snack foods in the U.S.
In order to meet the demand for these snacks, manufacturers are continuously searching for equipment that is capable of generating high production speeds and yields.
The process of producing corn chips and tortillas starts with ample supplies of masa. There are two main types of tortilla chips: masa chips and nacho chips.
Tortilla chips have a curved edge, while nacho chips are typically larger to accommodate dips.
Corn chip production systems include an extruder. This device forces masa mixture through an extrusion die plate to produce uniform chips.
This process results in high-volume, continuous production, and great consistency. The machines are available from several manufacturers in India.
They are highly efficient and provide the required flexibility to meet the needs of the booming snack manufacturing industry in India.
For more information on corn chip making equipment, contact a local supplier or manufacturer today.
Quality control
A quality-control process is important for the freshness and taste of tortilla chips.
The parameters of corn chip production that are controlled include relative humidity and temperature in the corn silos.
Other parameters include cooking and quenching times and the amount of protein in the chips. Ultimately, the chips are meant for snacking.
However, quality control should be a primary concern for any tortilla chip production process. Here are some aspects of tortilla chip quality control:
First of all, the physical properties of the corn must be evaluated and preserved.
A machine vision system can measure the length and width of the kernels and calculate the area of the kernel irrespective of its orientation.
Moreover, it has the ability to detect mechanical damage in corn. Steenhoek and Precetti evaluated the concept of two-dimensional image analysis and its classification accuracy.
Their results indicated that the machine vision system could be effective for this task.
Future trends
The global Corn Chips market is segmented into different types based on application and top players.
This research report includes the market size, revenue forecast, and competitive landscape of leading companies.
The report also provides detailed profiles of key players in the corn chip industry. It also features the latest technology in the industry and comprehensive data of Chinese suppliers.
This information helps the manufacturers to develop effective strategies in meeting changing consumer needs.
In addition to this, the research report includes the latest market trends, business developments, and growth opportunities.
Increasing consumption of snack foods globally is driving the market growth.
Demand for corn chips in India is increasing at a seven percent CAGR. Increase in working population is accelerating the growth of nacho crisps in Tier-II and Tier-III cities.
In addition, the corn puff market is moving in a positive direction, primarily due to changing consumer preferences.
In India, corn puffs are widely consumed as a snack food and are marketed under different names.
Blog: Buying a Corn Chips Making Machine