There are many different brands of pasta making machines available on the market. These brands include ITALGI, GEA, Sarp, Pavan, and Sarp.
The following article will provide you with an overview of each brand, their advantages and disadvantages, and how they can help you find the right machine for your needs.
Hopefully, you will find this information useful in choosing a new machine.
It can be difficult to know where to start when you are considering your options, so we've put together a guide to help you make a selection.
ITALGI
The ITALGI brand manufactures industrial pasta-making machines.
These machines are used to produce various types of pasta, such as ravioli, gnocchi, cannelloni, stuffed pies, and regional dishes.
Some machines are combined with other units to produce different types of pasta.
Some pasta-making machines are pre-cooking lines, enabling you to produce ready meals based on pasta.
The following are some benefits of ITALGI machines.
– It's complete, powerful, and reliable. You can also use it to create automatic lines.
It has double bowls and removable mixing trees, adjustable scroll speed with inverter, cutting and head cooling, and optional refrigeration.
This pasta-making machine can produce fresh, superbly textured, and flavored pasta.
And because it's built for the industrial kitchen, it's incredibly easy to clean and maintain.
GEA
If you are interested in making your own pasta, GEA's industrial line will give you the edge.
With this machine, you can make spaghetti, bucatini, and vermicelli with the same efficiency as your artisanal counterparts.
GEA's innovative process technology and advanced machinery ensure maximum efficiency, as well as reducing energy consumption and footprint.
The company also offers comprehensive service and support to help you make the most of your investment.
The single-tier dryer expresses the full potential of TAS technology.
It dries the pasta to the correct humidity percentage while retaining its excellent organoleptic properties.
This machine is also equipped with a vacuum and operates at low temperature, which ensures perfect consistency and excellent elasticity.
Its slow-rotation mixing paddles help prevent mechanical stress to the gluten matrix, which ensures excellent elasticity.
It also features a single or multiple spreader with 1500mm, 2000mm, or 2500mm sticks.
GEA Pavan
GEA has completed the acquisition of the Italian Pavan Group, a leading provider of extrusion and milling technology for a wide range of applications, including fresh and dried pasta, breakfast cereals, and pelletized snack products.
This acquisition will help the company expand its global presence and improve its manufacturing process.
Pavan is located in Galliera Veneta near Padua, Italy, and has a workforce of 680 at several production sites in Italy and China.
The new company will continue operations as Montoni under the Pavan umbrella brand.
Montoni, which was acquired by Pavan in 1989, is a manufacturer of extrusion moulds, dies, and cutting systems.
The two companies will continue to operate under the Pavan brand, and will be gradually integrated into the GEA brand architecture.
GEA's pasta and snack technology division is dedicated to the development of new products and processes in the pasta industry.
Sarp
The Sarp line offers a wide range of pasta machines that can be used for the production of different shapes.
The line can make hot dough into gnocchi and then cool it down in a shaker before being packaged.
The pasta can be sterilised before being sold, and the shelf life of the packaged gnocchi can last for 4-5 months.
The line also produces pre-cooked gnocchi that are sold fresh.
These are usually cooled and packaged immediately after they are produced, and they have a shelf life of 30 days.
A sterilization process can double the shelf-life.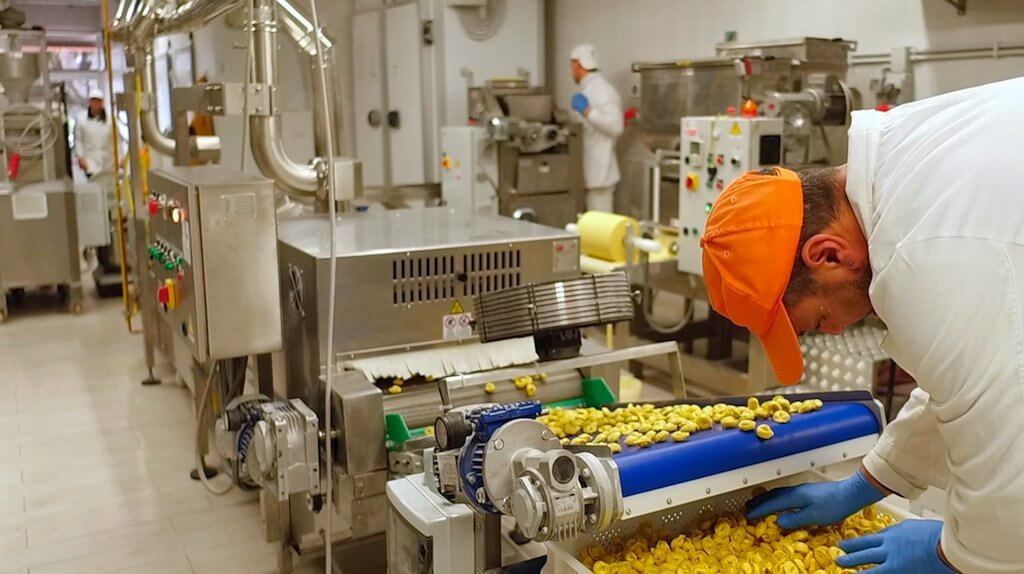 The fresh pasta plants can produce adequate shelf-life without the drying treatment.
However, the shelf-life varies according to the treatment method that the pasta receives.
The pasteurized, cooled, and packed in modified atmosphere product can be kept for up to 60 days, while the pasta produced in a dry process will have a shelf life of four to five months.
All the machineries used in the production of fresh pasta are made of stainless steel to ensure the utmost sanitation.
The plants can be designed for either normal or gluten-free flours.
Blog: Brands of Pasta Making Machine Industrial