The Baby Powder Processing Line is a high-efficiency, new generation processing line for making baby powder. It uses corn, beans, rice, oat, or other whole-grain flours as raw materials.
This machine has a high output capacity of 100-150kg per hour and requires two workers to operate.
The plant area required is 100 square meters to 20 meters. It is also highly efficient and can produce high-quality baby powder.
Nutritional powder production line uses rice, corn, beans
The nutritional baby powder production line can process products according to the product positioning of the user.
The machine uses rice, corn, beans and other ingredients as raw materials to make instant food powder.
The nutritional baby powder production line can process various kinds of nutritional powder, such as milk, infant formula, infant food and snacks.
It can process different kinds of grains and starches, and is equipped with temperature-controlled, automatic sensors.
The production line starts by mixing raw materials, adding water and then drying.
It also includes a screw conveyor, a twin-screw extruder and an air conveyor to transport the products to a drying area.
This step is crucial for producing a high-quality nutritional powder, as it ensures the safety of the products.
All these steps can be automated and are energy-saving, while ensuring better quality and taste.
Oat flour
Oat flour has many advantages when used in the baby powder manufacturing process. This product has a very high protein content and is characterized by a relatively high extensibility.
Its gluten networks are sufficiently large for the dough to have a receptive elasticity and resist gases. In addition, dough made with oat flour requires more water than dough made with only WF.
However, the water content is always less than the farinograph WA of the same flour mixtures. In addition, the presence of salt and other ingredients reduces the water amount in the dough.
Oat is an excellent replacement for wheat in the baby powder manufacturing process because it is free of gluten.
Its high fiber content also reduces the need for starch gelatinization modifiers and crystallization inhibitors.
It can also replace a range of other ingredients, such as fats and carbohydrates. Oat flour also produces a powder with a higher water absorption rate than wheat.
However, the price of oat flour is still prohibitively low compared to the quality of the products made with wheat and other cereal grains.
Other whole grains flour as raw materials
The use of other whole grains flour as raw materials for baby powder production raises questions about the safety and quality of such products.
Whole grains usually contain higher amounts of contaminants, including mycotoxins and pesticides.
The outer layers of cereal grains also contain higher levels of asparagine, a substance that contributes to acrylamide formation during processing. In addition, whole grains contain higher levels of fiber than refined flour.
In addition to white flour, this line can process other whole grains flour. Some of these flours are rich in antioxidants.
For example, millet flour has the highest concentration of xanthophylls, and black rice flour has the highest concentration of vitamin E.
Some whole grain flours also contain additional nutrients such as buckwheat bran.
Depending on the specific requirements, a baby powder processing line can use other whole grains flour as its raw material.
Easy to operate
A nutritional baby powder food processing line is used to manufacture a variety of infant and baby food products. It can process corn, rice, wheat, and buckwheat flours.
This machine also uses twin screw extrusion to process other grains powders and nutrient components.
Easy to operate, it can easily process all kinds of raw materials. And its electric panel is independent.
The benefits of this machine are many.
Co-creating the line encourages the sharing of specialist knowledge and expertise, and is the best way to guarantee the system's success.
Co-creation of the line also ensures that all stakeholders are aware of the expected KPIs and benefits.
It also increases the efficiency of the project by allowing a better understanding of the expected outputs.
This is a win-win situation for the technology provider, food manufacturer, and consumer.
Cost
A baby powder food processing line is a vital piece of equipment for making high-quality nutritional powder for your business.
These machines make oatmeal, instant porridge, and baby food powder using several processes including extrusion, puffing, crushing, and mixing.
The end-to-end process of nutrient powder food production is fast and energy-saving, and it can handle a wide range of ingredients.
You will also be able to add a variety of raw materials, such as nuts, seeds, or other ingredients.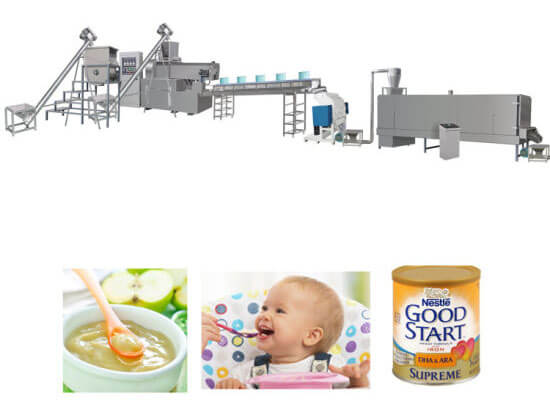 In addition to making baby powder, these lines also process other food products, including baby rice, and foot and face powder.
These products are generally made from cereal flours, such as corn, wheat, and rice. Powder filling units are also crucial to ensure proper production.
You may want to consider a custom-made machine for your business, or consider purchasing one that already has a successful production record.
To learn more about a baby powder processing line, read on!
Blog: Benefits of the Baby Powder Processing Line