There are many features to look for in a Baby Food Powder Making Machine. In this article, we'll discuss the types, benefits, and maintenance of these machines. If you're considering purchasing one for your home, keep reading for helpful tips.
You can also download our free baby food making guide to learn more about this product.
In addition, we'll explain how to use it and how to care for it properly.
After all, your little one's health is the most important thing.
Automatic Rice Baby Food Powder Making Machine With Self-Cleaning Screw
The automatic Rice Baby Food Powder Making Machine with self-cleaning screw is designed to create the baby nutrition powder from rice flour, oatmeal, and instant porridge.
This machine is suitable for processing the raw materials with different properties such as gluten free, lactose-free, and a wide range of starches.
The screw and feeder are equipped with inverters, which regulate the speed, temperature, and transmission tasks.
Stainless steel is used for the whole machine, and the screw has a self-cleaning function. It is possible to combine various screws, according to the demands of the nutritional powder.
The stainless steel screws have an extended service life and can be combined with different kinds of materials.
The machine's self-cleaning screw eliminates the risk of contamination due to contaminated material.
All parts of the machine are easy to clean, and no specialized skills are required.
Besides being easy to clean and energy-saving, this machine has a range of applications. It can produce denatured starch, gold rice reinforced rice, and expanded pet granules.
In addition, it can also make protein foods, such as meats and eggs. Its self-cleaning screw allows it to work with various types of ingredients, including corn.
Features of a baby food powder making machine
A baby food processing line uses grains, such as rice, corn, or beans, to produce milk powder, oatmeal porridge, and other varieties of baby food.
It uses high pressure and high temperature to cook these ingredients, and extrudes them within five seconds.
These machines are very efficient, as they can increase the amount of nutrients and micro-elements in baby food while maintaining a low temperature.
Depending on the production capacity, these machines can process up to 500kg per hour.
The twin-screw extruder is a feature to look for in a baby powder production line. They use twin-screw extrusion technology to process different kinds of grains and flours.
This technology is highly efficient and can produce nutritious and healthy food with very little effort.
This type of equipment saves a lot of manpower and time, and can also handle different types of flour and other ingredients.
Besides, a nutritional powder production line has a self-cleaning feature. The entire process of manufacturing baby powder is simpler and less expensive.
The nutritional powder production line combines stirring, cooking, pickling, fermenting, and sterilization into one machine.
It is the perfect solution for anyone looking to start a baby food business. And it will increase profits for years to come.
A baby nutrition powder making machine is an investment worth making.
Maintenance of a baby food powder making machine
A nutritional powder making machine consists of several components that are crucial to the production of baby food.
These components include a twin-screw extruder, mixer, air conveyor, oven, and crusher.
The baby powder food production line is also equipped with a special cylindrical silo.
A twin-screw extruder features a vibrating hopper feeder and extrusion and cutting units.
A baby nutrition powder making machine is specialized for the processing of grains, rice flour, oatmeal, and instant porridge.
It is designed to process various types of ingredients, including wheat and rice flour, as well as starches.
The process is energy-saving and allows more nutrients to be added to the finished product.
For more details, read on the following sections. The next part of this article discusses the basic functions of a baby nutrition powder making machine.
After determining the needs of your customers, you should select a nutritional powder production line.
Loyal has extensive experience in the manufacturing of nutritional powder making machines. It has dozens of engineers and several project technology patents.
You can choose a configuration according to the type of baby food you want to produce and the ingredients you plan to process.
Once the ingredients are mixed, the machines will extrude them into a desired shape and dry them to produce nutritional powder.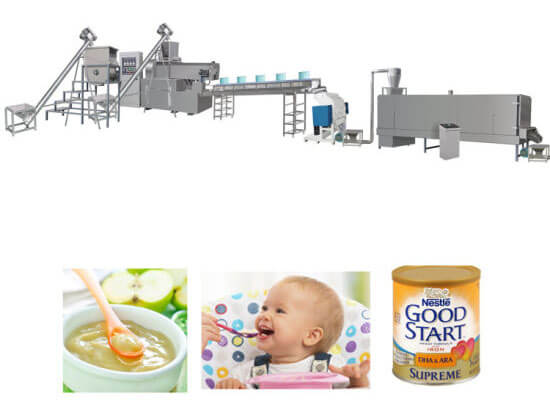 Blog: What to Look For in a Baby Food Powder Making Machine