Our Automatic Floating Fish Food Making Machine is used to make all kinds of floating fish food, such as shrimp feed, fish feed and freshwater fish feed. The machine uses the centrifugal force of rotating disks to grind and press raw materials into pellets with a certain size.
We offer a wide range of fish food machines for many different applications. Our advanced technology allows us to create customized solutions for our customers' needs.
Fish Food Making Machine
Fish food making machine is used to produce fish food pellets, pellets are the most popular form of feed for tropical fish. The fish food making machine is made up of a drying chamber, a granulating system, a cooling system and a packing system.
Drying chamber: The drying chamber is used to dry the materials into the required moisture content for pelletization.
Granulating system: The granulating system is used to crush the dried material into small particles which will be pressed into pellets.
Cooling system: The cooling system is used to cool down the crushed material from the granulating system before entering into the pelletizing section.
Packing system: The packing system consists of two types of machines depending on whether you want to pack loose or bagged food.
Floating Fish Food Making Machine
The Floating Fish Food Making Machine is a production line for making floating fish food, which can be used for fish farms and aquaculture, as well as for aquatic animals in aquariums.
The machine can produce various floating fish foods according to the shape and size of the feeder. It has the advantages of high capacity, low energy consumption, good automation and high production efficiency.
Automatic Fish Food Making Machine
The Automatic Fish Food Making Machine is a fully automatic fish food producing machine. It can produce different size of fish food pellets, which are made from wheat flour and fish meal.
The machine can be used in small-scale farms to make fish food pellets for feeding fish.
The machine consists of feeding system, mixing system, extruding system and drying system. The feeding system is designed to automatically feed wheat flour and fish meal into the mixing system through hopper.
The mixing fabric is used to mix these two raw materials thoroughly. The extruded product will move forward by screw conveyor belt to enter into the drier for drying process.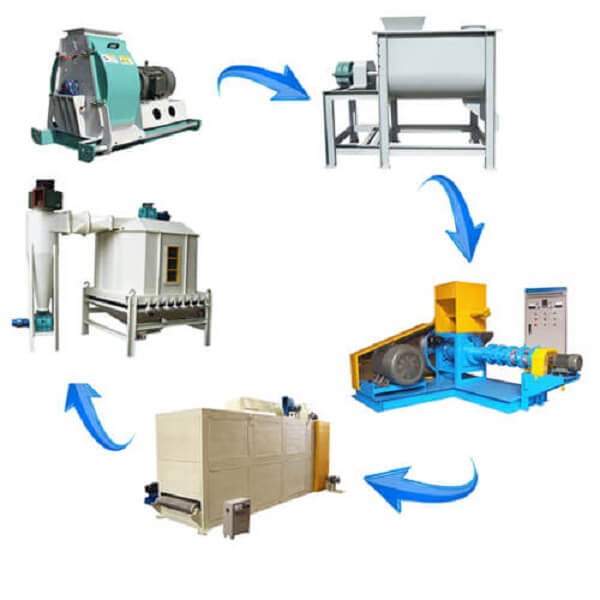 Blog: Automatic Floating Fish Food Making Machine
Blog: Automatic Floating Fish Food Making Machine