The first step of an artificial rice processing line is to select the best type of machine. The most common types of machine have different features and capabilities, so you need to select one that meets your needs.
For example, you may want to use an industrial-grade rice mill for making instant or reconstituted rice.
If you want to produce fortified and nutritional rice, you should go for an automated one.
For other purposes, you can opt for a smaller rice processing line with an extruder.
The next step of the artificial rice processing line is to determine the best cooking method for the raw materials.
The best option is to use a hot air-drying oven to make sure that the rice dries quickly.
This helps prolong the shelf life of the rice. Once the drying process is complete, the rice is transported to a cooling conveyor belt.
Once it has reached room temperature, the rice is ready to be served. If you need a faster process, you can choose a slower one.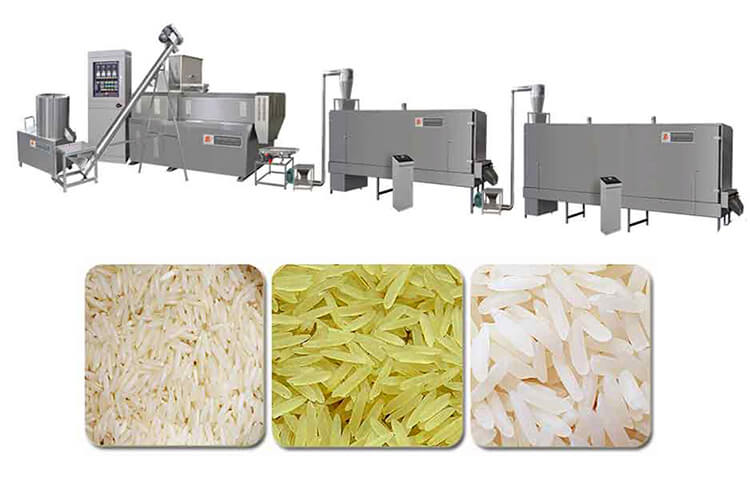 A fast-drying oven is another important feature of an artificial rice processing line. The faster the oven dries the rice, the longer it will stay fresh.
A good way to ensure this is to adjust the speed of the oven. Once the rice has dried to the desired consistency, it goes into a cooling conveyor belt, where it rapidly cools down to room temperature.
If your artificial grain is too wet, it will swell and lose moisture during packaging. This process is necessary to ensure the quality of the packaged product.
An artificial rice processing line is a highly efficient machine for preparing rice. It allows the user to increase their profit by using waste rice, which is a byproduct of the production of rice.
It can also be a sustainable solution for global food security. With a rice processing line, you can use leftover grain to produce additional grains for a variety of uses.
It can be used for a variety of foods and is suitable for all kinds of artificial rice.
A typical artificial rice processing line is composed of feeding and extrusion systems, rotary cutting systems, and a control system.
The extrusion and cutting systems can add vitamins, minerals, and dietary fibre to the rice powder.
These products are nutritious and can be used by people suffering from allergies. A successful artificial rice processing line can help the world's poor diet.
However, there are many problems associated with it. It is essential to check for a few common faults and solve them as soon as you notice them.
A common artificial rice processing line can have several faults. First, the PLC program isn't always correct.
As a result, the equipment doesn't perform the proper action. Then, you should carefully check the machine for any malfunctions.
Secondly, you must check the packaging machine. If the packaging process is not complete, you won't be able to sell the finished product.
Therefore, a high-quality artificial rice production line can be costly.
In addition to these faults, an artificial rice production line should have a negative pressure exhaust system. It should be able to maintain the integrity of the granule.
If you're producing artificial rice, you should choose the type of equipment that is most suitable for your needs.
An automatic line is the most convenient way to process the rice.
This machine will save time for you, as it will not have to wait for you to cook the rice.
A good artificial rice production line has several advantages. Its design will provide you with a consistent product with excellent taste and texture.
Besides, the machine will help you avoid "hardening" by using a special molecular structure.
Furthermore, it will reduce the risk of insects and mildew.
As a result, it will last longer. If you don't have the time to clean the machine, you can purchase an automatic one.
Besides the high efficiency of an artificial rice processing line, you can also save on electricity by using it.
Its compact structure will enable you to install it anywhere you want.
This machine is equipped with all the necessary parts for manufacturing all kinds of artificial rice.
Its low power consumption and pollution-free operation will allow you to concentrate on running your business.
A simple automated system will work in any area, including your home.
If you have a small-scale business, it will be easier to operate.
Blog: Artificial Rice Production Line