If you are in the business of making different kinds of pasta, you might want to consider purchasing an industrial pasta maker. These machines produce pasta for many purposes, from artisanal to refined and whole grain varieties.
They are also highly reliable and can be used in automated lines.
Some of these industrial machines are equipped with double bowls and mixing trees, adjustable scroll speed with inverter, cutting and cooling heads, and optional refrigerators.
They also offer the ability to make a variety of other food products, such as bread, cookies, or sandwiches.
Artisanal pasta
There is a difference between artisanal and industrial pasta makers. The former produces smaller quantities, while the latter produce a large volume.
A good pasta maker balances quality and quantity. Though the machines and ingredients are the same, capacity will change the ratio of the two.
Artisanal pasta makers produce a more complex pasta than their industrial counterparts.
For example, the former is ideal for a home kitchen, while industrial pasta makers are best for larger production volumes.
The process of making artisanal pasta is a little more complicated, but the benefits far outweigh the drawbacks.
Traditional pasta makers use 100% durum semolina flour, which is hand-ground.
Industrial pasta makers, on the other hand, use a mixture of flours to ensure certain dough characteristics and speed up the next process.
These include rolling, extruding, and cutting.
Refined pasta
Pasta manufacturers refine pasta in a series of steps. In the beginning, raw wheat semolina is ground into flour.
This dough is then extruded in various shapes. This process creates pasta with distinct flavors and shapes.
In addition to these steps, pasta manufacturers use various machines to produce their products.
Some of these machines even allow for manual packaging.
However, the most sophisticated pasta makers use automation to reduce personnel costs.
Most pasta manufacturing plants start with flour, usually durum wheat semolina, mixed with water.
As the water is absorbed by the flour's components, it is mixed with the dough.
During this process, most mixers operate under vacuum to limit the oxidation of the lipid fraction and to limit englobation of small bubbles.
Vacuum also enables the flour to be hydrated more rapidly.
Pasta manufacturers also use a number of different tools, including flour sifters, pasta presses, and pasta-rolling machines.
Homemade pasta recipes are similar to the ones used in industrial production, with the exception that eggs and oil are added.
Whole grain pasta
The industrial process used by Italian and other whole grain pasta makers is a bit different than the method used by home cooks.
Unlike home cooking, where the process is done by hand, pasta-making machines use high-speed rolling and cutting equipment.
The finished product is folded into containers and sealed with a hot press.
A small tube then suctions out air and replaces it with carbon dioxide and nitrogen to extend the product's shelf life.
In the packaging process, labels are printed on the packages with information such as the type of pasta, nutritional values, cooking instructions, and the expiration date.
Whole grain pasta is generally considered a healthy food because it is low in fat, high in carbohydrates, and high in protein.
Pasta is also a good source of vitamins and minerals, and if made from whole grain wheat, it has a low glycemic index (GI), which supports healthy weight regulation and insulin metabolism.
By adding high-protein flours, pasta can be made with additional fibers, protein, and vitamins.
Machines for production of all types of pasta
There are several advantages of an industrial machine for the production of pasta.
They are compact, versatile, and highly reliable. Some are designed for the production of food service pasta and ready-made meals.
There are also cooking lines for specific products. Multi-machine lines are designed for cooking, shaping, and cooling of any type of pasta product.
These machines can also be used to produce vegetables, such as hummus and pesto.
The first type of pasta production line includes two or three strands. This is known as the short-cut pasta line.
The machines can be semi-automatic or artisanal. Double-basin extruders are used for the production of long pasta.
These machines are equipped with linear or round dies to produce various shapes.
Depending on the capacity, there are a variety of configurations available.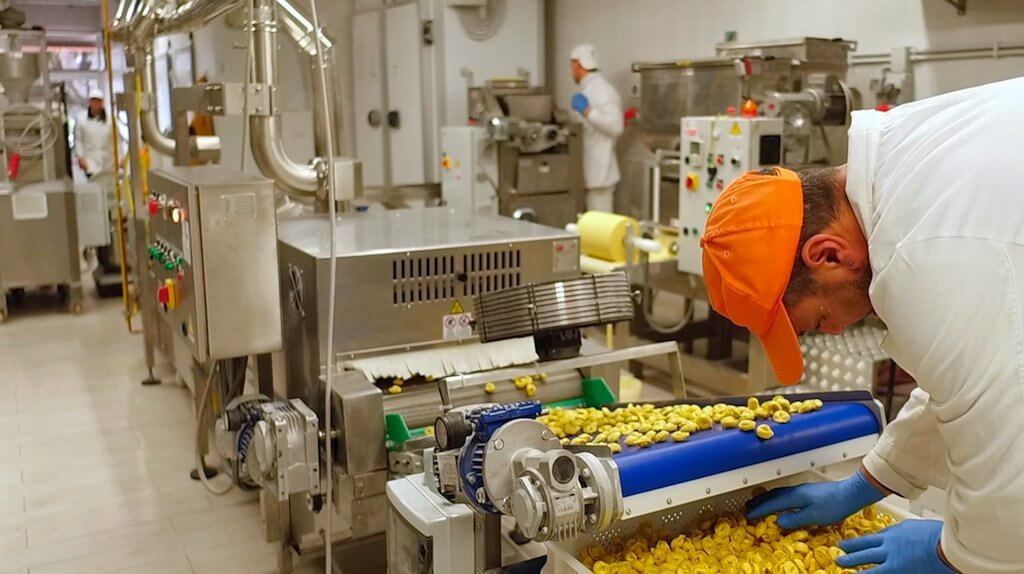 Ingredients in pasta
Pasta making is a traditional practice that has become more complex as the number of people using it increases.
While the ingredients and machines remain the same, they differ in capacity and quality.
The right pasta maker should be able to produce a high-quality product while maintaining a high production rate.
Here are some things to look for when purchasing an industrial pasta maker.
Read on to learn more about the benefits of these machines. Then, find out how to use them in your business.
The production of pasta follows strict federal standards for food safety and quality control. In addition, federal inspectors regularly visit pasta plants.
And since every company has its own requirements, each one has its own quality standards. For example, lab technicians test semolina flour for purity and color.
Advanced quality control computer software measures protein and moisture content in order to ensure that the finished product meets or exceeds these standards.
But these measures are not always enough, which is why some manufacturers turn to IQF and par-cooked products.
Blog: Advantages of Industrial Pasta Makers